Welcome to Week 3 of the NBA and fantasy basketball seasons! As we embark on the 2021 portion of the NBA schedule, fantasy basketball category managers have had a couple of weeks to gain some intel on their rosters. It's important to continually take stock of which categories your team is proficient in and which areas in which you could use a boost, either via trade or waiver wire acquisitions.
Take a look back at last week's fantasy basketball category analysis!
Fantasy Basketball Category Analysis Column Housekeeping
Before we jump in, just a quick housekeeping note. With the purpose of this article being to turn readers onto viable fantasy weapons in specific statistical areas, we aren't necessarily looking to analyze elite NBA superstars. James Harden and Stephen Curry are elite scorers and three-point shooters. That's a given.
Fantasy basketball category teams will need more than just star power to put themselves in a position to win consistently across all areas. With this in mind, the criteria for inclusion in this weekly fantasy basketball category analysis column, players must be owned in 60% of leagues or less.
Now that we have official parameters established, let's dive into fantasy basketball category advice and analysis for Week 3.
Points | Fantasy Basketball Category Analysis
George Hill, PG, Oklahoma City Thunder (22% ESPN Ownership)
If you're looking for a grizzled veteran who still knows a thing or two about scoring the basketball, George Hill makes for a solid option. The 34-year-old point guard has started in each of his first four games as a member of the Thunder, reaching the double-digit scoring mark in three of those games. The only game in which he failed to eclipse 10 points came against the revitalized New Orleans Pelicans defense. Hill bounced back with 18 in a win over New Orleans over the weekend, signifying that his early-season production is legit. Along with his points, Hill supplies fantasy basketball category managers with healthy field goal and three-point field goal percentages and an average of 4.0 assists per game.
Other Players to Note
OG Anunoby, SF, Toronto Raptors
Carmelo Anthony, PF, Portland Trail Blazers
Naz Reid, C, Minnesota Timberwolves
Rebounds | Fantasy Basketball Category Analysis
Josh Hart, SG, New Orleans Pelicans (8%)
Aside from Russell Westbrook, Ben Simmons and Luca Doncic, the only guard ranked in the top-40 in rebounds is Josh Hart. Given the three names that he accompanies, Hart's early-season rebounding production from the shooting guard position speaks for itself. Through two weeks, the former Villanova standout is averaging 8.2 boards per game, tied for 26th in the NBA with none other than his Pelicans teammate, Zion Williamson.
Given the lack of imposing rebounders on the New Orleans roster outside of Williamson and Steven Adams, it's unlikely that Hart's rebound contributions will disappear anytime soon. If he continues his playing time average of 28.3 minutes per contest, there are plenty more rebounds to be had for Hart and for those fantasy basketball category managers that roster him.
Other Players to Note
Jarrett Culver, SG, Minnesota Timberwolves
Bobby Portis, PF, Milwaukee Bucks
JaVale McGee, C, Cleveland Cavaliers
Assists | Fantasy Basketball Category Analysis
Derrick Rose, PG, Detroit Pistons (60%)
Even though he is now playing behind Killian Hayes as a 32-year-old veteran, Derrick Rose is still making the most of his 26.8 minutes per game, especially when it comes to dishing out assists. The Pistons are far from a glamorous team offensively, yet Rose is still managing to average 5.8 assists per contest. In addition, he is snatching 1.2 steals per game. Rose's ownership is relatively high for the time being, likely given his name value. It will be interesting to see how the timeshare at point guard evolves in Detroit over the course of the season. Rose could become more widely available for those fantasy basketball category managers in need of assists. On the flip side, his ownership may get driven further upward if Hayes continues to struggle.
Other Players to Note
T.J. McConnell, PG, Indiana Pacers
Elfrid Payton, PG, New York Knicks
Kyle Anderson, SF, Memphis Grizzlies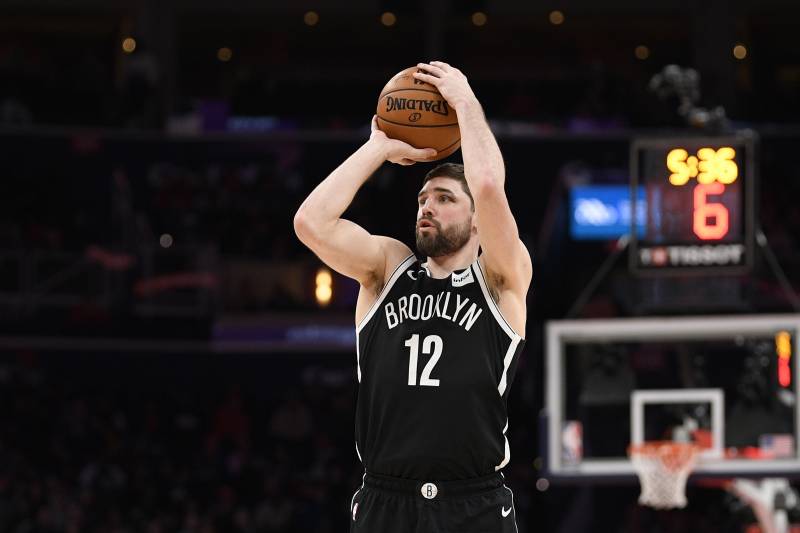 Three-Pointers | Fantasy Basketball Category Analysis
Joe Harris, SG, Brooklyn Nets (39%)
With so many gifted players on the court for the Nets these days, a guy like Joe Harris has a way of flying under the radar. For fantasy basketball category managers looking to boost their three-point shooting, letting a guy like Harris slip away is inexcusable. The 29-year-old veteran is averaging nearly 30 minutes per game, shooting the rock at a 51.2% clip from deep. He averages three made 3's per contest as part of his 13.9 points. Harris also adds a solid field goal percentage of 50.7%. There's no real way that starting a sharpshooter like Harris can damage your fantasy lineup, but it certainly can help in the long-range department.
Other Players to Note
Lugentz Dort, SG, Oklahoma City Thunder
Terrence Ross, SG, Orlando Magic
Cameron Johnson, SF, Phoenix Suns
Blocks | Fantasy Basketball Category Analysis
Kyle Kuzma, PF, Los Angeles Lakers (38%)
Blocks are a fantasy basketball category in which it's difficult for players to average even one per game. With that said, Kyle Kuzma's 1.1 blocks per outing are good enough for a top-25 ranking in the NBA. In the Lakers' most recent game, he notched two in a win over the Grizzlies. Unfortunately, Kuzma continually fails to deliver much else in the way of sound fantasy basketball production. Averages of 11.7 points, 3.3 rebounds and 1.6 assists per game aren't likely to get many managers overly excited. While his potential upside makes him worth a stash if one has the roster space available, his current lack of statistical versatility makes him more of a streaming option for blocks production at present.
Other Players to Note
Rudy Gay, PF, San Antonio Spurs
Kelly Olynyk, PF, Miami Heat
Ivica Zubac, C, Los Angeles Clippers
Steals | Fantasy Basketball Category Analysis
Payton Pritchard, PG, Boston Celtics (2.8%)
With Kemba Walker remaining sidelined, it has been veteran Jeff Teague and rookie Payton Pritchard coming off the bench in the Celtics backcourt behind starter Marcus Smart. In this past Sunday's win over Detroit, Pritchard was on the floor for 28 minutes, compared to just 16 for Teague. In fact, this has been somewhat the norm thus far for Boston. Pritchard has either matched or been slightly ahead of Teague in minutes on a consistent basis. With the latter suffering an ankle sprain that could keep him sidelined for a few games this week, Pritchard is likely to see even more playing time in the near future. The rookie has averaged 1.6 steals per game so far and is a sneaky acquisition for fantasy basketball category managers in need of extra thefts. In addition, Pritchard is averaging 2.4 assists and shooting solid percentages from both the floor and deep.
Other Players to Note
Keldon Johnson, SF, San Antonio Spurs
P.J. Tucker, PF, Houston Rockets
Dwight Powell, C, Dallas Mavericks