We are a little over a month away from regular season football. The Chicago Bears will look to improve on last season's 8-8 regular season record. Keep in mind, there will now be 17 regular season games. In this article, we will break down predictions on which Bears players we think will win certain regular season awards.
Way-Too-Early Chicago Bears Award Predictions
Offensive Rookie of the Year: Teven Jenkins
Sure, many believe Chicago's first-round selection, Justin Fields, will easily win the award, but let's break down why Teven Jenkins has the better shot at winning it. Matt Nagy won't give up the idea of beginning the season with Andy Dalton as the team's starting QB. Many experts believe Fields should win the job, but Nagy has stated that this offseason won't feature a QB battle for the starting gig. Even if the rookie signal-caller does take over at some point, he will likely play less snaps than Jenkins in Chicago's offense over the course of a full season.
Jenkins was drafted out of Oklahoma State to become one the team's starting OTs. The idea is that he will play LT, and if you look at his college tape, he has the skill set to play the position for many years to come. Considering the fact that Chicago let both their former tackles from last season go, the rookie is expected to take over as a leader right away. Nagy also stated that he wants RB David Montgomery to receive 20-plus carries per game. A strong rushing attack could solidify Jenkins' chances even more.
Offensive Player of the Year: David Montgomery
It was mentioned above that Nagy wants Montgomery to receive 20-plus carries per game. Last season, the 24-year-old produced career-highs in almost every statistical category. He finished with 1,070 rushing yards on 247 attempts (4.4 YPC) and eight touchdowns. Although these numbers don't "wow" you, keep in mind that he did most of his damage towards the end of last season.
In the last six weeks alone, he rushed for 598 yards and seven touchdowns. Montgomery did this while averaging about 5.2 yards per carry and just over 19 carries per game during that stretch. With what should be an improved offensive line this season, he should pave his way into another impressive year. Expect a ton of carries for the now-third-year pro, while Chicago molds Fields as their starting QB at some point.
Defensive Rookie of the Year: Thomas Graham Jr.
Thomas Graham Jr. is a defensive back that has the skill set to play safety or cornerback, either on the inside or outside. If you watch his college tape, he shows off skills indicating he could become's the team's nickel corner. The rookie was graded as PFF's No. 76-ranked player going into the NFL Draft. Considering the Chicago Bears drafted him in the sixth-round, you can argue that they may have came away with a steal.
Not only does Graham have the skills to win this award, he doesn't have much competition surrounding him. Chicago's only other drafted defensive player came in the seventh round — Khyiris Tonga. They also signed six undrafted free agent rookies (Charles Snowden, Thomas Schaffer, Dionte Ruffin, Sam Kamara, Caleb Johnson and Daniel Archibong). Snowden poses the biggest threat, but even he isn't a sure player to make the roster. Aside from Graham, none of these names are fully expect to make the team. With that being said, this award might be his to lose.
Defensive Player of the Year: Roquan Smith
Entering his fourth season as a pro, there is a lot in stake for Roquan Smith. He's up for a contract extension after this season, and he's deserving of one so far. Last season, he finished third in the league in solo tackles (109). He also produced 18 tackles for loss, four sacks, one forced fumble and one fumble recovery.
What was even more impressive was his coverage skills. Smith finished tied for fourth amongst MLBs in interceptions (2). On top of that, he produced seven pass break-ups while allowing just a 63.3% completion percentage when thrown to. Many believe he was the Bears' best defender last season, while Khalil Mack and Eddie Jackson produced quieter seasons. Even if those two have bounce-back seasons, it's going to be hard to argue Smith doesn't deserve the award, if he plays anywhere close to how he did last year.

Special Teams Player of the Year: Cairo Santos
Every Chicago Bears fan remembers Robbie Gould. Not only was Cairo Santos the best thing since the "Goulden" days, he also broke some of his records. After starting the season making just four of his first six attempts, he went on to nail his next 27 in a row to break Gould's franchise record of 26 straight. Santos actually made his next three to finish the season, so now enters the season with 30 straight makes.
The veteran kicker was awarded for his 2020 success, and Chicago decided to sign him to five-year extension. No other special teams player looks to have a fighting chance at winning the award over Santos. Pat O'Donnell finished 16th last season in punt average (45.2 yards per punt). Chicago also doesn't know who their kick or punt returner(s) will be this season. If these aren't clear indications that Santos will win the award, then what are?
Most Productive Newcomer: Marquise Goodwin
One of the biggest issues for Chicago's passing attack last season was passing deep down the field. Neither Nick Foles nor Mitchell Trubiksy posted great passer ratings when throwing the ball deeper than 15 yards. Now that Dalton and Fields are on the team, expect more deep balls to be thrown. Marquise Goodwin was brought in specifically for those opportunities. He runs a 4.27-second 40-yard dash, and he's already showcasing his speed in practice.
Before opting out of last season, the speedy receiver played three seasons for the 49ers. His best year came in 2017, when he hauled in 56 receptions for 962 yards and two touchdowns. Although he possesses great speed at his position, he isn't the only one who can beat defenders deep regularly. Goodwin joins fellow newcomer Damiere Byrd, who also plays the WR position and showcases great speed (4.25-second 40-yard dash). Other newcomers that could battle Goodwin for the award include Andy Dalton, Damien Williams, Elijah Wilkinson, Desmond Trufant, Christian Jones, Angelo Blackson and Jeremiah Attaochu. Considering the position Goodwin plays, and the opportunity at hand, he should create a clear path at winning this award.
Team MVP: David Montgomery
The Montgomery hype train is at an all-time high right now. Not only does he dominate the run game, he also possesses great skills as a pass-catcher out of the backfield. He caught a career-high 54 receptions last season for 438 yards and two touchdowns. Montgomery also posted a PFF receiving grade of 81.7, which was fourth amongst all RBs in 2020.
As mentioned before, HC Matt Nagy wants to give Montgomery at least 20 carries per game, on average. If he were to get an even 20 carries last season at his production rate, Montgomery would have hypothetically finished with 1,386 yards and 10 rushing touchdowns. Now that he is likely the focal point of Nagy's offense, he should produce similar numbers to this. Even if other Chicago Bears players produce monstrous seasons, it's going to be hard for them to leap Montgomery as the team's MVP.
---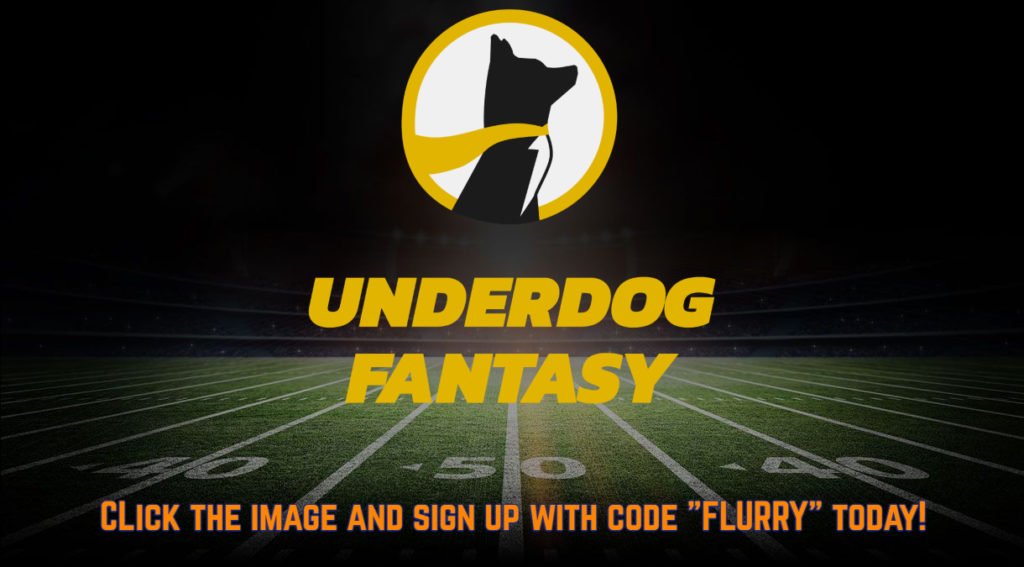 Underdog Fantasy is a new type of DFS that combines the fun of season-long drafts with daily fantasy sports. Aside from their fun, addictive draft mode, Underdog Fantasy also has pick'em player props for many different sports and athletes!
Click the image or RIGHT HERE to get signed up today, and don't forget to use the promo code FLURRY for a FREE $10 bonus on your first deposit!
---