It's possible to win your fantasy league with less-than-average receivers, tight ends, quarterbacks, kickers and defenses. It's incredibly hard to win a league with poor running backs. As the most important position in normal fantasy leagues, it's critical to get your picks right. That's why we're here to help you make the right decision on what running backs to take a deeper look at, and that starts with the RB fantasy football strength of schedule rankings.
With that in mind, let's dive into the five toughest RB fantasy football strengths of schedule, including Kenneth Walker, D'Andre Swift, Raheem Mostert, James Cook and Saquon Barkley.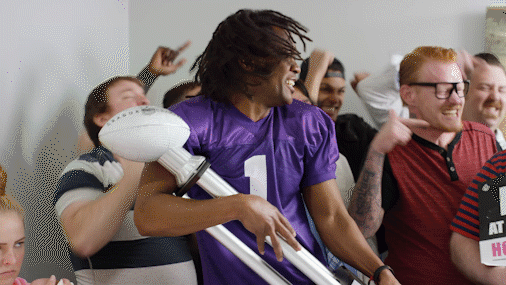 Check out TrophySmack today to get the best fantasy football trophies, belts, rings and draft boards in the industry! Use Promo Code FLURRY to get a free ring with a trophy purchase today!
5 Toughest RB Fantasy Football Strength of Schedule
Kenneth Walker Fantasy Outlook (Seattle Seahawks)
Once Kenneth Walker played more than half of the snaps in Seattle's offense, his output exploded. He had five finishes at RB10 or better last year over the final 10 weeks in which he played more than 50% of the snaps. Seattle likes to run the ball and they were not worried to get him involved early.
This year, we may have more questions than answers for the Kenneth Walker fantasy football value. While he does have a lock on the RB1 position for the Seahawks, the introduction of second-round pick Zach Charbonnet could eat away at some of his value. Add in that he has the toughest fantasy football strength of schedule among all running backs, and Walker could struggle to replicate the same level of production as last year.
D'Andre Swift Fantasy Outlook (Philadelphia Eagles)
Depending on how you feel about D'Andre Swift's abilities as a ball carrier, you'll feel that the Philadelphia Eagles either gave up too much or fleeced the Detroit Lions when they traded for him during the draft. Philadelphia parted with a future fourth-round pick and a late-round pick swap to get Swift for the final year of his rookie deal.
It's easy to see why the Eagles wanted Swift, as their other top running back at that time was the injury-prone Rashaad Penny. Swift will look to lead the Philadelphia backfield this season but it remains to be seen what kind of fantasy return that will lead to. Not only do the Eagles already utilize Jalen Hurts' legs for plenty of running, but Swift and the Eagles face a tough schedule against running backs. Swift has plenty of talent, but it would be smart to use a "wait and see" approach when it comes to him this season.
Subscribe to Fantasy Football by Committee!
We have a new fantasy football podcast called Fantasy Football by Committee! Please subscribe to the podcast on Spotify and rate us five stars. If you'd rather listen on Apple Podcasts, click here! Additionally, you can join the Fantasy Football by Committee Facebook group to ask questions and answer others' all season long, helping to build a great, new fantasy community!
Raheem Mostert Fantasy Outlook (Miami Dolphins)
Mike McDaniel loves himself some Raheem Mostert, which is why he brought him over to Miami with him. While he was inconsistent last year, he was able to play all but one game, an improvement for a player who had played more than 12 games just once in his previous seven seasons. Mostert finished as RB25 but will have a rough time replicating that again in 2024.
Not only did the Miami Dolphins bring in Devon Achane, but they also have one of the toughest RB fantasy football strength of schedules. When Mostert can stay on the field and get the ball, he's electric and a fantasy stud. Unfortunately, that hasn't happened too often. It seems like everything is going against Mostert this season, so it appears to be best to stay away from him this season.
James Cook Fantasy Outlook (Buffalo Bills)
Zack Moss, Devin Singletary and now James Cook. Since Josh Allen has evolved into an elite talent, the running backs for the Buffalo Bills have suffered the consequences when it comes to fantasy production. It's hard to get a read on them from year to year, and while Cook certainly has the talent, the question is whether or not they'll be a valued asset or a frustrating player taking up a roster spot.
This year, Cook should get the bulk of the carries in the backfield even with the addition of Damien Harris. What Cook can do with those carries remains to be seen, as he faces a tough fantasy football strength of schedule this season. It seems like another year of constantly questioning the Bills' backfield and the James Cook fantasy football value.
Saquon Barkley Fantasy Outlook (New York Giants)
Many people had their own theories on how the Saquon Barkley saga would shake out after multiple running backs around the league held a Zoom call to discuss their pay situations. Few expected it to end with Barkley immediately signing on the dotted line and returning to the New York Giants on a slightly better deal. Nevertheless, Barkley will have his work cut out for him this year.
Barkley finally got through a season fully healthy and finished as RB5. The offense improved last year under head coach Brian Daboll, and there is no reason it can't be just as good this year, if not better. Unfortunately, the question becomes whether or not Barkley's body can handle the workload. Even if he can, the tough fantasy football strength of schedule should have fantasy owners cautious of diminished returns heading into 2024.