Another wild and wacky NFL Sunday is officially in the books. As has been the case on nearly every Sunday all season, Week 11 had a little bit of everything. There were surprising upsets and thrilling last-second finishes. There were clutch fantasy football performances and numerous disappointing efforts from some of the league's biggest stars. One player even made a massive statement as far as the NFL MVP Award is concerned with the best individual game we have seen all season to date.
Let's take a look at the top fantasy football performances from Week 11 of the NFL season across each position. This week's notable top fantasy performers include Jonathan Taylor, Austin Ekeler, Justin Jefferson and Elijah Moore.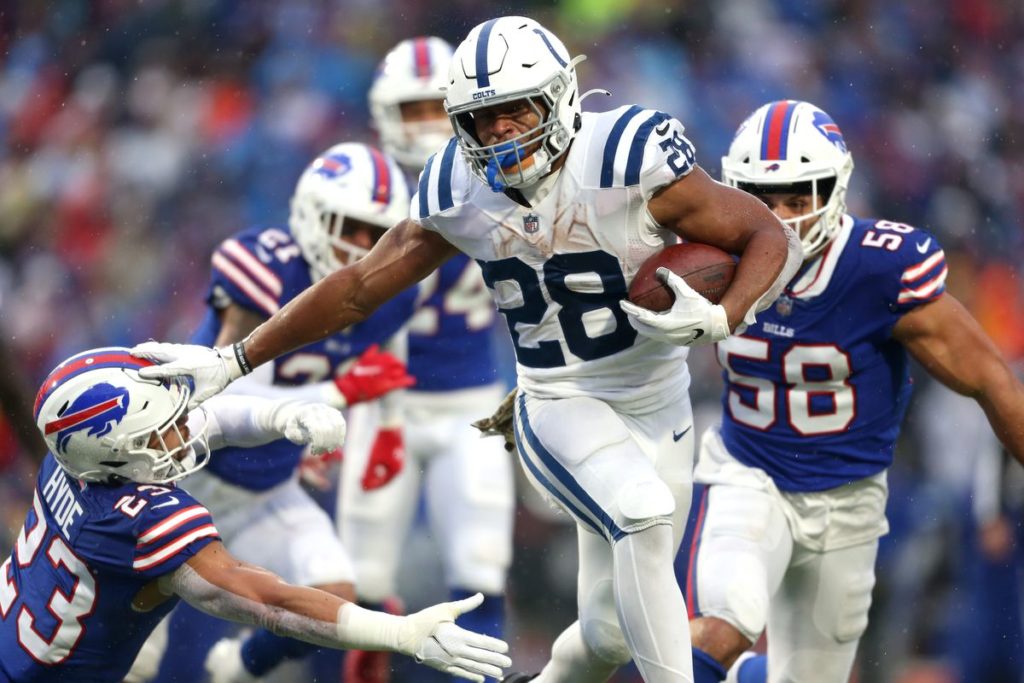 Top Week 11 Fantasy Football Performances | RB
Jonathan Taylor | Indianapolis Colts
Stat Line: 32 carries, 185 yards, 4 touchdowns; 3 receptions, 19 yards, 1 touchdown
PPR Fantasy Points: 53.4 (RB1)
Remember when Jonathan Taylor owners were up in arms over the fact that he had yet to score a touchdown through the first three games of the season? Shame on those who traded him away in a knee-jerk reaction! Not only did Jonathan Taylor single-handedly bludgeon the "mighty" Buffalo Bills defense on Sunday, but he delivered an all-time fantasy football line in the process. Taylor topped 100 yards rushing for the sixth time in the last seven games, piling up a season-high 185 yards on the ground. He added five total touchdowns in the Colts' dominant victory to pile up a whopping 53.4 PPR fantasy points.
Taylor is now the RB1 in fantasy and also leads the league in rushing yards (1122). Both statistical leads are by massive margins at that. In a season where no quarterback truly feels deserving of the NFL MVP Award, the second-year RB deserves consideration for what he has provided to the Colts offense on a weekly basis.
Austin Ekeler | Los Angeles Chargers
Stat Line: 11 carries, 50 yards, 2 touchdowns; 6 receptions, 65 yards, 2 touchdowns
PPR Fantasy Points: 41.5 (RB2)
After a stretch that had seen Austin Ekeler post three modest fantasy football point totals in four games, he dropped a doozy for his managers on Sunday night. Pretty much any other week this season, Ekeler easily would've been the RB1 in PPR scoring. Unfortunately, his four-touchdown effort came on the same day as Jonathan Taylor's epic five-TD performance.
Ekeler still came up huge in a critical win for the Chargers, totaling 115 total yards to go along with his touchdown scores (two rushing, two receiving). One of the best dual-threat backs in the league, Ekeler is the only other RB besides Taylor to now eclipse the injured Derrick Henry in fantasy points scored this season.
Christian McCaffrey | Carolina Panthers
Stat Line: 10 carries, 59 yards; 7 receptions, 60 yards, 1 touchdown
PPR Fantasy Points: 24.9 (RB3)
It sure has been a while since Christian McCaffrey found himself in any top fantasy football performances column. Week 11 finally saw the consensus ADP No. 1 pick get back to top-three status at the RB position. In his third game back after a lengthy injury-related absence, McCaffrey totaled 119 yards and scored a receiving touchdown to edge out Joe Mixon for the RB3 spot with 24.9 PPR points. While all of the hype and attention in Carolina has been focused on the return of Cam Newton, it should not be lost on anyone that McCaffrey is back to putting up big fantasy stats on a weekly basis. And here's the real kicker: despite only playing in six of a possible 11 games this season, CMC is still the RB22 in PPR on the season overall.
Top Week 11 Fantasy Football Performances | WR
Justin Jefferson | Minnesota Vikings
Stat Line: 8 receptions, 169 yards, 2 touchdowns; 1 carry, 3 yards
PPR Fantasy Points: 37.2 (WR1)
It may only be the second year of his NFL career, but Justin Jefferson is no doubt one of the best wide receivers in the league. He has been extremely consistent for his fantasy managers all season long. Only once has Jefferson finished with fewer than 12.5 PPR fantasy points. Week 11 served as a stark reminder of the upside potential that comes along with his weekly consistency. The former LSU star reeled in eight of ten targets for 169 yards and two touchdowns in a huge win over the Green Bay Packers. Mind you, this also came against a Packers defense that was playing exceptionally well prior to Sunday and had just pitched a shutout last weekend. The Vikings have a special one in Jefferson, that's for sure.
Davante Adams | Green Bay Packers
Stat Line: 7 receptions, 115 yards, 2 touchdowns
PPR Fantasy Points: 30.5 (WR2)
Not to be outdone by Justin Jefferson, star Packers wideout Davante Adams was equally impressive in Sunday's NFC North showdown. Based on the play of their defense, Green Bay really had no business being in the game down the stretch. Adams and Aaron Rodgers are just that good. The seventh-year pro out of Fresno State caught seven of eight targets for 115 yards and a pair of scores on Sunday. He finished as the WR2 in PPR on the week with a 30+ point performance.
It should be noted that Adams wasn't the only Green Bay wideout to show out on Sunday. Something about U.S. Bank Stadium just seems to translate to success for Packers' deep threat, Marquez Valdes-Scantling. Rodgers hooked up with him four times in the loss for 123 yards and a score. It was by far the best game of the season for MVS, who finished as the WR6 in PPR with 22.3 fantasy points.
Elijah Moore | New York Jets
Stat Line: 4 receptions, 98 yards, 1 touchdown; 3 carries, 43 yards
PPR Fantasy Points: 24.1 (WR4)
The amount of times that rookie NFL Draft prospects actually live up to the unattainable levels of hype bestowed upon them by talking heads is few and far between. Well, Elijah Moore certainly looks like a player capable of doing just that and then some. The former Ole Miss teammate to NFL stars DK Metcalf and A.J. Brown, Moore has begun to firmly leave his imprint as a rookie over the last several weeks. The fact that he is doing so in a largely incompetent Jets offense is even more impressive.
Robert Saleh got ridiculed to no end for starting Joe Flacco against the Miami Dolphins on Sunday. Turns out that stable veteran QB play enabled Moore to have his best game yet. The rookie turned eight receptions into 141 yards and a score to finish with 29.6 PPR points. Moore has usurped former top-five pick, Corey Davis, as the top wideout in New York. He and fellow rookie Michael Carter are now the top two fantasy football scorers on the Jets roster. After years of frustration and misery, the future is bright for Gang Green.
Top Week 11 Fantasy Football Performances | TE
Zach Ertz | Arizona Cardinals
Stat Line: 8 receptions, 88 yards, 2 touchdowns
PPR Fantasy Points: 26.8 (TE1)
How about the injury-riddled Cardinals?! Arizona finished off a season sweep of it's three NFC West Divison rivals on the road this season with a surprising win over the Seattle Seahawks on Sunday. The Cardinals are now 2-1 with Colt McCoy filling in for the inured Kyler Murray. With DeAndre Hopkins also sidelined, tight end Zach Ertz seized the opportunity this week. The midseason trade acquisition totaled 88 yards receiving and two touchdowns on eight receptions. The 26.8 PPR fantasy points saw him finish a full eight points higher than the next best TE on the board in Week 11.
Adam Trautman | New Orleans Saints
Stat Line: 4 receptions, 37 yards, 2 touchdowns
PPR Fantasy Points: 19.7 (TE2)
We are officially making Youth the general theme of this week's top fantasy football performances column. While superstar TEs Travis Kelce and Darren Waller deserve recognition for finishing Nos. 2 and 3 at the position respectively, the effort of Adam Trautman deserves additional attention. The former Dayton Flyers star has taken full advantage of a Saints offense that is in shambles due to injuries.
Trautman entered Week 11 with three straight games of six or more targets. Although he had yet to breach the double-digit fantasy point threshold, he was highlighted in last week's TE Streamers column thanks to his rising presence and a favorable matchup. Trautman sure delivered for those who took a shot on him. Although the Saints fell on the scoreboard, the second-year pro came up with five receptions on eight targets for 55 yards and his second career touchdown. The 16.8 fantasy points were enough for him to finish as the TE4 on the week.
Top Week 11 Fantasy Football Performances | QB
Justin Herbert | Los Angeles Chargers
Stat Line: 30/41 passing, 382 yards, 3 touchdowns, 1 interception; 9 carries, 90 yards
PPR Fantasy Points: 34.28 (QB1)
Is Justin Herbert quite the player that the media likes to tout him as? Probably not. It is only his second NFL season after all (hello again to our Youth theme). Herbert sure had a nice bounce-back game on Sunday night after being among the biggest fantasy football disappointments one week ago. The Chargers' signal-caller lit up a depleted Pittsburgh Steelers secondary for 382 yards passing and three scores. He also racked up 90 yards on the ground, showing a rushing ability that has largely been kept under wraps since he left Oregon for the NFL. All told, Herbert's 34.28 fantasy points were enough to edge Aaron Rodgers (33.50) for the QB1 spot in Week 11.
Cam Newton | Carolina Panthers
Stat Line: 21/27 passing, 189 yards, 2 touchdowns; 10 carries, 46 yards, 1 touchdown
PPR Fantasy Points: 26.16 (QB4)
It wasn't but a few weeks ago that many believed Cam Newton's days as an NFL quarterback were over. In what might wind up being THE feel-good story of the season, the former MVP is back in Charlotte and starting for the Panthers. Not only that, but "Super Cam" still knows how to pile up fantasy football points as well. While he fell just short of a top-three finish at the position this week, his 26.16 fantasy points were good enough for the QB4 ranking.
It was a typical Newton stat line, as he finished with under 200 yards passing but accounted for three total touchdowns (two passing, one rushing) in a phenomenal game. Unfortunately, Carolina's defense allowed Taylor Heinicke to score over 23 fantasy points of his own in a discouraging loss.
Top Week 11 Fantasy Football Performances | D/ST
Houston Texans
Stat Line: 2 sacks, 4 interceptions, 1 fumble recovery; 420 yards allowed, 13 points allowed
PPR Fantasy Points: 16.0 (D/ST2)
The Texans rode their defense of all things to the NFL betting upset of the week. Thanks to five total turnovers forced, Houston was able to stun the Tennessee Titans in a road win as double-digit underdogs. The Texans intercepted Ryan Tannehill four times in wet weather conditions. Two of those came courtesy of former Titan, Desmond King. Fellow star and reigning NFL tackles leader Zach Cunningham had one of his best games of the season with six total tackles.
Despite being outgained 420-190 for the game, the timely turnovers allowed Houston to only surrender 13 points and get its first win since Week 1. While no one could compare to the 28-fantasy point performance by the New England Patriots on Thursday, the fact that the Texans finished as the D/ST2 on the week is truly incredible.
Top Week 11 Fantasy Football Performances | K
Evan McPherson | Cincinnati Bengals
Stat Line: 2-3 PAT; 4-4 FG, 1 from 40-49, 3 from 50+
PPR Fantasy Points: 14.0 (K1)
That's right, the Youth theme of this week's top fantasy football performances even carries over to the kicker position. Rookie Bengals placekicker Evan McPherson came up huge for Cincinnati in a big road win over the Las Vegas Raiders. He nailed all four of his field goal attempts, including three from 50+ yards out to top the position in fantasy scoring with 20.0 points. The only blemish to McPherson's day was a missed PAT. Go figure, the guy hits three kicks from over 50 yards out and can't convert on all of his extra-point attempts. Only in the NFL, am I right?