Another wild and wacky NFL Sunday is officially in the books. As has been the case on nearly every Sunday all season, Week 11 had a little bit of everything. There were surprising upsets and thrilling last-second finishes. There were clutch fantasy football performances and numerous disappointing efforts from some of the league's biggest stars. While one player made a massive statement as far as the NFL MVP Award is concerned, others turned in games that both they and their fantasy football owners would prefer to soon forget.
The following article looks at some of the biggest fantasy football disappointments from Week 11 of the NFL season across each position. This week's notable fantasy busts include David Montgomery, Antonio Gibson, Michael Pittman Jr. and DK Metcalf.
Week 11 Fantasy Football Disappointments | RB
David Montgomery | Chicago Bears
Stat Line: 14 carries, 58 yards; 1 reception, 9 yards
PPR Fantasy Points: 7.7 (RB23)
Since returning to the lineup following a stint on IR, David Montgomery has failed to overcome the awful Bears offense around him. Week 11 marked a continuation of that. In fact, Montgomery finished even worse than his 10.0 fantasy points that came three weeks ago prior to the bye. In a matchup against a banged-up Baltimore Ravens defense, the third-year pro only totaled 58 yards rushing and a single reception for nine yards. A midgame QB switch from Justin Fields to Andy Dalton as a result of injury did not help matters either. After being one of the top fantasy football performers down the stretch of last season, Montgomery is now only the RB42 on the season in PPR.
Antonio Gibson | Washington Football Team
Stat Line: 4 carries, 25 yards; 1 reception, 14 yards
PPR Fantasy Points: 4.9 (RB46)
Week 11 saw Antonio Gibson's fantasy production continue to be both disappointing and nonsensical. One week after posting over 21 PPR points in a difficult matchup against the stout Tampa Bay Buccaneers run defense, Gibson laid yet another egg against a much more favorable opponent. While he did total 95 yards rushing, Gibson gave some of that production back in the form of a lost fumble. His failure to find the end zone or get involved in the passing game resulted in just 7.5 fantasy points.
This marks the fourth time in the last five games that the second-year Washington back has failed to reach double-digit PPR points. On top of that, the fumble issues don't bode well for his playing time moving forward. At this point, owners would be wise to stop waiting for the consistent low-end RB1 production that they drafted him for back before the season began.
Zack Moss | Buffalo Bills
Stat Line: 3 carries, 5 yards
PPR Fantasy Points: 0.5 (RB68)
Falling right in line with the entire performance of the Bills as a team on Sunday was the horrendous fantasy football line from Zack Moss. After a terrific start to the season, the former Utah back has now fallen short of double-digit PPR points in four of the last five games. Sunday's outing proved to be his worst yet, as Moss finished with a whopping five total yards on only three carries. Although the matchup came against a top-tier Indianapolis Colts run defense, the Bills have proven incapable of running the ball in recent games against far lesser competition. After this RB68 effort, Moss has no place in starting lineups going forward until both he and the Buffalo offense redeem themselves.
Week 11 Fantasy Football Disappointments | WR
Michael Pittman Jr. | Indianapolis Colts
Stat Line: 2 receptions, 23 yards
PPR Fantasy Points: 4.3 (WR69)
The entire Colts offense was overshadowed by a historic performance by running back Jonathan Taylor on Sunday. This came at the expense of Indianapolis' wide receivers who really did not have to do all that much. Heck, Carson Wentz finished with just 106 yards passing in the 26-point blowout of the Bills. Because the game turned into the Taylor show, second-year wideout Michael Pittman Jr. wound up being a major fantasy football disappointment. After emerging as the team's top weapon through the air in recent weeks, Pittman caught just two of five targets for 23 yards on Sunday. The 4.3 PPR points marked the first time since Week 6 that Pittman failed to record double-digit points.
Pittman wasn't the only Colts pass-catcher who was quiet in Week 11. Veteran T.Y. Hilton was quiet for the second straight week following a return from his latest injury. The 31-year-old was hardly more productive than Pittman on Sunday, finishing with 26 yards on two receptions and 4.6 fantasy points. While both of the Colts' top two wideouts should have better days ahead, Indianapolis is clearly content to ride Jonathan Taylor as far as he will take them.
DK Metcalf | Seattle Seahawks
Stat Line: 4 receptions, 31 yards
PPR Fantasy Points: 7.1 (WR51)
For the second consecutive week, DK Metcalf is among the fantasy football busts at wide receiver. After scoring double-digit PPR points in every game this season prior to last week's debacle that ended in an ejection, Metcalf fell short of the 10-point threshold once again on Sunday. The Seahawks' alpha receiver caught just four of eight targets and finished with 31 yards. For the second straight week, Metcalf failed to crack the top-50 at the position. Of course, it's not like his quarterback has been helping matters any. More on that later in this article.
Brandin Cooks | Houston Texans
Stat Line: 2 receptions, 18 yards
PPR Fantasy Points: 3.8 (WR71)
Despite playing with Davis Mills as his quarterback for the majority of the season thus far, Brandin Cooks has somehow been able to maintain a top-25 fantasy football ranking at the wide receiver position. Unfortunately, Sunday's game did nothing to help his status. Rainy weather conditions saw Tyrod Taylor throw for just 107 yards on the day, albeit in a Texans win. Cooks accounted for just 18 of those air yards, catching two of his three total targets. The 3.8 PPR points and WR71 ranking for the week are both well below the type of product managers have grown accustomed to from the veteran. This one wasn't pretty, but a healthy Taylor should only be beneficial to Cooks' fantasy value moving forward.
Week 11 Fantasy Football Disappointments | TE
Dan Arnold | Jacksonville Jaguars
Stat Line: 0 receptions, 0 yards
PPR Fantasy Points: 0.0 (T-TE49)
Week 11 was a major sad face for those of us at FlurrySports who have hyped Dan Arnold up to the point of no return. The Jaguars were so bad on Sunday that even Arnold could not overcome the struggles around him. He played 65% of the offensive snaps but did not receive a single target as a streak of three consecutive games with double-digit PPR points came to a screeching halt. Although this goose egg is a tough one to get past, Arnold should be able to rebound moving forward. When it comes to weight future player outlooks, side with the trend over the one-off anomaly.
Week 11 Fantasy Football Disappointments | QB
Patrick Mahomes | Kansas City Chiefs
Stat Line: 23/37 passing, 260 yards 1 interception; 7 carries, 11 yards, 1 fumble lost
PPR Fantasy Points: 7.50 (QB25)
Well, maybe the Chiefs aren't quite back offensively like everyone assumed after a beatdown of the Las Vegas Raiders last week. While Kansas City was able to notch its fourth straight win over the Dallas Cowboys on Sunday, it was largely a performance to forget for Patrick Mahomes. The former NFL and Super Bowl MVP had 260 yards passing but accounted for no touchdowns in the low-scoring win. Making matters worse for Mahomes' fantasy managers, he coughed up two more turnovers (one fumble, one interception) and totaled just 7.50 fantasy points for the day. The QB25 showing undoubtedly cost some of the managers who used a top-40 pick to draft him their Week 11 matchups.
Russell Wilson | Seattle Seahawks
Stat Line: 14/26 passing, 207 yards; 2 carries, 2 yards
PPR Fantasy Points: 8.48 (QB23)
The optimism in Seattle surrounding Russell Wilson's return from injury has dissipated entirely. The Seahawks were largely incompetent on offense once again in an embarrassing home loss to the Colt McCoy-led Arizona Cardinals on Sunday. While Wilson managed to keep from throwing any interceptions after tossing a pair in last week's shutout loss, he didn't exactly do much to positively impact the game either.
The days of "Let Russ Cook" are long gone as Wilson totaled just 207 yards passing and did not account for a single touchdown. His QB23 fantasy football line would have been even worse had the Seahawks not been able to fall on each of his two fumbles. Given the tensions between player and organization, a change of scenery for Wilson might be coming sooner than later.
---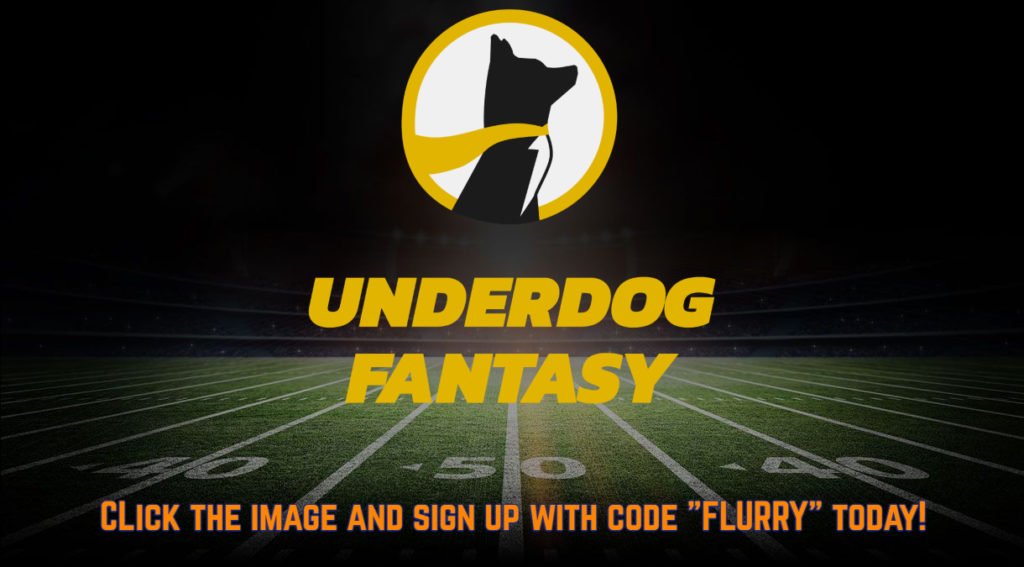 Underdog Fantasy is a new type of DFS that combines the fun of season-long drafts with daily fantasy sports. Aside from their fun, addictive draft mode, Underdog Fantasy also has pick'em player props for many different sports and athletes!
Click the image or RIGHT HERE to get signed up today, and don't forget to use the promo code FLURRY for a FREE $10 bonus on your first deposit!
---