After one month of the NFL season, there are some surprises amongst the fantasy football leaders. While there is still plenty of football to be played, four weeks of action gives us a better idea of what each player's role and value is going forward.
So, with that in mind, let's take a look at the fantasy football leaders at the quarterback position. We will decide if each player's ranking is legitimate or if they will fall off. If you're the owner of one of the players we believe will fall off, it may be a good idea to see if you can sell high on their inflated value.
---
---
Top 10 Fantasy Football QB Leaders: Real or Nah?
1 — Patrick Mahomes (111.92)
Real or Nah?
Real: We know Patrick Mahomes is one of the most talented quarterbacks in the league, who happens to play for the best offensive mind in the game. Mahomes also has one of the most talented, explosive groups of pass-catchers around him. On top of this, the defense for the Kansas City Chiefs is really struggling, meaning Mahomes will not have many moments where he can coast at the end of games.
2 — Kyler Murray (107.82)
Real or Nah?
Real: Say what you want about the discipline of this team and the coaching, but Kyler Murray is the perfect fantasy football quarterback. He has weapons all around him and he is finally comfortable pushing the ball downfield all game long. Then, he continues to be one of the toughest players to take down, somehow always evading contact. Murray has three rushing touchdowns so far, which isn't a fluke.
3 — Jalen Hurts (99.28)
Real or Nah?
Real: Jalen Hurts may not be a good NFL quarterback. It's likely too soon to make a judgment either way, but he is certainly not among the elite passers. However, the Eagles are a bad team that will be trailing often, meaning he should see soft defenses in the fourth quarter quite often. Garbage time points count the same as those that come in competitive games. Then, Hurts also has the legs to make himself an elite option for fantasy.
4 — Tom Brady (96.54)
Real or Nah?
Real: Let's not pretend Tom Brady had a good game in New England. However, his other three games were strong enough to make him top-five for the season. It's legit, giving the receiving weapons around him, the offensive scheme he plays in and the lack of trust everyone has in the running game. The Tampa Bay Buccaneers' defense is also struggling to stop opposing passers, meaning Brady will need to continue attacking all game long.
5 — Sam Darnold (94.76)
Real or Nah?
Nah: Is Sam Darnold a legitimate fantasy football quarterback? Sure. Is he a top-eight player for the season? No. He still doesn't throw players open, and we cannot expect his receivers to be this wide open all year long. On top of that, his rushing production is hilarious right now, earning him the nickname "Vanilla Vick." With five touchdowns with his legs, 31.6% of his total fantasy points have come from only those scores. Taking away just two of his rushing touchdowns would drop Darnold to QB12.
6 — Daniel Jones (94.16)
Real or Nah?
Nah: I believe Daniel Jones is a very good quarterback. However, I believe Jason Garrett has gotten his offense from Madden 2003. The New York Giants' offense is outdated and the offensive line is bad. Also, they say you shouldn't throw rocks in a glass house. However, should your throw passes to players made of glass? If you told me John Ross and Kyle Rudolph are Jones' top available receiving targets in Week 7, it wouldn't even surprise me.
It's also worth noting that 15.8% of Jones' fantasy points have come from his rushing performance in Week 2, which is not a rushing output we should expect to see again. He's a good real quarterback and a decent one for fantasy, but he will fall outside the top 10 soon.
7 — Josh Allen (91.1)
Real or Nah?
Real: Josh Allen should probably be considered the favorite to win the NFL MVP, unless the Buccaneers finish with the league's best record. Allen struggled the first couple of weeks, then the Bills dominated last week, leading to him not needing to do much. Once games become more competitive, like this week, we will see the explosive passing offense of the Bills come back, and Allen will be more likely to put his body on the line and use his legs slightly more as well. You can still treat him as a top-five guy.
8 — Matthew Stafford (90.38)
Real or Nah?
Real: Matthew Stafford has been a top-five real-life quarterback for most of his career, and I'm happy more people are seeing his skills now. There's a lot to like about Stafford from a fantasy football perspective as well. The offensive scheme is strong, the receiving weapons are talented and the running game is not one to trust in the red zone, leading to more passing touchdown opportunities for stafford. Darrell Henderson is too small and injured to use as the red zone runner, while Sony Michel is Sony Michel. Sean McVay will need to suck it up and let Stafford continue to pass when they get in close, which is great for fantasy going forward.
9 — Russell Wilson (89.56)
Real or Nah?
Real: Russell Wilson is consistency personified. He is the QB9 despite having two separate games of 23 pass attempts, which should not happen much again going forward. The Seahawks defense is still an issue, so expect to see Wilson passing much more with tougher opponents on the horizon. He is a set-it-and-forget-it player.
10 — Lamar Jackson (88.98)
Real or Nah?
Real: Lamar Jackson is playing for a new contract right now, so expect him to continue impressing us in fantasy football. His passing yards have gone up every single week, with him throwing for over 300 against the Broncos last week. He also has 58+ rushing yards in three of his four games, giving him a solid floor and high potential ceiling. With the Ravens' passing game progressing and talented rookie wide-out Rashod Bateman coming soon, Jackson should continue rising this list.
---
Follow us on all of our social channels! Check out our Twitter, Facebook and YouTube for more great FlurrySports content.
---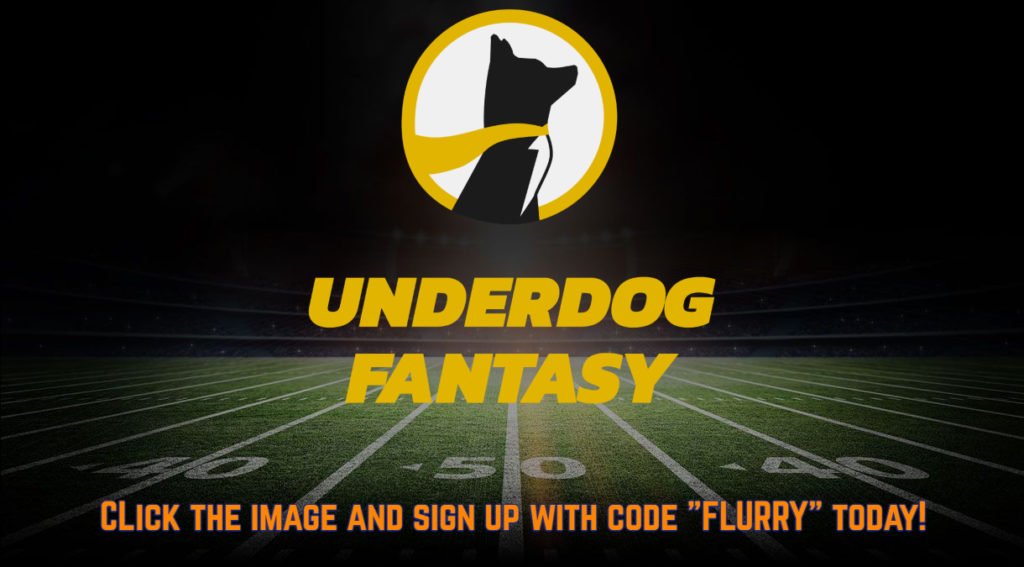 Underdog Fantasy is a new type of DFS that combines the fun of season-long drafts with daily fantasy sports. Aside from their fun, addictive draft mode, Underdog Fantasy also has pick'em player props for many different sports and athletes!
Click the image or RIGHT HERE to get signed up today, and don't forget to use the promo code FLURRY for a FREE $10 bonus on your first deposit!
---