What a difference a week makes. Against Denver, the Dallas Cowboys could do no right. When they did make the right decision or execute the assignment, it still seemed to backfire. Fast forward a week, and Dallas was playing another 4-4 team. Like Denver, Atlanta was desperate to get their season back on track and coming off a win. It was like déjà vu, but the Cowboys weren't in the mood for any reruns on this day.
Just like the Denver game, Dallas got forced into fourth-down scenarios. After going 0-4 against the Broncos, America's Team converted all three of their fourth-down attempts. The Cowboys got back on track, with a 43-3 drubbing that included reserves entering the game late in the third quarter.
Let's take a look at the good and bad from the Dallas Cowboys Week 10 win over the Falcons.
Takeaways From the Dallas Cowboys Week 10 Win
The Good
Fast start makes Atlanta one-dimensional
The Dallas Cowboys offense is one of the most formidable units in the league to compete against when healthy. Still, I hope this game opened their eyes about just how important starting fast can be.
On the opening drive, Dallas marched down and scored a touchdown to take the early lead, and it put pressure on Atlanta to match their efforts. The Falcons were able to get three points on the ensuing possession and even forced a punt after that. Still, the opening drive proved that the Cowboys would be a tough offense to handle on this day. That tone-setting drive forced the Falcons into making a poor decision to go for it on fourth down, despite being in field-goal range.
I know everybody seems to go for it on fourth and short to medium these days, but if Dallas hadn't come out sharp, does Arthur Smith just take the points? Instead, Jourdan Lewis knocks down the fourth-down pass, and the Cowboys scored touchdowns on each of their next three drives. While this kind of dominance won't happen every week, the fast starts need to be a highly-prioritized goal because of how it helps the defense. Teams are forced to pull out the new package and formations they installed that week, or even pick up the tempo or go no-huddle. Most importantly, they will prioritize the pass.
New formations and plays, as well as gimmicks, are meant to be sprinkled across the game, not implemented right away to take an early advantage or keep up. That's what a fast start by our offense means to this defense. It's like evening the playing field. When Dallas does that, they can beat any team in the league.
Everybody gets involved
Speaking of fast starts for this offense, how good did this bunch look with Gallup back? I know Atlanta's defense isn't great, but my goodness, everyone seemed to be better than the player covering them. On top of that, Prescott bounced back from an off-performance last week and looked absolutely sensational. An accurate Prescott with a healthy cast of pass-catchers may be the toughest juggernaut in the NFL.
Seven different players caught a pass in the opening half where very little went wrong for the Cowboys' passing attack. What's crazy is Prescott's security blanket, Dalton Schultz, wasn't even one of them.
Outside of Eric Harris jumping a slant to Michael Gallup and nearly picking it, Prescott was constantly locating the open man. It was a bit discouraging to see Cedrick Wilson get lost in the shuffle with Gallup back, but this team is just too dangerous when Gallup is on the field with Lamb and Amari Cooper.
Defenses are begging for trouble if they don't have two deep safeties against that trio, and yet, that opens things up for the league's fourth-ranked rushing attack. Once Tyron Smith and Blake Jarwin get back, this offense will officially be at full-strength. That must be a scary thought for the rest of the NFL.
Unsung defenders step up
I continue to preach that this defense is better but not completely fixed. However, it's hard not to have confidence in them when they continue to step up in tough situations. Coming into the year, I had two major concerns. First, Dallas had one proven pass rusher in Demarcus Lawrence. Yes, Randy Gregory has plenty of upside, but we'd seen minimal production from him for various reasons coming into the year. On top of that, the Dallas Cowboys were a rag-tag bunch in the secondary. Most of the safeties were on prove-it deals, and the majority of the corners were still more potential than production.
So, a questionable pass-rush and secondary? Sounds like a recipe for disaster, in my estimation. However, is it hasn't been.
Micah Parsons is one of the most exciting defenders in football just nine games into his NFL career and has arguably been the DPOY since the bye week. Brown, Carlos Watkins, Justin Hamilton, Osa Odighizuwa, and Jayron Kearse have all stepped up at times as well. Still, with three-quarters of our starting defensive line on IR, I had my doubts going into the Falcons game. Once again, guys stepped up.
Kyle Pitts looked like he was on his way to a monster performance, and Jourdan Lewis nipped that in the bud quickly. The man came in clutch on third and fourth downs, knocking three passes down and making a huge stop for no gain. It was only fitting that he got an interception to cap a brilliant performance. The same goes for Dorance Armstrong. He got several pressures, as well as a big sack. He also had the proverbial cherry-on-top moment with a blocked punt just before halftime. When guys like this step up, it's the ultimate X-factor for this team.
Special Teams becoming a strength
Last week, I started to put this down when Tony Pollard opened the game with a big return, and Turner blocked a punt. However, there is no leaving them out after last Sunday's showing. After many, including me, were highly skeptical of our special teams early in the season, they are turning over a new leaf.
Pollard opened the game with a strong return for the second-straight week. On top of that, Lamb had a 16-yard punt return where he nearly broke loose for a huge play.
The punt-block unit got home for the second-straight week, and this time, they turned their efforts into points in a bit of poetic justice for Wright. The punt coverage unit did a terrific job on an exciting young return man in Avery Williams. Let's not look past the job the extra-point unit did either. The process of a field goal has little margin for error. Anytime a long-snapper, holder, or kicker is replaced, the pressure is on to keep the routine flawless.
Lirim Hajrrulllahu stepped in without an issue and drilled all five of his attempts. When special teams units are doing their jobs, it makes a team that much harder to beat. Football is often regarded as a game of inches, and there are vital inches available in this portion of the game. The Dallas Cowboys haven't been giving any up over the last several weeks while taking a few from their opponents.
The Bad
Not sure Trevon Diggs is healthy
Trevon Diggs' 2021 season has been a polarizing stretch of interceptions and big plays given up. Still, Part of being aggressive is being vulnerable, and I'm not sure he leads the league in interceptions without occasionally giving up a big play.
However, over the last few weeks, he hasn't shown that same level of confidence or aggression. In fact, he's routinely laboring in and out of breaks, and the lower-body issue he's been dealing with is the likely culprit. Yes, he had another interception, and I'm not sure how many NFL defensive backs bring in that ball. However, that turnover was possible because of a terrible throw by Matt Ryan.
If my assumptions are correct, maybe it's time to give Diggs the same precautionary approach we've seen Dallas use with Prescott and Tyron Smith. Yes, it'd be great to have him against the Kansas City Chiefs, but I'd rather have him healthy for the playoffs.
Dallas has been fortunate to see young players step up in spots like this, including Odighizuwa, Cooper Rush, and Terence Steele. I know I'm not the only one that wants to see Kelvin Joseph get some snaps. Resting Diggs gives Dallas a chance to get a key player healthy while being able to evaluate another. The Cowboys have a 3.5 game lead in the division midway through the season with four divisional games left.
I'd be willing to bet that if we get three wins in those four divisional games, it puts the NFC East to bed, regardless of what happens in the other four games. More importantly, none of our next three games are against divisional opponents.
I know the Dallas Cowboys are still in the mix for the top overall seed in the NFC, but I'd love to have Diggs healthy for the playoffs.
Drops must stop
It's been easy to get over the drops this season at 7-2. Even Cooper's drop against Denver was palatable, considering the Cowboys could do little right against the Broncos. Still, the games will get tighter as the season wears on, especially in the playoffs. When that happens, we can't keep squandering opportunities. Gallup's wide-open blunder was the obvious one on Sunday. If he catches that, I'm not so sure he doesn't go untouched, considering the safety took a horrible angle. However, there were several other issues with pass catchers.
The pass to Lamb when Atlanta jumped offsides was in a tight window, and I'm sure Lamb didn't think the ball would be thrown his way, given the coverage had him bracketed. Still, that ball hit him in the hands, and the top receivers in the league make those catches.
I genuinely believe Lamb's explosiveness and versatility have him on pace to be one of the top wide receivers in all of football. However, drops have been an issue in his first season and a half. They aren't always entirely on him, but you must be dependable in any situation to be the best. If it hits your hands, the quarterback has done a good enough job. Lamb must clean this up, as do the rest of the pass-catchers.
I'm not giving Dalton Schultz a pass either. On his option route, Prescott threw a perfect ball for what should have been a touchdown. I'm not sure why Schultz hesitated after turning upfield, but it cost him a chance at an easy score. That route is the famous Y-option that Jason Witten terrorized defenses with for years. You motor down when there are two deep safeties, but there weren't. Not sure why he did.
---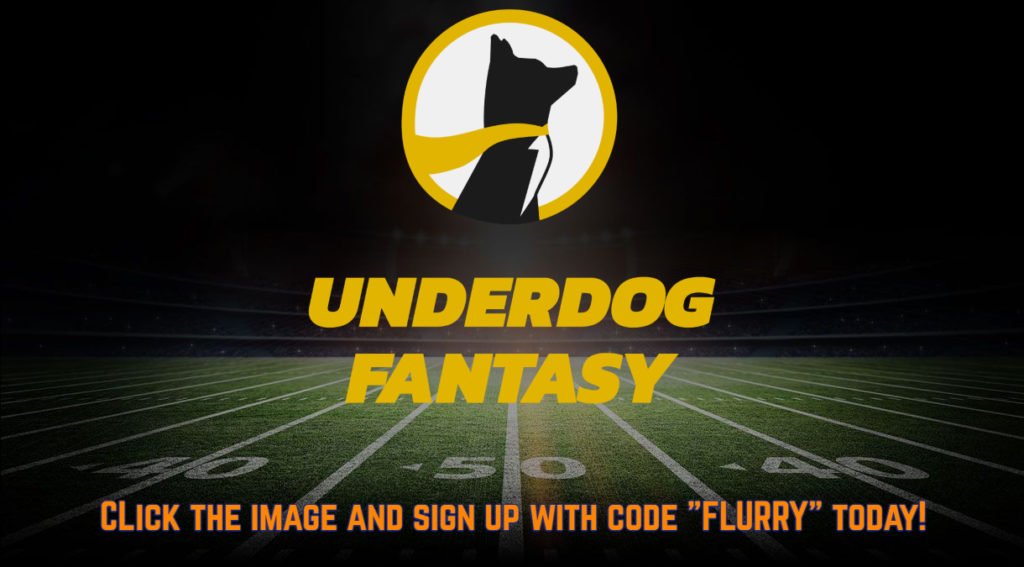 Underdog Fantasy is a new type of DFS that combines the fun of season-long drafts with daily fantasy sports. Aside from their fun, addictive draft mode, Underdog Fantasy also has pick'em player props for many different sports and athletes!
Click the image or RIGHT HERE to get signed up today, and don't forget to use the promo code FLURRY for a FREE $10 bonus on your first deposit!
---