In the last seven years, the Pittsburgh Steelers draft picks have leaned towards the defensive side of the ball in the first round. Selections of Cameron Hayward (2011), Bud Dupree (2015) and T.J. Watt (2017) are a few of the reasons why Pittsburgh has ranked in the top 10 defensively four out of the last five seasons. Now, while the trend could continue in this year's upcoming draft, head coach Mike Tomlin and staff might want to reconsider their annual plan and look in the opposite direction.
Coming off one of the worst seasons offensively in the Tomlin era, the Steelers have many sizeable holes they will need to address this offseason. Age has finally come back to bite Pittsburgh, as they most recently lost starting center Maurkice Pouncey to retirement and are dealing with what is next for their 38-year-old quarterback, Ben Roethlisberger. All of this is being mentioned without noting several key players they could be losing to free agency.
It has been hard to think of a time where this many question marks were surrounding a Steelers team. There are several ways Pittsburgh could approach this draft in the first round, but here is who I think are five Steelers draft targets they could go after with the 24th overall pick.
Steelers Draft Targets in First Round
Creed Humphrey, IOL, Oklahoma
Humphrey might not jump off the paper with his athleticism, but his experience could be exactly what the Steelers need to fill in for the now-retired Maurkice Pouncey. After 36 consecutive starts at center for the Sooners over a three-year college campaign, the left-handed snapper has learned how to use his frame, strength, and football IQ to his advantage.
At the Senior Bowl, Humphrey dominated interior defenders in one-on-one drills and proved why he could be an NFL lineman for many years to come. This might not be a flashy pick for Pittsburgh, but it would fill a hole and give Ben Roethlisberger the protection he needs.
Alex Leatherwood, OT, Alabama
Assuming the Steelers lose starting left tackle Alejandro Villanueva to free agency, Alex Leatherwood would be a great substitute to sure up Ben Roethlisberger's blindside. The Crimson Tide tackle was ranked at the top of his position going into last year's draft but decided to stay another year to help Alabama win another national title.
Leatherwood offers overwhelming length and above-average footwork. Just like Humphrey, this selection would be safe and fill a hole of many on Pittsburgh's offensive line.
Najee Harris, RB, Alabama
I couldn't write this article without having a little fun. Last year, the Steelers ranked last in the league in rushing. James Conner and Benny Snell showed occasional signs of potential, but the injury bug ended up shortening their season. Harris is a battering ram of a running back and, to some analysts, the most well-rounded back in the 2021 class. The blend of speed, size and ability to play on third down makes Harris' future one that can't be avoided.
This pick would definitely spice things up for Pittsburgh moving forward but would help keep them competitive in the AFC North. By selecting Najee Harris with the 24th overall pick, he would become the first running back drafted in the first round by the Steelers since Rashard Mendenhall in 2008.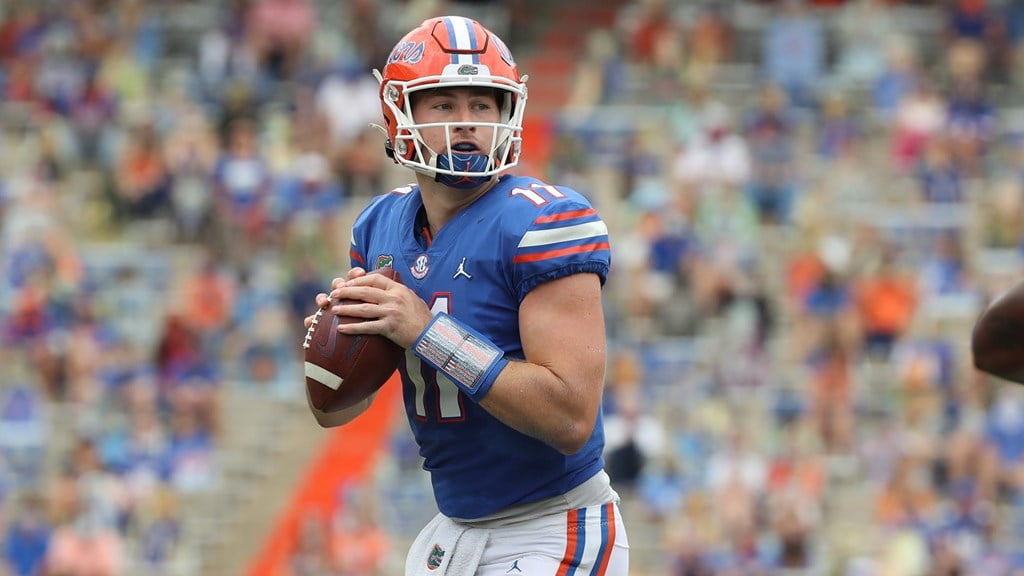 Kyle Trask, QB, Florida
Falling on the QB board after a rough Cotton Bowl performance, Kyle Trask might be exactly where the Steelers want him, with possession of the 24th overall pick. After finishing the season throwing 4,283 yards and 43 TDS as a senior, taking Trask in the late first-round would be a great addition to Pittsburgh's future.
Roethlisberger hasn't mentioned retirement as an option anytime soon, which would allow the Florida quarterback to sit behind him for a year or two and soak in any knowledge the future Hall-of-Famer has to offer. Trask also proved he has no problem waiting to get on the field, as he didn't become a starter for the Gators until his redshirt junior season.
Selecting Kyle Trask at No. 24 would be in comparison to what the Green Bay Packers did with their first-round pick last year when they drafted quarterback Jordan Love.
Zaven Collins, LB, Tulsa
If Pittsburgh keeps things traditional, taking Zaven Collins at No. 24 would carry tremendous value. Collins separates himself from other prospects at his position, with his versatility and athleticism. Pairing the Tulsa linebacker with a healthy Devin Bush could have opposing fans infuriated when it came to playing the Steelers on Sunday.
Defensive coordinator Keith Butler would have a field day with a prospect like Collins. He would be able to let the 6-foot-4, 260-pound linebacker loose in blitz packages, but also manage to trust him in pass coverage. It only took the linebacker one season to find himself being considered as a legitimate first-round prospect, imagine what he could become if he played alongside one of the top NFL defenses.