Running Back Draft Strategies
To continue here with our draft strategy analysis, here is my strategy for addressing the running back position. Contrary to the quarterback position, all fantasy experts have differing opinions on drafting running backs. Everyone has different strategies such as drafting backs early, ignoring running backs until the later rounds, and targeting only pass-catching backs in PPR. The best part about the differing strategies is that they all can work. If you drafted either Le'Veon Bell, David Johnson, or Ezekiel Elliott in the first round last season, I'll bet it paid dividends. However, if you waited on players like LeGarrette Blount, or added Jordan Howard and Jay Ajayi in free agency, you were well off as well. All of these contradicting strategies, along with the number of running back committees in the league, make the position tough to draft.
Because of how differently people attack the position, I'm here to give you my recommendations. Even though I am generally in favor of targeting running backs early, I ultimately want to take the best value available. Because of the numerous strong options at quarterback in later rounds, and my strategy of avoiding early tight ends (except Travis Kelce), my rosters start with lots of running backs and wide receivers. I'll do my best to explain different strategies, and explain which running backs I'm targeting and when. For any other questions about the position, here are the Flurry Sports rankings.
Strategy #1: Drafting Running Backs Early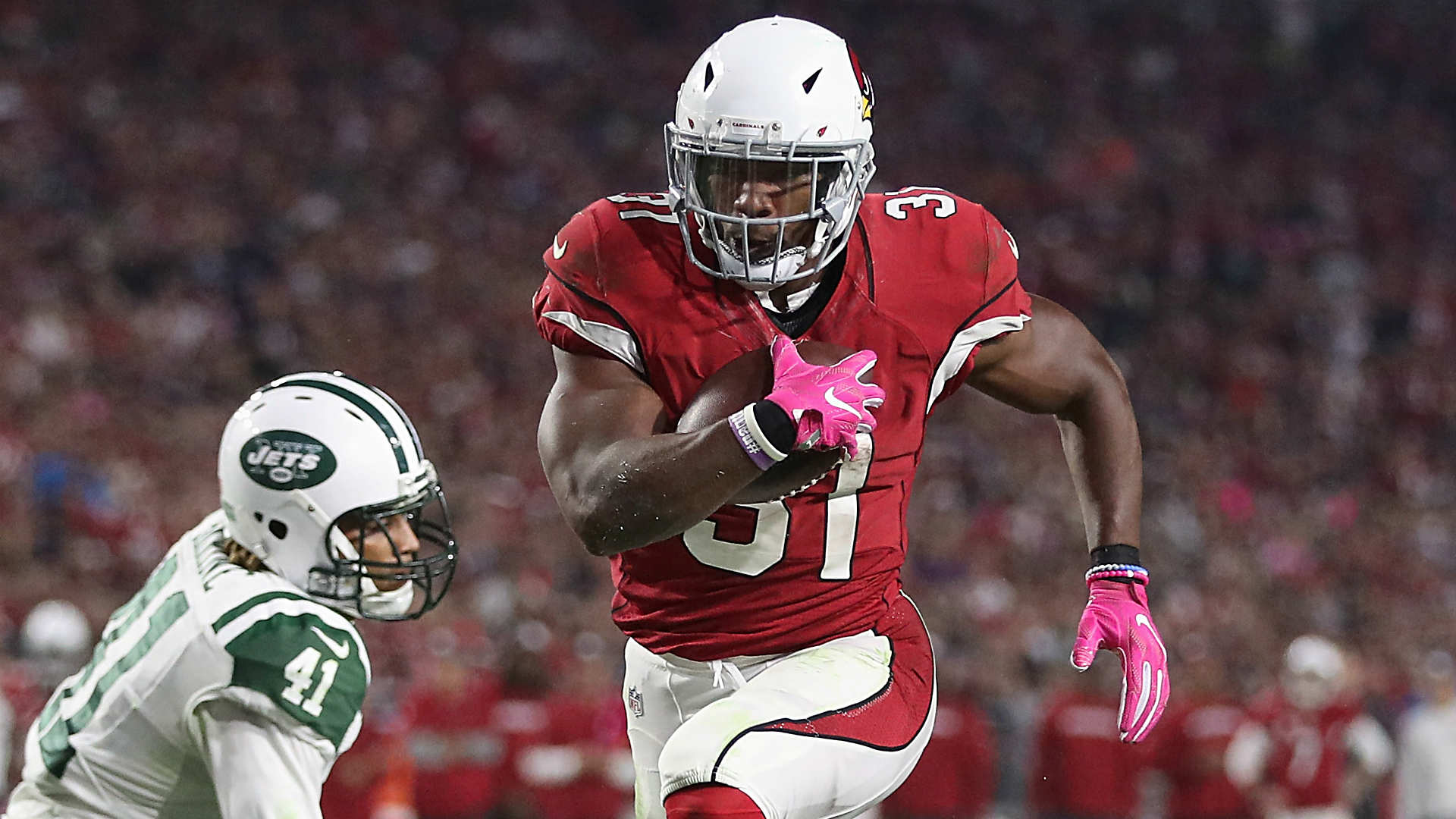 After a brief two year period where drafting wide receivers before running backs was the smart play, the tide has turned back to running backs before receivers. This is all thanks to the studs like David Johnson, Le'Veon Bell, and Ezekiel Elliott, who were monsters last season. Johnson was so good that he outscored all Quarterbacks not named Aaron Rodgers, which is crazy for a running back. If you have a top-two pick, drafting Johnson or Bell is a must.
Even if you're not picking this early in drafts, running back should be a position to have in mind early. Coaches in the NFL are utilizing running back committees more and more now, which hurts fantasy. Having a bellcow back that will get 25 touches a game gives you a big advantage at the position each week over teams that don't have one. Because of the small number of bellcow backs, these runners are all going in the first three rounds. Even though I still recommend taking the best player available in this part of the draft, I tend to hate it when I don't have a stud running back in the first two rounds. To help avoid this, I have broken down the first four rounds of drafts, to help you roughly plan your draft.
Round one is all about the elite six, or David Johnson, Le'Veon Bell, Antonio Brown, Julio Jones, Mike Evans, and Odell Beckham Jr. If you draft in the top six, take one of these guys. However, if you draft at the bottom of the first round, you have a couple different choices. There are a couple of great receivers here in A.J. Green and Jordy Nelson, who should both ball out. You can also go running back here if you'd like, with LeSean McCoy (who shouldn't be vultured at the goal line as much this season) or Devonta Freeman at this point in drafts. This is really based on personal preference, as all players are absolute studs and we can make an argument for all four.
Round two is mostly dominated by stud running backs, which is normally where I grab a running back if I'm not drafting at the beginning. You have great options like Melvin Gordon, Jordan Howard, DeMarco Murray, and Jay Ajayi, all of whom are solid RB1s. I've mostly been targeting Gordon and Murray, but again, this is all preference. If I took a receiver in the first round, the only receivers I'm really looking hard at is Michael Thomas or Dez Bryant. The second year wideout has a huge ceiling as the WR1 in New Orleans, and is so tempting in every mock draft, while Dez should be in line for a big season with lots of touchdown potential.
If I did draft early and got one of the best two running backs, I am really looking at best player available. I can go running back if Howard, Murray, or Ajayi fall to me, or I can grab either Dez Bryant or Amari Cooper at receiver. Even though I have tons of options in the first two rounds, I always want to grab a running back by this point.
Rounds three and four are primarily dominated by receivers, and there's really only a few options at running back. If I don't have a running back drafted at this point, nine times out of ten I'm going to take one here. Leonard Fournette is a great option, as he will have lots of opportunities and rushing attempts available to him. Todd Gurley and Lamar Miller are other options that will get lots of touches and have RB2 floors. Because of the lack of options, don't be afraid to pass up on a receiver like Doug Baldwin, Brandin Cooks, or DeAndre Hopkins here, if you can't get one of the last few running backs available that will have big workloads.
The final reason as to why I don't mind drafting running backs so early is because of the depth at wide receiver. As I mentioned before, rounds three and four are almost all comprised of receivers, all of whom can potentially put up WR1 numbers if everything works out in their favor. In addition, I have found to love countless receivers after this point that can go anywhere from rounds five to twelve in drafts. It's a lot easier to find a receiver with great upside in later rounds than it is with a running back. Hopefully this will all help you to consider drafting running backs early and put your team in a great position to win each week.
Strategy #2: Waiting on Running Backs
Now there is a more extreme strategy where people draft four or five running backs right before their kicker and defense. Even though anything can happen in the NFL, I can't allow myself to have that unbalanced of a lineup. So when I say "waiting on running backs," I mean not drafting the position until the sixth or seventh rounds at least. Even though this isn't the direction I will personally go, I can't argue with the logic behind this strategy. A big reason to wait on running backs is how volatile the position is each year. There is a lot less inconsistency toward the top of running back names each season than there are with receivers. To prove this, I've taken the top eleven running backs that are going in the first three round this season (minus Leonard Fournette) and show where they were drafted last season.
| | | | |
| --- | --- | --- | --- |
| Name | 2016 Draft Position | 2017 Draft Position | Explanation for 2016 draft position. |
| Le'Veon Bell | Late 1st round | Early 1st round | Suspended beginning of season so he fell to end of 1st |
| David Johnson | Late 1st round | Early 1st round | Huge end to 2015, but not a full year of work. |
| Ezekiel Elliott | Mid 1st round | Early 1st round | Super promising rookie behind best o-line. |
| LeSean McCoy | 3rd round | Late 1st round | Played just 12 games in 2015. |
| Devonta Freeman | 2nd round | Early 2nd/Late 1st round | Really productive 2015, followed up by same in 2016. consistent. |
| Melvin Gordon | 5th or 6th round | 2nd round | Poor YPC and no touchdowns in 2015. |
| Jordan Howard | undrafted | 2nd round | A deep sleeper, took the job from Langford in week 3. |
| DeMarco Murray | 6th round | 2nd round | Poor 2015 with PHI, and thought drafting Derrick Henry would make this a committee. |
| Jay Ajayi | undrafted | Late 2nd round | We all were stupid when we thought Arian Foster would survive here. |
| Todd Gurley | Early 1st round | 3rd round | Offensive ROY in 2015, followed by floor season in 2016. |
| Lamar Miller | Early 2nd round | 3rd round | Came to HOU to get the workload we all expected, but he couldn't completely handle it. Also, Osweiler. |

This chart shows that unfortunately not all running backs who are drafted early will return their draft value. In fact, four of the eleven running backs above who are second round picks this year were drafted in the fifth round or later last season, with two of them going undrafted in most leagues. The running back position truly is the most volatile position in the NFL and in fantasy. There are numerous factors like injuries, offensive line, and the overall success of the offense as a whole that impacts running backs greatly.
This is why some experts swear by ignoring the position early and focusing on drafting receivers, quarterbacks, and tight ends. Many experts would rather load up on star receivers that tend to be more of a "sure thing" than running backs are. Of course, the strength of this strategy can depend on the league format. Receivers will generally hold more value in PPR leagues than running backs do. Many leagues are adding three starting spots for receivers rather than the traditional two starters. Even though I still think there is lots of depth to go around, I can't argue against loading up on receivers more in this format. Even if you wait until rounds six or seven to draft running backs, there are still some intriguing options. All of the following backs listed below are going in the seventh round or later (in no order).
Spencer Ware, KC; Tevin Coleman, ATL; Mike Gillislee, NE; Paul Perkins, NYG; LeGarrette Blount, PHI; Adrian Peterson, NO; Ameer Abdullah, DET; Rob Kelley, WAS; James White, NE; Duke Johnson Jr., CLE; Terrance West, BAL; Jacquizz Rodgers, TB; Darren Sproles, PHI.
I like all of these running backs in the later rounds because they all will get ample touches. When you're drafting in later rounds, injury concerns and other risks can't be alarming. The goal is to take chances on players that can outplay their ADP and can potentially start for you. These backs will get lots of touches without an injury to other backs atop the depth chart. Receiving backs like Duke Johnson and Darren Sproles can also come up big in PPR formats, where both will catch tons of passes. If you want to wait on running backs, these players are the ones to target.