The New York Jets officially introduced new head coach Robert Saleh with an introductory press conference on Thursday afternoon. There may not have been any invisible flying tacos this time around, but that's probably a good thing for the Jets organization.
Saleh, general manager Joe Douglas, and team owner, chairman and CEO Christopher Johnson were all present to take questions from the media at the presser. If the courtesy and professionalism he displayed are any indications, the Jets will be in good hands under Saleh's leadership for years to come.
Robert Saleh Emphasizes Familial Culture
Robert Saleh noted on several occasions during Thursday's press conference the importance of family. He grew up in a close-knit community that shared a special bond of love and trust. Saleh believes that a similar mindset and culture is both possible and necessary for turning the New York Jets into a winning organization moving forward.
In some ways, the Jets' decision to hire Saleh came as a bit of a surprise. When the Philadelphia Eagles made the decision to fire Doug Pederson after the season, many believed him to be the frontrunner to become the new Jets coach. This was due to the ties Pederson had with current New York GM Joe Douglas from their days working together in Philadelphia.
Despite never having worked with Saleh before, it's clear that Douglas is confident he is the right man for the job. Both men discussed the interviews and hiring process during the press conference. Each expressed a level of trust and excitement about working together to turn around the Jets organization both on the field and in terms of the overall culture.
Robert Saleh Praises Quarterback Sam Darnold
Somehow, you just knew that Jets quarterback Sam Darnold wouldn't escape Thursday's introductory press conference unmentioned. When asked about Darnold, Saleh gave a glowing review of his arm talent and skillset. He talked about having to game plan against him as the defensive coordinator for the San Francisco 49ers when the two teams played this past season. He affirmed that there was a reason why Darnold was the third overall pick in the 2018 NFL Draft.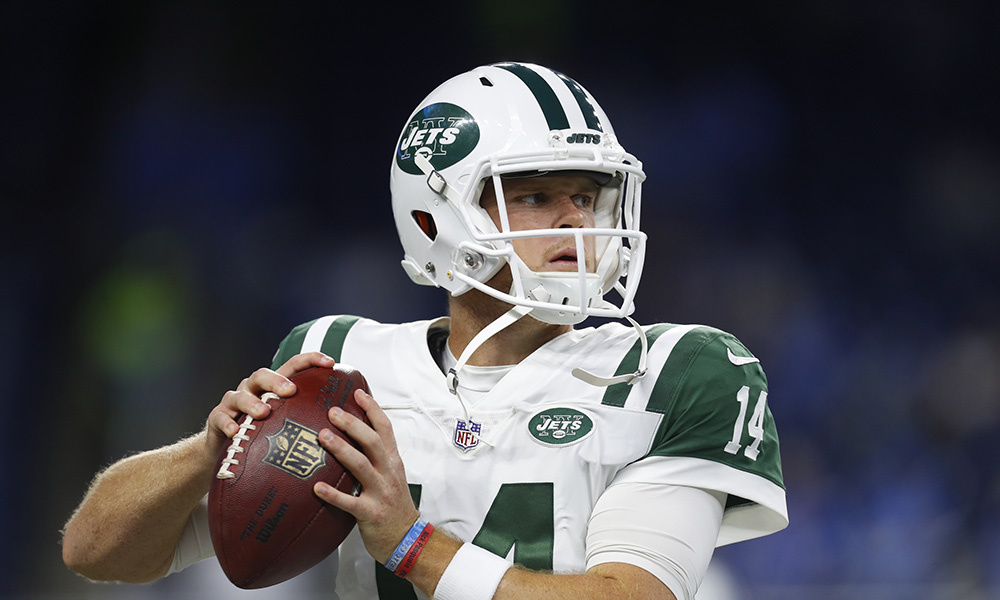 Praise Does Not Equal Commitment
While Saleh had plenty of positive things to say about Darnold, he also was not willing to commit to him. ESPN Jets reporter Rich Cimini asked Saleh about Darnold's future as a follow-up question. The new Jets head coach's response basically stated that it would be premature to say for certain right now.
Any reasonable Jets fan or media member should realize that this is the honest truth. New York has the No. 2 overall pick in this spring's NFL Draft. They also enter this offseason with over $60 million in cap space. Saleh's remarks that he, Douglas and the front office have a lot of decisions to make between now and next season is obvious to anyone familiar with the team's current situation. There is simply no need to rush and commit to Darnold as next year's Week 1 starter right now.
Christopher Johnson Excited for Future
Thursday's press conference was a clear indication that current Jets owner, chairman and CEO Christopher Johnson believes he has assembled the staff to help turn the organization around. Johnson and Jets management took a lot of flack for the hiring of Adam Gase two years ago. While it's hard to argue Gase helped the situation any, New York's personnel issues extended far beyond their head coach.
The Jets turnaround began with the hiring of Joe Douglas as general manager in June of 2019. He replaced Mike Maaccagnan who was a net negative during his time as GM in New York. With Douglas being the chief brain behind the Jets hiring Robert Saleh as head coach, Johnson is right to be excited about the future of the organization. His comments at Thursday's presser reflected this hope and enthusiasm for the days and years ahead.
It was also announced that Johnson would be taking a step back into the role of vice chairman. Woody Johnson will assume principle owner and chairman duties upon his return to the team in the coming days. Interestingly enough, Saleh has not yet communicated with the elder Johnson.
Robert Saleh Not Aware He is NFL's First Muslim Head Coach
Of course, the New York media had to make the press conference weird eventually, right? With the majority of today's news personalities more focused on creating a divide than bringing people together, it wasn't shocking that the media decided to bring Saleh's Islamic faith into the opening presser conversation.
When asked about what it means to be the first Muslim head coach in the history of the NFL, Saleh responded by saying he wasn't even aware of that particular narrative. And for Pete's sake, why should he be? Saleh was hired for the job of being the Jets head football coach. His work ethic, leadership skills, football IQ and overall character made him the right hire for the organization. Not his religion.
Media Steers End of Presser Away from Football Discussion
From there, the remainder of the presser sort of spun out of control. More members of the media piled on with questions about equality in both the NFL and within the Jets organization going forward. Saleh praised the NFL for its efforts at improving the diversity among both coaching staff and other personnel groups across the league. He included in his comments that while the numbers may not be where they want them right now, he has no doubt the league will ultimately get them there.
Toward the end, the media even piled on Douglas with their non-football narratives. The Jets GM had essentially nothing firm to say when a reporter tried to press the issue of including women in future Jets hiring practices going forward. It was admittedly pretty sad to see this press conference deviate from the football talk to politicized media agenda setting.