David Carr of the NFL Network recently put out a list of the top 10 quarterbacks for 2018. It featured HIS BROTHER at #4, Jimmy Garoppolo at #10, and didn't even include Carson Wentz or Ben Roethlisberger.  Getting analysis on quarterbacks from David Carr is like getting driving lessons from Stevie Wonder.
Who are the actual ten best quarterbacks for 2018?  Let's take a look.
10– Matthew Stafford, Lions
2017: 4,446 Yds, 29 TDs, 10 INT
2018 (projected): 4,300 Yds, 28 TD, 12 INT
Stafford used to have durability concerns and worries that he wouldn't live up to his potential, but he finished near the top of all major categories the past few years. Also, he's in a pass-friendly offense that should put up big numbers this year.
9– Philip Rivers, Chargers
2017: 4,515 Yds, 28 TD, 10 INT
2018 (projected): 4,400 Yds, 29 TD, 13 INT
Rivers had a resurgence last year, finishing second in passing yards.  He has a great group of receivers and a good offensive line, so expect more of the same.
8– Deshaun Watson, Texans
2017: 1,699 Yds, 19 TD, 8 INT
2018 (projected): 4,000 Yds, 31 TD, 17 INT
Watson looked like he was going to set the world on fire during his rookie year in 2017, but he suffered a season-ending ACL injury after seven games.  He's still young and it's not known how he'll recover from the injury, but he has immense potential.
7– Drew Brees, Saints
2017: 4,334 Yds, 23 TD, 8 INT
2018 (projected): 4,460 Yds, 29 TD, 10 INT
Brees usually puts up huge passing numbers, but he didn't have to in 2017 because the rushing attack was so effective.  His numbers should be a little better this year.
6– Ben Roethlisberger, Steelers
2017: 4,251 Yds, 28 TD, 14 INT
2018 (projected): 4,400 Yds, 30 TD, 13 INT
Roethlisberger finished 2017 in the top-5 in yards and touchdowns. He still is behind one of the best offensive lines in the league and has two of the most talented receivers (Antonio Brown, Le'Veon Bell) to throw to.
5– Carson Wentz, Eagles
2017: 3,296 Yds, 33 TD, 7 INT
2018 (projected): 4,000 Yds, 35 TD, 10 INT
Wentz was on his way to having an amazing 2017 before his injury.  Of course, there's one big question: can he stay healthy? He'll need to adjust his aggressive running style to become more durable.
4– Cam Newton, Panthers
2017: 3,302 Yds, 22 TD, 16 INT
2018 (projected): 3,400 Yds, 29 TD, 14 INT
Newton might not put up the best passing numbers and his accuracy may not be the best, but he's one of the best running quarterbacks. That should continue in 2018.
3– Russell Wilson, Seahawks
2017: 3,982 Yds, 34 TD, 11 INT
2018 (projected): 4,000 Yds, 31 TD, 10 INT
Wilson had a great 2017, which should be considered an amazing achievement considering how bad Seattle's offensive line was.  The Seahawks might emphasize the run more in 2018, which could hurt Wilson's numbers.
2– Aaron Rodgers, Packers
2017: 1,675 Yds, 16 TD, 6 INT
2018 (projected): 4,400 Yds, 39 TD, 7 INT
Rodgers only played in seven games in 2017 because of a broken collarbone.  He's expected to dominate the league once again.
 1– Tom Brady, Patriots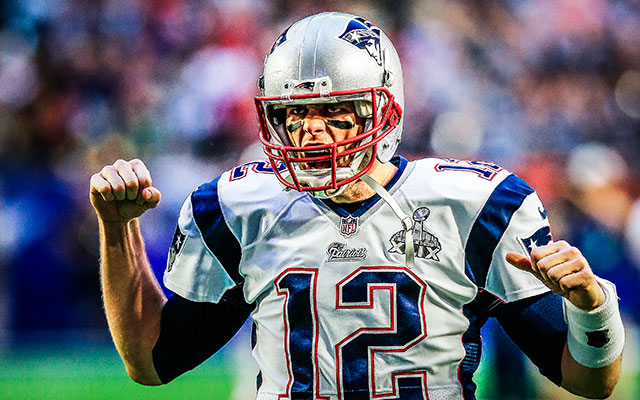 2017: 4,577 Yds, 32 TD, 8 INT
2018 (Projected): 4,700 Yds, 33 TD, 10 INT
Tom Brady is arguably the best now, and maybe ever.  He is 40 years old, however. So is this the year he starts to slow down?
Related Articles
Early Fantasy Football Rankings
FS Pod–AFC East Fantasy Football Breakdown
Best Active NFL Player at Every Jersey Number