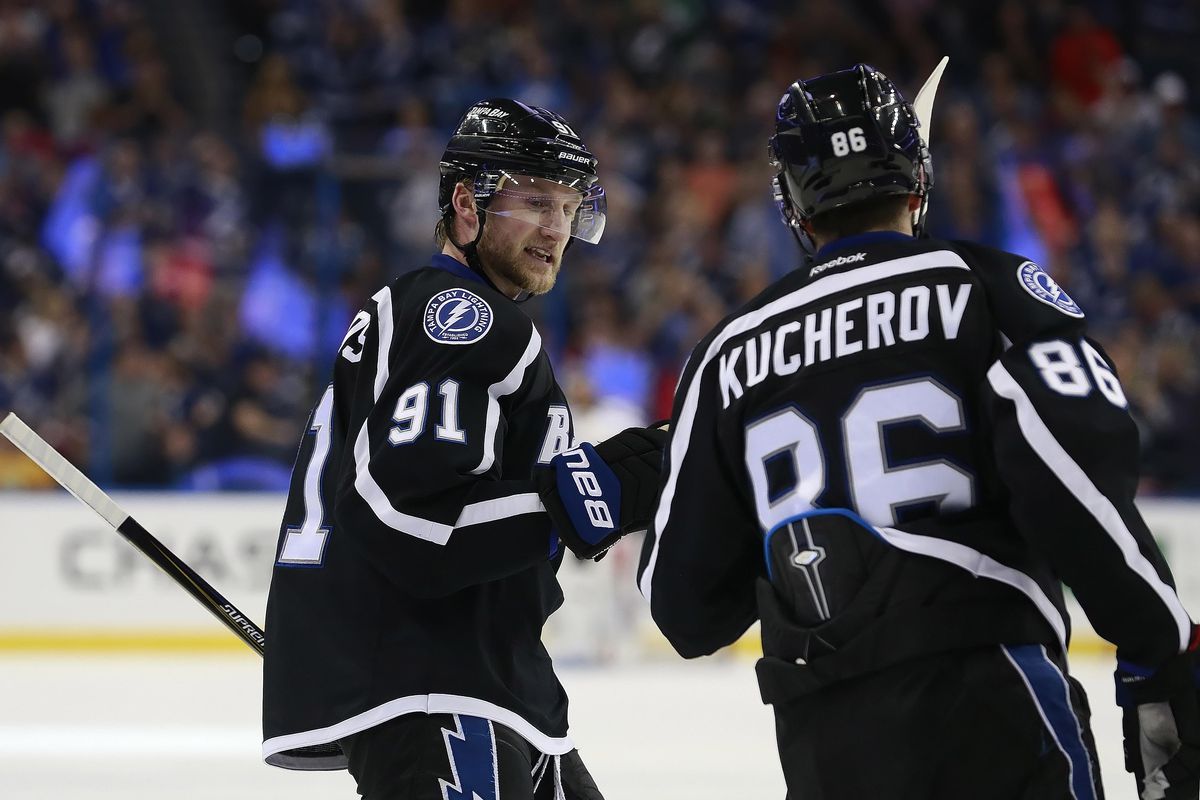 After two weeks up top, the Los Angeles Kings have finally been knocked down a couple of pegs. After a 2-1-0 week, the Tamp Bay Lightning hold the best record in the league and have cemented themselves up atop the power rankings. The feel good story of the Vegas Golden Knights had a rough week starting 0-3-0 before salvaging a win over the Ottawa Senators Saturday on the road. Another week is in the books and we are ready for another week of power rankings.
Here are this week's power rankings!
Games Not Included:
Avalanche @ Islanders; Canadians @ Blackhawks; Devils @ Flames
Biggest Movers
San Jose Sharks: Up 14 spots from 23 to 9
Anaheim Ducks: Down 12 spots from 11 to 23
Teams 31-11
31.) Arizona Coyotes (31) (2-12-1)  30.) Buffalo Sabres (29) (4-8-2)  29.) Edmonton Oilers (27) (4-8-1)  28.) Montreal Canadians (30) (5-8-1)  27.) Florida Panthers (26) (4-7-2)  26.) Carolina Hurricanes (24) (4-5-3)  25.) Minnesota Wild (19) (5-5-2)  24.) New York Rangers (28) (6-7-2)  23.) Anaheim Ducks (11) (6-6-2)  22.) Detroit Red Wings (25) (7-7-1)  21.) Boston Bruins (18) (5-4-3)  20.) Calgary Flames (21) (7-6-0)  19.) Washington Capitals (22) (7-6-1)  18.) Philadelphia Flyers (15) (7-6-2)  17.) New York Islanders (12) (7-5-1)  16.) Chicago Blackhawks (20) (7-5-2)  15.) Nashville Predators (17) (7-5-2)  14.) Toronto Maple Leafs (6) (8-7-0)  13.) Pittsburgh Penguins (10) (8-6-2)  12.) Dallas Stars (16) (8-6-0)  11.) Colorado Avalanche (14) (8-6-0)
Top Ten
10. Ottawa Senators (8) (6-3-5)
The Senators had a bit of a tough home stand, going just 1-2-0 with ugly losses to the Canadians and the Golden Knights. They gave up a total of 13 goals in those two losses. Goaltender Craig Anderson clearly continues to struggle, with his GAA dropping to 3.13 and SV% dropping to .896. The offense continues to hum though, as Mark Stone leads the way with 9 goals and 16 points while three others are tied with 13 points. The Senators will have a light week, as they are off until Friday before having a back-to-back, home-and-home with the Colorado Avalanche.
9. San Jose Sharks (23) (8-5-0)
The Sharks had one heck of a week. After starting the season at a lifeless 5-5-0, they had a 3-0-0 week with home wins over Toronto, Nashville and Anaheim. Goaltender Martin Jones has been great of late, giving up only four goals in the three games this week and now sports a 1.98 GAA (second in the league) and a .930 SV%. The offense continues to come from all angles, which is shown by centerman Logan Couture's 8 goals and 12 points. The Sharks will have a light, but difficult week. They host both the Lightning and Canucks starting Wednesday.
8. Vancouver Canucks (9) (7-4-2)
Vancouver had a bit of a down week, going 1-2-0, but continues to be a pleasant surprise at this point in this season. The youth continues to be what powers the Canucks, as rookie Brock Boeser leads the way with 8 assists and 13 points, while Sven Baertschi and Bo Horvat are tied for second with 11 points. The Canucks will have a busy week with a four-game slate as they start at home on Monday against the Red Wings before heading out west for the last three to take on the Flames, Ducks, and Sharks.
7. Winnipeg Jets (13) (7-3-3)
Winnipeg had a good week, going 2-1-0 with wins at Minnesota and home to Dallas before finishing the week with a home loss to the Canadians. Connor Hellebuyck continues to be a surprise in net for the Jets, as he is fourth in the NHL with a .932 SV%. The offensive duo of Blake Wheeler and Mark Scheifele continues to lead the way with 17 points and 15 points respectively. The Jets will have three road games starting Monday as they take on the Stars, Knights and Coyotes.
6. Vegas Golden Knights (4) (9-4-0)
Vegas hit a bit of a rough patch to start the week, losing three straight before getting a win in Ottawa to go 1-3-0 this week. Goaltending continues to be a circus, as the Knights are down to their fourth goalie after third-stringer Oscar Dansk went down with an injury and Maxime Legace stepped in for the last three. Legace has struggled, as he sports a 4.43 GAA and .856 GA% since taking over as starter. James Neal continues to lead the way on offense with seven goals and 11 points, but hasn't scored a goal in four-straight games. The Knights will be tested once again this week, with road games at Toronto and Montreal before coming home to finish the week against Winnipeg.
5. Columbus Blue Jackets (7) (9-4-1)
The Blue Jackets had a good week going 2-0-1, with their lone loss being a shootout on the road to the Lightning. Goaltender Sergei Bobrovsky came back to earth a bit this week, giving up 10 goals in three games, but still sports a very respectable 2.23 GAA and a .927 SV%. Defender Seth Jones and left winger Artemi Panarin lead the team with 11 points while Panarin also leads the team with 10 assists. The Blue Jackets are set for a busy week as they have four games, two on the road against the Rangers and Red Wings and two home games sandwiched in between against the Predators and Hurricanes.
4. New Jersey Devils (5) (9-3-0)
The Devils had a light week, going just 1-1-0 with a win over the Canucks followed by a loss to the Oilers. Taylor Hall continues to lead the Devils kids with 12 assists and 16 points. Rookie defenseman is tied with Hall with 12 assists and rookie centerman Brian Gibbons leads the team with six goals. While also playing Sunday, the Devils will have a busy week playing four games with home games against the Blues, Oilers, and Panthers before finishing the week on the road on Sunday against the Blackhawks.
3. Los Angeles Kings (1) (10-2-2)
The Kings had a bit of a hiccup this week losing their second game in regulation while going just 1-2-0 with losses to the Blues and Predators in overtime and a win over the Maple Leafs in between. Jonathan Quick had a bit of a tough week giving up 6 goals in two games, but continues to support stellar numbers coming in 3rd in the league in GAA (1.99) and 2nd in SV% (.939). The loss of centerman Jeff Carter has seemed to slow them down a bit, but Anze Kopitar continues to have a comeback season leading the team in goals (7), assists (10), and points (17). The Kings will look to have a bounceback week as they head to Anaheim to take on the Ducks before returning home to face the Lightning and Sharks.
2. St. Louis Blues (3) (11-3-1)
The Blues just continue to be consistent, going 2-1-0 with great wins over the Kings and Maple Leafs, with a loss to the Flyers sandwiched in between. The goaltending duo of Carter Hutton and Jake Allen continues to be dynamic and Jaden Schwartz continues to lead the offense with 8 goals, 12 assists, and 12 points. Alex Pietrangelo continues to look like the best defensemen, as he is tied for third on the team with 15 points. The Blues will have three games this upcoming week against the Devils, Coyotes, and Islanders.
1. Tampa Bay Lightning (2) (11-2-2)
The Lightning continue to look like the team of two years ago that lost the Stanley Cup, as they went 2-1-0 this week with wins over Florida and Columbus with a loss to the Rangers in between. Steven Stamkos and Nikita Kucherov continue to be outstanding, as Stamkos leads the NHL in assists (18) and points (25) while Kucherov leads the NHL in goals (14). Rookie defenseman Mikhail Sergachev continues to be a nice addition. He leads their defensemen with 4 goals and 12 points. The Lightning will have three games out west, as they take on the Sharks, Kings and Ducks.