It is that time of the year! Sports fans all around the world can smell football in the air. As the summer begins to wind down, training camp for all 32 NFL teams is in full force. We have created our NFL rankings of the NFL top 100 players of 2022. Each article will be split up into 10 different players, starting at 100-91 and moving all the way to 10-1.
With that being said, let's take a look at the next 10 players on the list of our NFL top 100 players of 2022. Two fantasy football-relevant running backs and our first quarterback find themselves in this group.
To catch up on the Top 100, click here…
NFL Top 100 Players of 2022: 80-71
80. Najee Harris – Running Back – Pittsburgh Steelers
Najee Harris' first year in the NFL was with a pre-retired Ben Roethlisberger. Last season, Harris recorded 1,667 total yards and 10 touchdowns. The young bell-cow back also totaled 381 touches. Without much of a difference at quarterback and a rebuilt offensive line, Harris should see another season of 300+ touches and with another year in the league, he has a realistic shot at leading the league in rushing.
79. Jordan Mailata – Offensive Tackle – Philadelphia Eagles
The Eagles just rewarded the former rugby player with a four-year, 64 million dollar deal. That is for good reason. The 25-year-old hunkered down at the left tackle position for the number one rushing attack in the NFL last season. With his experience playing rugby and tackle in the NFL, Mailata is referred to as a human wrecking ball. Eagles fans can expect that to remain true, as well as they can expect Mailata to be in the upper echelon of tackles very soon.
78. A.J. Terrell – Defensive Back – Atlanta Falcons
After a very bad start to his career, A.J. Terrell's production and numbers blossomed in year two. In 2020, Terrell gave up a passer rating of 109.6, while 2021 saw that number deflate all the way to 61.0. Terrell also finished the year with three interceptions, 81 combined tackles and one sack. Look for Terrell to be one of the bright spots on a bad Falcons team this year.
77. Derwin James – Defensive Back – Los Angeles Chargers
We finally got to see what Derwin James is last year. After playing in only five games between 2019 and 2020, James played 15 in 2021. We saw what we saw in his rookie year, as well as why the Chargers selected James high in the 2018 draft. James' ability to play both in the passing game, as well as the run game, provided the safety with 118 combined tackles, three forced fumbles and two interceptions.
76. Darren Waller – Tight End – Las Vegas Raiders
Darren Waller's number fell big time last year, as he was limited to just 11 games last season. He finished with just 55 receptions. While that may sound low, Waller still finished with 665 yards and two touchdowns. That is good for about 60.5 yards per game, which isn't horrible for a tight end. With the addition of Davante Adams, Waller is sure to see much more single coverage and we can finally get a better gauge of his skills.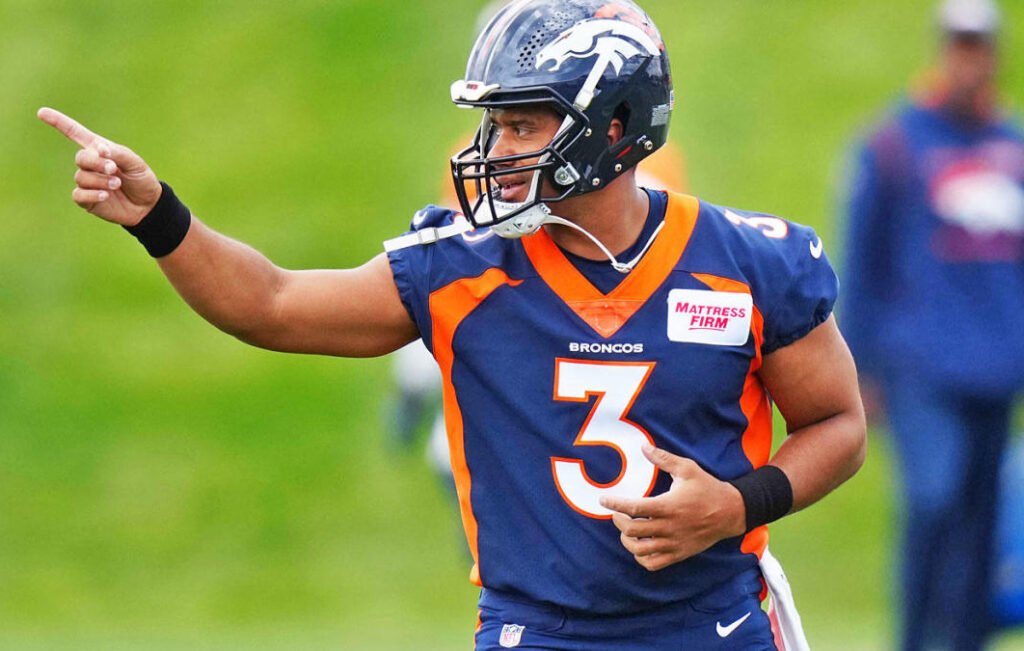 75. Russell Wilson – Quarterback – Denver Broncos
Russell Wilson was one of the big stories of the offseason, as he moved to Mile High. He inherits a team with a flurry of pass catchers and a new coaching staff. How much does that affect Wilson? We saw him get hurt last year and come back to not look like the Wilson that we know. How does Wilson respond now that he has his own team? I don't think that 4,500 yards and 35 touchdowns are out of the realm of possibility, but with a lot of question marks surrounding Wilson, ranking 75 in the NFL Top 100 Players rankings feels right.
74. Austin Ekeler – Running Back – Los Angeles Chargers
All Austin Ekeler does is score touchdowns. Well, he does more than that, but scoring 20 touchdowns for a team that didn't make the playoffs in 2021 is pretty good. Ekeler has excelled at both the rushing and receiving game, recording a 900+ and 600+ season last year. If you are an Austin Ekeler fantasy owner, then you are happy. If you are a Chargers fan, then you are probably happy too. The dual-threat should once again be the focal point of the offense for the Chargers this season.
73. Chris Godwin – Wide Receiver – Tampa Bay Buccaneers
Chris Godwin was probably having his best season as a professional before a knee injury forced him to miss the rest of the season. The Penn State alumni had recorded 1,103 yards and five touchdowns in 14 games. With his status questionable to start the year, Godwin may see numbers similar to last year's, this year. Look for the connection with Tom Brady to be as strong as ever whenever Godwin finds the field.
72. Marshon Lattimore – Defensive Back – New Orleans Saints
While many people may have thought that DK Metcalf won the match between the two last year, Marshon Lattimore only held him to two receptions. Lattimore has shown that he is no slouch when fighting with bigger receivers, as he has shut down Mike Evans on numerous occasions. Lattimore recorded three interceptions in 2021 and only allowed a 57.5 completion percentage when targeted.
71. Mike Evans – Wide Receiver – Tampa Bay Buccaneers
The big-bodied receiver once again produced a productive season with Tom Brady at the helm. Mike Evans finished 2021 with 1,035 yards and 14 touchdowns. With the retirement of Rob Gronkowski, Evans should have an even bigger part in this offense. If he can stay healthy, Evans should act as Brady's number one target as Chris Godwin keeps working to get back from injury.
---
Follow us on all of our social channels! Check out our Twitter, Facebook and YouTube for more great FlurrySports content.