The NASCAR Cup Series is set to cap off its 2022 regular season schedule on Saturday night at Daytona International Speedway. The Coke Zero Sugar 400 marks the 26th and final race before the start of the NASCAR Playoffs. While several executive decisions NASCAR has made in recent years have been rightly questioned, moving the regular-season finale to the most famous track in the sport was quite brilliant.
The unpredictability and increased parity created by superspeedway racing always make for thrilling action on the track. With the Coke Zero Sugar 400 marking the last race before the playoffs, it also represents the final opportunity for drivers to try and win their way into the postseason. Unless your name is Ryan Blaney or Martin Truex Jr., points mean absolutely nothing this week. So long as drivers are inside the top 30 in the points standings, a win on Saturday will vault them into the 2022 NASCAR Cup Series Playoffs.
Daytona Provides One Last Wild Card in Battle to Qualify for NASCAR Playoffs
Due to the tapered engine spacer (formerly restrictor plate) package that NASCAR uses in superspeedway races, drivers who otherwise would have little to no chance of winning due to inferior equipment suddenly find themselves on a level playing field with the big-budget teams. Couple this with the current NASCAR Cup Series Playoffs format operating under a "win-and-in" structure, and Daytona provides a whole host of drivers have one last shot to sneak into the field of 16.
With the news that Kurt Busch rescinded his medical waiver to partake in the 2022 NASCAR Playoffs, there are now two spots that remain undecided. Entering the Coke Zero Sugar 400, Ryan Blaney and Martin Truex Jr. are tentatively penciled into the playoff field. At least one of the two will ultimately qualify. Whether or not both do comes down to whether or not a driver below the cutline can find a way to win Saturday's race.
Given that Truex is over 100 points clear of Erik Jones, the next-closest driver on points, the only path into the playoffs for all drivers below the cutline is to win the regular-season finale. Blaney and Truex are feeling good about their position, but they can't rest assured just yet. After all, there are several drivers below the cutline who have past wins and/or strong track records in superspeedway races. The following looks at three drivers who are more than capable of "stealing" the final playoff spot via a win at Daytona.
Top Candidates to Steal a Spot in NASCAR Cup Series Playoffs
Bubba Wallace, No. 23, 23XI Racing
It has been an all-or-nothing kind of season for Bubba Wallace. Some weeks, he has been one of the fastest cars on the track. In others, he has struggled to sniff the top 20. As a driver, one could argue that Wallace is at his very best on the superspeedways. Daytona International Speedway is certainly no exception. The No. 23 car crossed the line second in February's Daytona 500 as Wallace came up just short in the biggest race of the year.
That runner-up drive back in February was hardly the first time Wallace has run well at Daytona. In fact, the Alabama native has the best average finish (12.6) of any driver who has started the majority of the last ten NASCAR Cup Series races held in Daytona Beach. As far as the Coke Zero Sugar 400 race is concerned, Wallace has been a top-5 finisher in each of the last two years.
Whether it is Daytona or its sister track, Talladega Superspeedway, Wallace consistently stands out as one of the drivers who are most comfortable working in the draft. The No. 23 team has already amassed four top-5 finishes in 2022. All that is missing is a much-needed victory. Wallace is viewed as a legitimate threat to win Saturday night's race. Given how far back he is in the points, a victory is the only way to punch his ticket into the NASCAR Playoffs.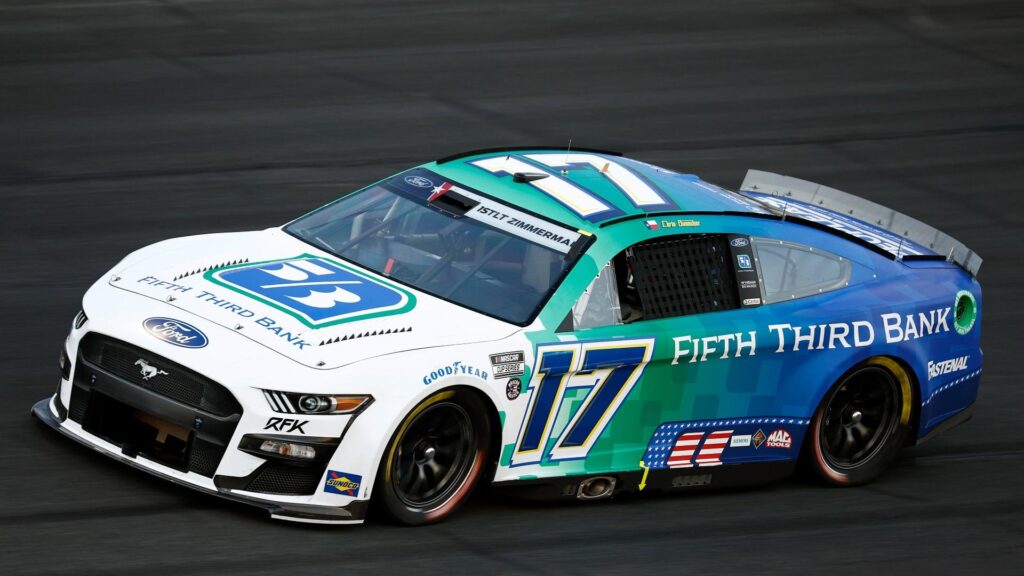 Chris Buescher, No. 17, RFK Racing
Just as he has quietly amassed eight top-10 finishes during the current season, Chris Buescher is also an under-the-radar driver when it comes to his prowess at Daytona. In last year's Coke Zero Sugar 400, the No. 17 car finished second, only to be disqualified after the race for an inspection failure. If we let the runner-up finish on track stand from last summer, Buescher sneakily has four top-5 finishes in the last ten races held.
Among NASCAR Cup Series drivers who have started at least half of the last ten races at Daytona, Buescher's 13.5 average finish ranks third. Along with the quartet of top-5s, he also has two additional top-10s to his name. Buescher and his RFK Racing owner/teammate, Brad Keselowski, also swept the Bluegreen Vacations Duels during Speedweeks earlier this year. At the end of the day, his history of success at The World Center of Racing cannot be ignored.
Buescher and the No. 17 team also come into Saturday night's regular-season finale with momentum. A strong month of racing began when Buescher overcame a pit road fire to score a top-10 finish at the Indianapolis Motor Speedway Road Course. In the past two weeks, he came home third at Richmond and ninth at Watkins Glen. Given how strong Buescher has been of late, it would hardly be a shock to see him steal a NASCAR Cup Series Playoffs spot in the season finale.
Michael McDowell, No. 34, Front Row Motorsports
Michael McDowell shocked the NASCAR world when he won last year's Daytona 500. Just as that victory secured him a spot in the NASCAR Playoffs, so too would a win in Saturday's Coke Zero Sugar 400. While last year's 500 may be his only win in the Cup Series, McDowell has been showcasing his skills at the superspeedways for several years running. His 13.2 average finish in his last ten starts at Daytona ranks second among drivers who have run in at least half of those races.
In many ways, there's an argument to be made that this has been McDowell's best season ever in the NASCAR Cup Series. While he has not yet found victory lane, the consistency that he and the No. 34 team have displayed has been eye-opening. McDowell is one of only 13 drivers to record double-digit top-10 finishes through the first 25 races. It's worth noting that one of those came right here at Daytona back in February. McDowell was also eighth in the spring race at Talladega, the only other superspeedway on the series schedule.
Much like Chris Buescher, McDowell also rides a wave of momentum into Saturday's race. The No. 34 car was one of the three fastest on track at Watkins Glen last week. Although McDowell ultimately had to settle for a sixth-place finish, it was a strong performance all around. Might it have been the precursor to a NASCAR Playoffs bid-stealing win at Daytona? Don't sleep on this Front Row Motorsports team in the Coke Zero Sugar 400.