It is that time of the year! Sports fans all around the world can smell football in the air. We have created our rankings of the NFL top 100 players of 2022. Each article will be split up into 10 different players, starting at 100-91 and moving all the way to 10-1.
With that being said, let's take a look at the next 10 players on the list of our NFL top 100 players of 2022. Last season's offensive rookie of the year and two anchor tackles crack into the top 50.
To catch up on the Top 100, click here…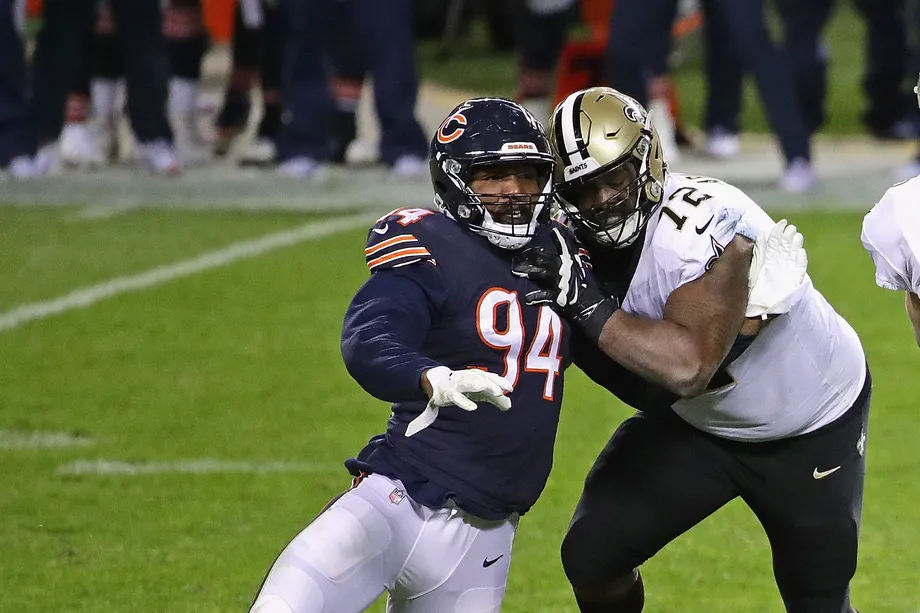 NFL Top 100 Players of 2022: 50-41
50. Robert Quinn – Defensive End – Chicago Bears
Robert Quinn quietly was one of the best pass rushers in 2021. The North Carolina alum finished the 2021 season with 18.5 sacks on a bad Chicago Bears team. Quinn was also selected to his third Pro Bowl in 2021. While the Bears do not have a lot of talent on their team, Quinn figures to once again be the focal point of the defense.
49. Vita Vea – Defensive Tackle – Tampa Bay Buccaneers
The Tampa Bay Buccaneers have sported one of the best run defenses in the NFL in the last few years. A lot of that relies on Vita Vea plugging holes on the inside. At 6-4, 346 pounds, Vea is one of the biggest matchup nightmares in the NFL today. His incredible combination of size and speed should once again provide Tampa with incredible run defense.
48. Adrian Amos – Safety – Green Bay Packers
Adrian Amos has been a revelation for a team that had been struggling in the defensive secondary. Last season, Amos recorded 93 combined tackles, two interceptions and eight passes defended. His ability to play both the pass and the run at an elite level give the Packers the opportunity to experiment on defense. Amos should act as one of the leaders of one of the better defenses of 2022.
47. Nick Chubb – Running Back – Cleveland Browns
When on the field, Nick Chubb may be the best pure running back in the NFL. Reminiscent of a wrecking ball, once Chubb is one on one with a defender, you can expect that defender to be on the ground. Chubb finished 2021 with 1,259 rushing yards and eight touchdowns. If Kareem Hunt was not a Brown, I am sure that Chubb would be much higher on the list.
46. Khalil Mack – Outside Linebacker – Los Angeles Charges
After four somewhat disappointing years from Khalil Mack in Chicago, he is looking for a fresh start. That may be easy, considering that he will be on the other side of Joey Bosa. Mack's ranking here may be more on potential for production, but with more players like Derwin James and Bobby Wagner, Mack very well could have a career season. We know his talent, which might take the Chargers over the top.
45. Xavien Howard – Cornerback – Miami Dolphins
Xavien Howard has proved that he is one of the better man corners over the past few years with a contract in the offseason. In the past two seasons alone, Howard has record 15 (!) interceptions. Not only that, but in 2020, Howard allowed a mere 48.3 passer rating when he was targeted. Howard should be the leader of a sneaky good defense this year.
44. Tyron Smith – Offensive Tackle – Dallas Cowboys
Before the injury in the offseason, Tyron Smith was once again slated to be one of the better tackles in the NFL. While Smith was injured last season, he was the main tackle for the number one passing attack in the NFL. Smith's combination of run and pass blocking provide the Cowboys with a lot of options when the tackle is on the field.
43. Von Miller – Outside Linebacker – Buffalo Bills
The one-time Super Bowl MVP is getting up there in age, but is still playing at a high level. Between Denver and Los Angeles last year, Von Miller racked up 9.5 sacks. Miller's impact though came in the playoffs, as with Aaron Donald on the defensive line, Miller took advantage of opportunities. On another high-powered defense in Buffalo, expect Miller to recreate his 2021 season.
42. Terron Armstead – Offensive Tackle – Miami Dolphins
In New Orleans, Terron Armstead proved to be one of the better tackles in the NFL. Similar to Tyron Smith, Armstead has run into injury troubles. The Dolphins made a smart decision, improving their offensive line with a new coach from a run-heavy system in San Francisco.
41. Ja'Marr Chase – Wide Receiver – Cincinnati Bengals
Last season's offensive rookie of the year could probably slot higher in this season. In 2021, Ja'Marr Chase recorded 1,455 receiving yards and 13 touchdowns. With his connection with Joe Burrow from college, Chase is already one of the best receivers in the NFL. With Tee Higgins, Tyler Boyd and Joe Mixon, defenses may be forced to leave Chase in one on one coverage.