As Week 4 draws to a close, we once again see a new face at the top of the NFL Power Rankings this week. Luckily for teams and those who play fantasy, the dreaded injury bug seems to have slowed just a little bit, and once again, we are learning more and more about teams as the 2021 season plays out.
With just one undefeated team left, one could argue that we haven't seen such parity in the league in quite a while. As always, we at FlurrySports try to make it all make some semblance of sense. Here are your updated NFL Power Rankings.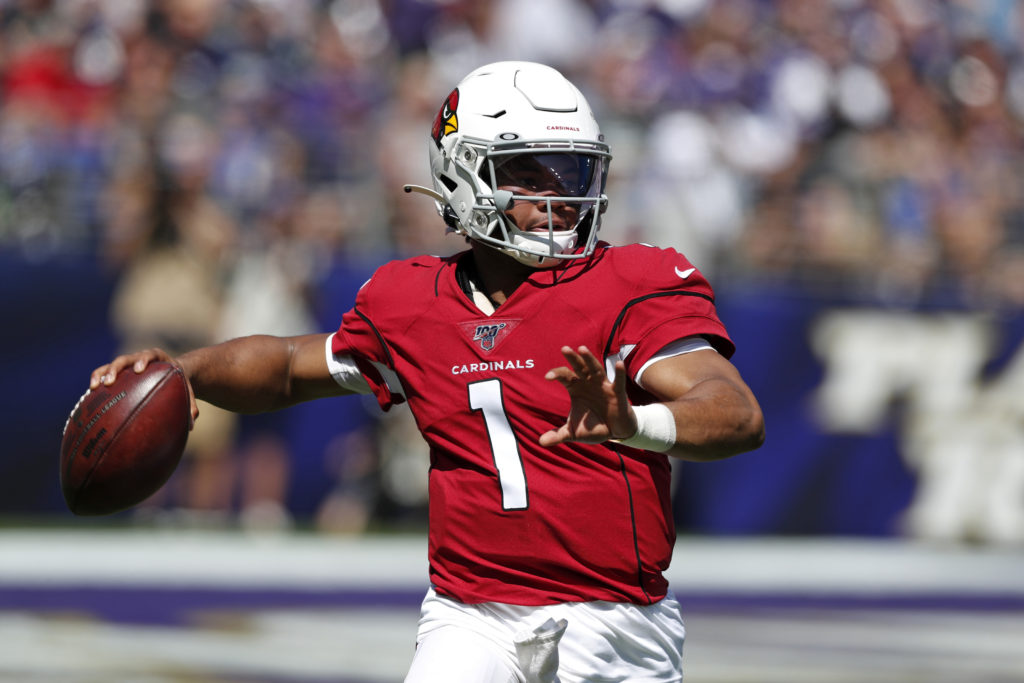 Week 5 NFL Power Rankings
1) Arizona Cardinals (4-0) (Previous: 3)
Although the Arizona Cardinals may fit the exact same narrative they have every other year with a hot start before flaming out, there is no other spot for them outside of number one. Arizona beat the Rams, 37-20, on the road a week after the Rams looked like the best team in the league. This team won't be able to sustain the kind of dominance they showed this week, but they will be able to beat anyone on any given Sunday. If Chase Edmonds can keep playing the way he is, the sky is the limit for this team.
2) Tampa Bay Buccaneers (3-1) (2)
Tampa Bay squeaked by New England thanks to the left field goal post in Foxborough. They looked average, at best, on offense all game and their defense was almost bested by rookie quarterback Mac Jones. While that would usually make them fall down the NFL Power Rankings, there is something to be said about Tom Brady having to go up against his long-time coach in Bill Belichick. This is not your average game by any stretch of the imagination, so take it with a grain of salt. If the Bucs struggle against Miami next week, then we can sound the alarm bells.
3) Los Angeles Rams (3-1) (1)
The Los Angeles Rams were just flat out beat, plain and simple. Aaron Donald and the vaunted Rams defense just couldn't get off the field, as they only forced the Cardinals to punt once outside of Arizona's first drive. Although they lost by 17, they weren't helped by a game where everyone in blue and yellow just looked off. With two turnovers, a missed field goal and losing the ball on downs at the Arizona one-yard line taken into account, this game wasn't as bad as it looks for the Rams.
4) Dallas Cowboys (3-1) (4)
The Dallas Cowboys had a nice test this week with the Carolina Panthers coming to town. Dallas did win by eight and should easily win the NFC East, there is no doubt about that. The Cowboys may be plagued by the same thing that has plagued them for so many years before in their easy schedule. For the rest of the season, outside of the FitzMagic-less Washington Football Team, Dallas plays just two teams who made the playoffs last year, with one being the falling Saints. This offense is undeniably great, but we won't get any more answers on defense until they meet the Chiefs in Week 11.
5) Buffalo Bills (3-1) (7)
The Buffalo Bills must have heard the noise about somewhat lackluster execution, at times, over their last two wins, because they surely took some anger out on the hopeless Houston Texans. Rookie quarterback David Mills stood no chance as the Bills thrashed Houston, 40-0. A lot will be said about the Bills outscoring their opponents 118-21 over the past three weeks. While that's impressive no matter who they play, they did do it against the Dolphins, Washington and Houston. This team is very good, but we will see just how good next week against Kansas City on Sunday night.
6) Kansas City Chiefs (2-2) (8)
Tyreek Hill is back. After combining for just eight receptions and 70 yards over the last two weeks, he exploded for 186 yards and three touchdowns on just 11 receptions. There is no stopping him and teams can only hope to contain him. The offense for Kansas City is undeniable, but this defense is really holding them back. They haven't exactly played scrubs to this point, but there is no reason the least points they've given up so far this season is 29 to the same Browns team the Vikings just held to 14.
7) Cleveland Browns (3-1) (5)
It wasn't pretty, but a win's a win. Baker Mayfield just flat out wasn't good and this Cleveland Browns offense stalled out way too much. Cleveland's two-headed running attack of Kareem Hunt and Nick Chubb did look good, however, and their defense is starting to hit their stride too. A week after sacking Justin Fields nine times, the Browns held the Vikings to just 2.8 yards per carry and didn't give up a single point after Minnesota's opening drive touchdown. They have plenty of things they'll need to clean up with the Chargers and Cardinals on deck.
8) Baltimore Ravens (3-1) (10)
The Baltimore Ravens have plenty of weaknesses, whether it be their offensive line or secondary. Thankfully, they haven't played against a team that could do anything about either of them outside of the Raiders, hence only one loss on their record. Lamar Jackson wasn't his usual self in terms of production on the ground, but it doesn't matter when he is making plays in the air.
The one big question mark is surrounding John Harbaugh after a questionable healthy scratch of running back Ty'Son Williams. It's clear Williams is Baltimore's most impressive rusher by a mile, at over six yards per carry, but he sees the bench so Le'Veon Bell can get four carries? This running back room will be something to keep on eye on over the next few weeks.
9) Carolina Panthers (3-1) (11)
Carolina had a tough task against the Cowboys at home and just couldn't find a way to stop Dallas from running wild. After holding a 14-13 lead at halftime, Dallas scored 23 unanswered before winning a late squeaker by eight points. Even with Dallas' ability to run the ball, there is no excuse for the Panthers giving up over 240 yards and over seven yards per carry on the ground. It is nearly impossible for any offense, especially one with Sam Darnold in a new system, to overcome that.
10) Green Bay Packers (3-1) (14)
One could make a very strong argument that the MVP of their game against the Steelers was Pittsburgh's own offensive coordinator. Even with that, this was another big win for the Pack that showed that while they do have their share of issues, they're still a solid team. How long they can hold up remains to be seen, however. According to reports, cornerback Jaire Alexander suffered an AC joint injury that could cost him anywhere from a week to the season and linebacker Za'Darius Smith is not being counted on to return for Green Bay this season. This team is already suspect and thin on defense. One more piece falls and this defense could descend into chaos.
11) Las Angeles Chargers (3-1) (6)
12) Seattle Seahawks (2-2) (19)
13) San Francisco 49ers (2-2) (15)
14) Las Vegas Raiders (3-1) (9)
15) Cincinnati Bengals (3-1) (17)
16) Denver Broncos (3-1) (12)
17) Tennessee Titans (2-2) (16)
18) New Orleans Saints (2-2) (13)
19) Washington Football Team (2-2) (22)
20) Chicago Bears (2-2) (23)
21) Minnesota Vikings (1-3) (18)
22) Philadelphia Eagles (1-3) (20)
23) New England Patriots (1-3) (24)
24) Pittsburgh Steelers (1-3) (21)
25) Indianapolis Colts (1-3) (29)
26) New York Giants (1-3) (31)
27) Miami Dolphins (1-3) (27)
28) Atlanta Falcons (1-3) (25)
29) New York Jets (1-3) (32)
30) Detroit Lions (0-4) (28)
31) Houston Texans (1-3) (26)
32) Jacksonville Jaguars (0-4) (30)
---
Follow us on all of our social channels! Check out our Twitter, Facebook and YouTube for more great FlurrySports content.