It may only be Week 3, but we are already starting to see a little separation between teams. With it being so early in the season, it can be hard to tell what is simply an off-week and what are alarm bells that a team may not have the goods to make a deep run. With injuries running rampant in the league yet again, these NFL Power Rankings seem to shift drastically, as seen by the injuries to Christian McCaffrey and Tua Tagovailoa among others.
Week 3 is now in the books, and here's where everybody stacks up in this week's NFL Power Rankings.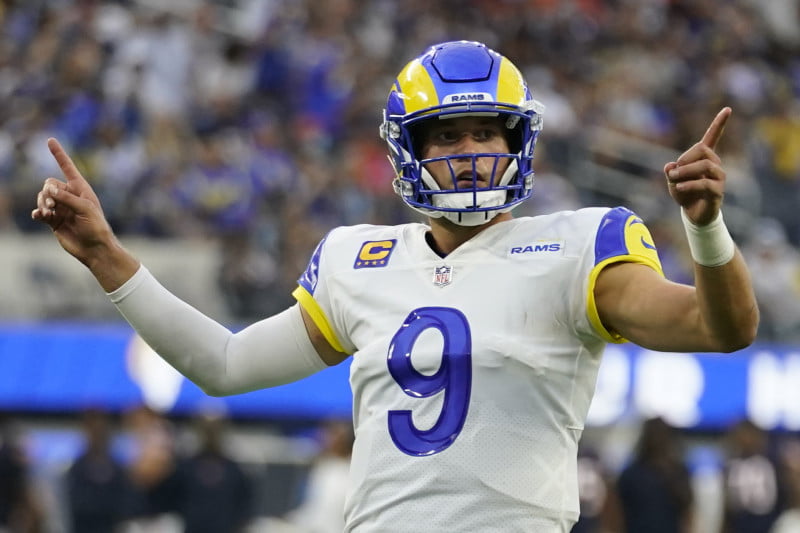 Week 4 NFL Power Rankings
1) Los Angeles Rams (3-0) (Previous: 2)
The Los Angeles Rams were many people's pick to win the Super Bowl, and they looked the part in Week 3. Matthew Stafford threw for four touchdowns and the Rams beat the defending champion Buccaneers, 34-24. The final score didn't tell the whole story, as the Rams were in control for the entire game. They held a 17-point lead twice late in the second half. This team was a borderline contender last year and, with the addition of Stafford, it's clear that there is no limit to what they can achieve.
2) Tampa Bay Buccaneers (2-1) (1)
The Tampa Bay Buccaneers got spanked for most of the game against the Rams, however, we know the drill with Tom Brady. He lost against the Rams, and now he's going to face them in the playoffs and annihilate them. While Tampa Bay struggled, it's hard to blame them with the rollercoaster of emotions they've had already. It has to be tough to go from an emotional late win over the Cowboys, to the Atlanta Falcons and back to the Rams in L.A. This team will be fine and there is something to be said about them still managing to put up 24 against this Rams defense.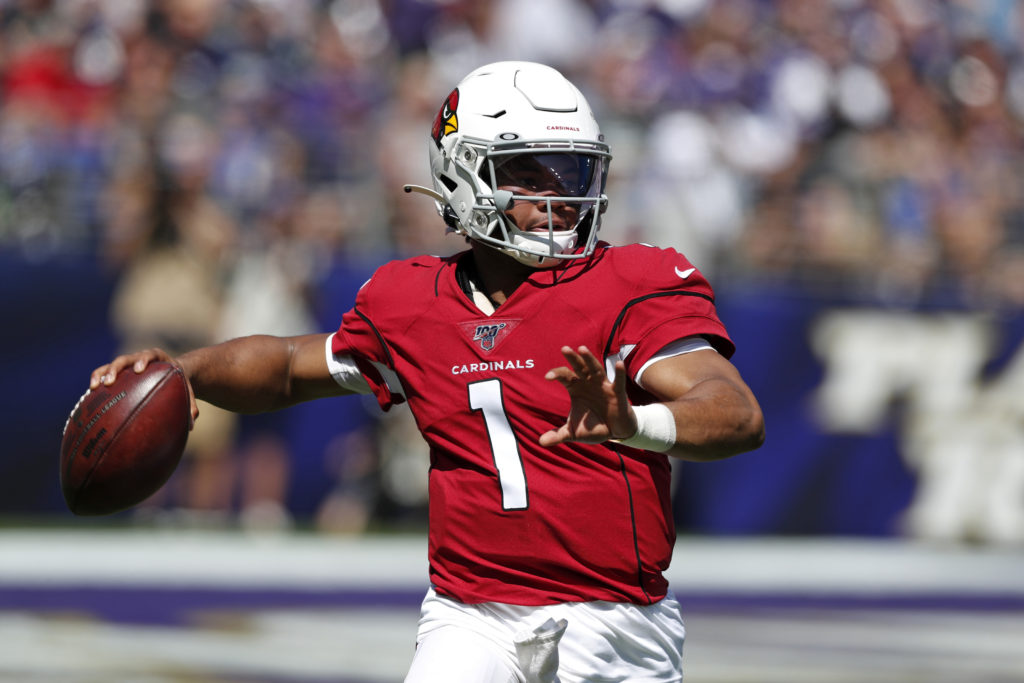 3) Arizona Cardinals (3-0) (3)
For the record, there is a pretty steep drop-off between the second and third slot here. The Arizona Cardinals are undefeated, but yet again are somehow still underwhelming. I get a win is a win, but this team beat Minnesota thanks to a missed chip shot by Greg Joseph, and they found themselves down nine late in the third to the Jaguars. While they did come back strong, they won't be bailed out from quarterbacks like Trevor Lawrence every week.
Although they had no trouble passing overall, it's slightly worrying that DeAndre Hopkins was held to just three catches for 21 yards against this Jacksonville defense.
4) Dallas Cowboys (2-1) (8)
If the Cowboys' defense can become just average, this team will be very dangerous. Let's not kid ourselves. The Eagles are not the most impressive team to beat. With that being said, it's still impressive holding them to 21 points with only seven in the first half. The Cowboys have a lot to clean up, but Dak Prescott and the Dallas offense had a nice bounce-back game, dropping 41 on Philadelphia. With an easier schedule coming up, Dallas should be able to take the NFC East lead and run with it.
5) Cleveland Browns (2-1) (9)
Cleveland's one loss was on the road against Kansas City, but they have yet to establish themselves as a true contender. While they do sit at five in the NFL Power Rankings, that's more due to big teams choking than their own accomplishments. The Browns beat the Texans by 10 in Week 2 in a game they may very well have lost without Tyrod Taylor being injured. While they did beat the Bears 26-6 this week, this Bears offense put up just 47 yards of total offense. More of that can be contributed to their offensive line and Matt Nagy than the Browns, and it must be asked how the Browns only put up 26 points in this game.
6) Los Angeles Chargers (2-1) (10)
Is there a culture change underway for the Los Angeles Chargers? They outlasted Washington in a close game in Week 1 and won a close game in Kansas City against the Chiefs in Week 3. While they did lose a close game to the Cowboys in Week 2, the circumstances of that loss when it comes to the calls being made were extremely questionable, and it's still impressive they held that Dallas offense to just 20 points. For as solid as they've looked, we'll learn a lot about this team over the next three weeks, as they have the Raiders, Browns and Ravens on deck.
7) Buffalo Bills (2-1) (12)
Plenty of question marks were swirling around Josh Allen's performance through the first two weeks coming into this game, and they were all answered emphatically. Allen had his fifth career 300-yard and four-touchdown game, as they plowed through the Football Team, 43-21. This was a good start for Buffalo, but they'll need to keep it going, especially with a Week 5 matchup against the Chiefs coming up with Kansas City scrambling to get another win.
8) Kansas City Chiefs (1-2) (6)
In a rare showing from Kansas City, their sloppiness cost them the game. In five first-half drives, the Chiefs had an interception, two fumbles, a punt and a field goal. While they did rally back before ultimately falling short, this team falls behind too often. The Chiefs definitely have the firepower to make up for it, but they have had to try to rely on it two weeks already. They needed a flurry and plenty of Browns miscues to win Week 1 and have lost two ugly games since. There is no doubt the talent that this team has, but as of now, the Chiefs just aren't as good as we're used to seeing.
9) Las Vegas Raiders (3-0) (4)
For a team that looked so good in the first two weeks, this team looked pitiful in Week 3. Coming off an overtime win against Baltimore and a road win in Pittsburgh, the Las Vegas Raiders had an easy assignment against a Dolphins team who were without their starting quarterback, Tua Tagovailoa. The Raiders quickly put themselves in a 14-0 hole and needed overtime to take care of Miami. This win is already ugly without considering the safety Jacoby Brissett gifted them and the fact that he threw 49 passes for just 215 yards.
Every team has off days, but this looked more like the underwhelming Raiders we've been used to in season's past. How they needed overtime to win while putting up nearly 500 yards of offense is not a great look.
10) Baltimore Ravens (2-1) (5)
Speaking of not a great look, what the hell happened to Baltimore? Admittedly, the Detroit Lions will always play hard under Dan Campbell, but seriously? Baltimore put up 27 on the Raiders and 36 on the Chiefs, but they could only score 19 against the Lions in a dome. Detroit's defense had given up 41 to San Francisco and 35 to Green Bay leading up to this game as well. A questionable missed delay of game call and an NFL record 66-yard field goal from Justin Tucker were needed to beat the Lions by two points.
This team made a statement against the Chiefs in Week 2 just to look like the same team that continuously gets bounced early in the playoffs. This is why they are falling in this week's NFL Power Rankings.
11) Carolina Panthers (3-0) (13)
12) Denver Broncos (3-0) (14)
13) New Orleans Saints (2-1) (17)
14) Green Bay Packers (2-1) (18)
15) San Francisco 49ers (2-1) (7)
16) Tennessee Titans (2-1) (15)
17) Cincinnati Bengals (2-1) (24)
18) Minnesota Vikings (1-2) (21)
19) Seattle Seahawks (1-2) (16)
20) Philadelphia Eagles (1-2) (19)
21) Pittsburgh Steelers (1-2) (11)
22) Washington Football Team (1-2) (23)
23) Chicago Bears (1-2) (20)
24) New England Patriots (1-2) (26)
25) Atlanta Falcons (1-2) (29)
26) Houston Texans (1-2) (28)
27) Miami Dolphins (1-2) (27)
28) Detroit Lions (0-3) (25)
29) Indianapolis Colts (0-3) (22)
30) Jacksonville Jaguars (0-3) (32)
31) New York Giants (0-3) (30)
32) New York Jets (0-3) (31)
---
Follow us on all of our social channels! Check out our Twitter, Facebook and YouTube for more great FlurrySports content.