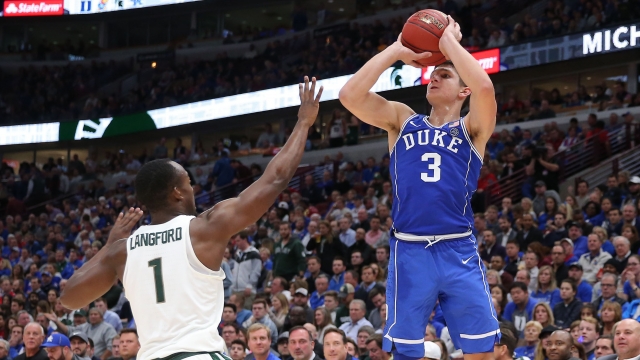 This post is going to bounce around with the different types of content inside of it. I will post the full top-25 rankings and the breakdown, plus headlines from all other power conference teams including the A10 and WCC. This article will show up every Monday, so be on the lookout for it! This first one will have a lot of information on almost every team because this info will tell us how each team's season should go. Each highlighted team is in bold in each bullet point.
AP Top 25
Duke
Arizona
Kansas
MSU
Villanova
Wichita State
Florida
Kentucky
UNC
USC
Miami
Cincy
Notre Dame
Minnesota
Xavier
Texas A&M
Gonzaga
Purdue
Louisville
Seton Hall
St Marys
Baylor
West Virginia
UCLA
Alabama
Top 25 Breakdown
I believe this poll is spot on except for two things. First, Kansas should be #2 over Arizona. Second, Michigan State should be ranked #6 behind Villanova and Wichita State, in my opinion. The Spartans lost to Duke without Marvin Bagley for a majority of the game. Also, say hello to our one new ranked team this week Alabama, as Northwestern fell out. Now I will go into team by team headlines.
 #16 Texas A&M overcomes a 13-point deficit to beat #23 West Virginia by 23 points in the long run. Texas A&M was playing without three of their top players, including potential lottery draft pick Robert Williams. Tyler Davis carried the load for the Aggies especially in the second half to lift them to a great opening win. West Virginia needs to wake up if they want to compete for a Big 12 championship.
#25 Alabama got a very solid victory without 3 star players including #5 freshman Collin Sexton. The Crimson Tide beat Memphis by 12. Memphis played better than expected since I predicted them to have a down year. In Bama's next game, Collin Sexton made his debut, and had 22 points in a blowout win over Lipscomb.
#9 UNC without star Joel Berry took out depleted Northern Iowa with ease by 17. Joel Berry then returned for game two in a close victory over Bucknell.
#8 Kentucky had an interesting first two games as they trailed by 9 at half to surprisingly good Utah Valley team. Kentucky ended up winning by 10. They also played a solid game all around against, in my opinion, the best mid major team in the country, Vermont. However, Vermont pulled the game with in just 3 points with a chance to tie it. They successfully ran the smoothest play I have ever seen for a game tying bucket, it just did not fall. Kentucky won 73-69.
#6 Wichita State dazzles in first game as a part of the AAC beating UMKC 109-57. Star Landry Shamet played, and had a solid showing as well as Darral Willis Jr who started for the injured Markis Mcduffie. Willis Jr led all scorers with 19 points. Also, they took out a very good Charleston team 81-63. This Shockers team has talent in all positions on the court. They look like a final four caliber team.
#20 Seton Hall put an end to Monmouth's fun after they opened the season with a win. Seton Hall beat them by 10. Seton Hall has another great showing beating Indiana by 14. The triple threat of Delgado, Carrington, and Rodriguez has looked phenomenal.
#19 Louisville struggled to beat George Mason who are projected to have a down year out of the A10, raising questions marks for them with the controversy going on with their basketball program.
#11 Miami looked unreal in their first real challenge of the year in a win over Navy, who had just beat Miami's ACC foe Pitt by 9.
#14 Minnesota gets a solid win in Providence as an underdog beating the Friars 86-74. Jordan Murphy is a legitimate beast on the court for the Gophers.
#21 St Marys ran away with a victory over a tough New Mexico State team 92-74 in their only challenge for week 1.
#10 USC struggled to beat North Dakota State who lost to UCSB by 20+ in their first game, raising question marks for the Trojans of USC. Next they went to Vandy and got a tough win in overtime. I am not sure if this team is Top 10 talent right now.
On an amazing Tuesday Night in the Champions Classic, #1 Duke beats now #4 Michigan State without potentially their best player Marvin Bagley for 3/4s of the game. Grayson Allen was the reason why Duke walked away with the win as he dropped 37 points making 7 three pointers. In the second game of the Champions Classic, #3 Kansas pulled out a close victory over #8 Kentucky 75-71. The game went back in forth late, but Kansas surged out in front with under two minutes left in the game. 4 players were in double digits for the Jayhawks, and Kevin Knox made a name for himself putting up 20 for Kentucky.
#18 Purdue gets their first solid win of the year knocking off Marquette by 15 fairly easily even though Marquette kept it close scoring wise. Purdue found a way to control the game. The Boilmakers then took out a very solid mid major team in Fairfield in blow out fashion.
#24 UCLA beat GTech by 3 in a great game to start off the year in China, but with 3 players being suspended in China, they got lucky to win over Central Arkansas in overtime hitting a game tying free throw in regulation.
#15 Xavier goes on a run at the end of their game with Wisconsin to beat them by 10. Wisconsin lost many key assets and could have a down year.
Other Headlines
Tulsa trailed Lamar all game, and they could not capitalize on chances given to them to come back and win. Lamar pulls off the first upset of the year.
Penn State holds off the top scorer in the nation Chris Clemons 37 points, and Campbell's valiant effort to beat them.
VTech put up 111 points in a victory over Detroit who hung around early.
A final four team in last year's NCAA Tournament South Carolina starts off the year with two great wins over stellar mid major teams Wofford and Western Michigan winning both by 15 points or more. They turned around to get upset by Illinois State, beat UTEP, and beat WMU again in the Puerto Rico Tip Off.
Dayton dominated Ball State in the first half of their game, but it took a lay-up buzzer beater for the Flyers to walk away with a win. Dayton falls to Hofstra and Old Dominion in the Charleston Classic, and they picked up a win over Ohio. The Flyers may be looking at a down year.
Richmond gets a surprise beat down from Delaware who played a terrific game of basketball. Then, they turned around and got dismantled again, this time by Jacksonville State.
Indiana played possibly their worst season opener of all time. The Hoosiers lost at home to Indiana State by 21 points. They trailed by 20 the majority of the game. Then, they got beat down by #23 Seton Hall.
Rhode Island looked fantastic in a blow out over one of the best mid major teams, UNC Ashville, who are favorites to win the Big South. However, they turned around and lost a close game to Nevada who is among the great mid major teams. URI star EC Matthews could be out for multiple weeks with a injury.
Wake Forest has had the worst start for a power conference team losing 3 straight upset games to Georgia Southern, Liberty, and Drake.
St Johns looked better than they have in many years taking out the Southland Conference champ New Orleans 77-61 and blowing Nebraska by 23.
St Bonaventure, a team I have been buzzing about took a terrible loss to Niagara by 2 points. St Bon star Jaylen Adams did not play, so Matt Mobley carried the load putting up 29 points. That duo still has a lot of promise to be spectacular.
UCF holds off upset runs by Mercer, Gardner Webb, and Will & Mary.
SMU struggled to get hot in an 11 point win over UMBC.
Missouri beats Iowa State by 15 points and Michael Porter Jr(MPJ) only played two minutes due to injury that was not serious. They then fell to Utah without MPJ.
Creighton easily handles a top Ivy League contender in Yale winning 92-76. Khyri Thomas and Marcus Foster are one the best duos in the country this year. Next, Creighton held off at the time #20 Northwestern long enough to upset them by 4. Thomas had 24 points for Creighton.
TCU, a highly touted team had a decent season debut beating UL Monroe by just 10 points and a below average second game only beating South Dakota by 5.
Pitt has proven they are going to have a terrible year. They lost to Navy by 9, meaning they are in trouble in the highly competitive ACC this year. Then, they lost by 4 to Montana in overtime. In their third game they finally got a win over UCSB barely.
Washington who was not favored to win got a solid 4 point win over Belmont and beat Eastern Washington by 10 for two wins to open the season against some mid major talent. They suffered two losses in the 2k Classic to Providence and VTech.
Depaul played a very good game out of nowhere, going back and forth with #14 Notre Dame. However, They ended up losing by 14.
Cal is going to have a down year, and it started already with a loss to UC Riverside by 8.
Oregon lost a ton of key assets from their final four team last year, but veteran Payton Pritchard is back, and ready to lead new faces for Oregon. They beat Coppin State by 16 as Roman Sorkin had 23 points and freshman Troy Brown had 18.
Michigan struggled to get going early, but they ended up beating Northern Florida by 20 points. Also, they played a closely contested game at home vs Central Michigan winning 72-65.
Nebraska some-how found a way to beat Eastern Illinois by 4 points. They could be the worst team in the BIG Ten this year.
Rutgers was doing Rutgers things, and only beat Central Connecticut State by 4.
Ohio State beats Radford by 10, but the Buckeyes did not look very good.
Washington State barely got their first win of the season knocking off Texas Southern in overtime by 2.
Butler holds off many runs from Princeton to get a very good win by 10.
Arkansas beat Bucknell 101-73. Bucknell is off to a shocking 0-2 start when they were predicted to be a top mid major team. Next, Arkansas got another solid mid major win over Fresno State 83-75. The Razorbacks look like a contender in the SEC so far.
USF looks to be terrible again this year as they fell to Morgan State by 10.
Vandy takes a tough loss to Belmont by 9, but get a good win over Big South favorite UNC Ashville by 3. The Commodores then nearly took out #10 USC.
Iowa State fell to Missouri by 15, and struggled on offense to be upset by Milwaukee at home. They start the year on a bad note with two straight losses. Iowa State then took out App State, and barely held off Tulsa to reach the championship of Puerto Rico Tip Off where they took out Boise State and won it.
St Joes fell to Toledo, one of the best mid major teams, battled with a great UIC team and came away with a victory by 4 in overtime, and beat Princeton by 13 to begin the year on the right note.
Oregon State could not find a way to get past Wyoming in a 75-66 loss, but the Beavers got a meaningful win over Big West contender LBSU.
Florida State starts their year a little late, but got a solid win over the A10s George Washington by 20. FSU will have to work hard to stay afloat in the ACC this year.
Uconn trailed Stony Brook 62-53 only to go on a 16-0 run to win the game.
Davidson is a major sleeper in the A10 this year as they quietly demolished UNCW who lost a lot after being a 12 seed in the NCAA Tourney last year.
Arizona State may have the best team since James Harden was there in 2009. This team returned Tra Holder who is a major sleeper for play of the year in the PAC 12. ASU beat one of the favorites in the Mountain West, San Diego State, by 22 points 90-68 as Holder added 24.
Stanford who looks to turn their basketball program around this year is off to a bad start as they got upset by Eastern Washington. However, The Cardinal were missing 3 key players.
East Carolina falls in an upset loss to Radford in their second game.
BYU got a great win to get people talking about them as they are in the shadow of Gonzaga and St Marys again. They beat Princeton 65-56, but then fell to a very very good UT Arlington team out of the Sun Belt.
Oklahoma got their first meaningful win of the year over Ball State who nearly took out Dayton in their first game. The Sooners beat them by 39 as Trae Young scored 22 points and recorded a double-double.
Maryland is trending up and Butler is trending down. Maryland beat Butler 79-65 in a game between two teams that had many question marks coming. Maryland's Anthony Cowan looked great with 25 points. Next, the Terrapins barely survived in a game vs Bucknell winning by just 2.
Auburn takes out Indiana State in the first round of the Charleston Classic, but then they fell in super competitive game with Temple. This team looks more improved than last year and look to compete in the SEC. Reminder that they impressed me without two star players who are suspended.
St Louis impressed me in a great win over VTech in the 2k Classic, but they fell in the championship to Providence.
Utah blows out the MPJ less Missouri Tigers. Utah is weaker this year, but still look to contend in the PAC 12.
Temple is off to a hot start this year advancing to the championship in the Charleston Classic after beating Old Dominion and Auburn. They ended up winning the whole thing beating Clemson in the championship.
Tulane looks to bounce back after a terrible year last season. They are doing a good job of it so far with four straight wins, with one coming over Colorado State by 27.
Houston gets 37 points from star player and leading scorer Rob Gray Jr in an UPSET from Drexel in the US Virgin Islands Paradise Jam first round. The Cougars beat Wake Forest later in the tournament by 5. Houston may be looking at a down year.
Virginia knocks off in state foe VCU in a game filled with excitement. Both teams look to get back to the NCAA Tournament this year, but both teams lost a lot from last year. Kyle Guy looks to carry Virginia and he added 29 vs VCU. They then beat Monmouth by 20.
Colorado beats Quinnipiac by just 1 point in the US Virgin Islands Paradise Jam first round. The Buffaloes do not look promising to me this year so far. However, they found a way to win the whole tournament beating Mercer in the championship for a great win.
Ole Miss coming off a great win over ULL, beat Georgia State by just 5.
Illinois and Depaul both play a very competitive game as Illinois comes out on top 82-73. Depaul is still playing way better than last year, and Illinois looks like the can stay afloat in the Big Ten.
Boston College was given many opportunities, but they could not the ball in the net to beat Texas Tech. Texas Tech got 27 from Keenan Evans. BCU then destroyed La Salle by 21.
Texas Tech came out and stunned Northwestern beating them 85-49. This Texas Tech team proved to me they are going to be a force this season, I was low on them.
Georgia struggles in the 3rd game of their easy opening schedule beating T A/M CC by just 3.