Western Conference
(1) Houston Rockets vs. (5) Utah Jazz
Series: Houston leads 1-0
Houston has defeated the Utah Jazz already this postseason with a convincing final score of 110-96. The Jazz were down 25 points at halftime, and despite winning both the third and fourth quarters, they still lost by 14. It proved to be a frustrating game for Jazz rookie Donovan Mitchell, who came in shooting exceptionally great against the Thunder.
This series is about a powerhouse in the Houston Rockets versus an up-and-coming Utah Jazz team. It was impressive for the Jazz to beat the more talented Oklahoma City Thunder in the first round, but I wouldn't think that to be the case here. Despite Houston slightly struggling against the Timberwolves in round one, they still managed to win the series in five games. The Jazz are a great defensive team, but they will be playing against a team that moves the ball more and shoots more efficiently from three than the Thunder.
In order for the Jazz to win this series, they will need to play outstanding perimeter defense and contain James Harden. If Harden continues to score around 41 points, then the Rockets will most likely sweep the Jazz. It hurts the Utah that they will be missing Ricky Rubio for a majority of the series. His presence on the court would do a lot for this team in this series. He was coming off a great first round against an MVP point guard and seems to be playing some of the best basketball of his career.
Most people want to see this series go at least six games. Utah is a tough environment to play in and it would be great for the NBA if this young team could still compete with the one seed. I'm not sure how likely that is though. Houston had the best offensive rating in the regular season to go along with the sixth-best defensive rating. Although the Jazz were second in defensive rating, they were only average when it came to offensive rating, finishing 16th in the league. If Houston wants to win this series, they are going to have to get some bench help. Luc Mbah a Moute needs to score more than three points if he is playing over 20 minutes. I am also going to point out that Eric Gordon only had seven points in Game 1, and all of those points came from the charity stripe. Gordon shot 0% from the field, going 0-6. If these two can add some extra help for Harden and Chris Paul, then this series is going to be over before we know it.
Prediction: Houston in 5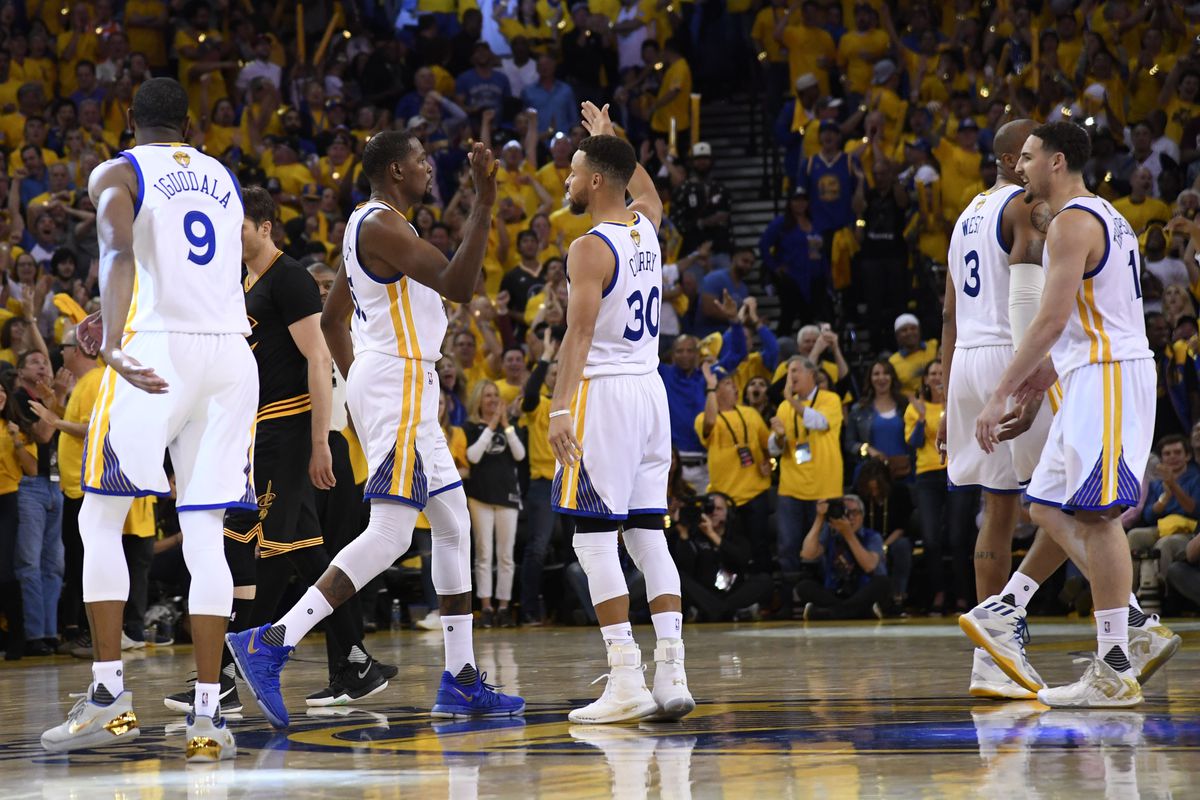 (2) Golden State Warriors vs. (6) New Orleans Pelicans
Series: Warriors lead 1-0
Game 1 was competitive for a little over a quarter before the Warriors outscored the Pelicans by 20 points in the second. The biggest concern for Golden State coming into this series was that Steph would miss a majority of the games. He did miss Game 1, but the timetable for his return seems to be here. Steph will most likely play in Game 2 for his first game of the postseason. That's something you don't want to hear if you're a Pelicans fan.
If the Pelicans want to win this series, they will need to outwork the Warriors on the glass and in the paint. No matter what, the Warriors will most likely beat any team in this league from three-point range, except the Rockets. So, it is extremely important that the Pelicans control the paint. Not only do they need to score in the paint, but they need to protect it even more. The Warriors managed to get ten blocks in Game 1, and New Orleans only had three. Golden State's 13 offensive rebounds in Game 1 is unacceptable if the Pelicans want to have any shot at even winning a game in this series. Lastly, the Pelicans need to move on offense and create better shots. One of the reasons why this game was such a blowout was because their first-round star Jrue Holiday only shot 4-14 and finished with 11 points. Nikola Mirotic only had nine points and Ian Clark played nearly 30 minutes and finished with only seven.
Controlling the pace of the game and moving on offense should be the biggest adjustment when attacking the Warriors. Golden State can get lazy at times, and by New Orleans doing this, it could create a better flowing offense to take advantage of that lazy defense. This is especially important because it could get New Orleans comfortable early. If the Pelicans can get attacking early, then look for their free throw attempts too much higher than in Game 1.
The key to success for the Warriors is their shooting. It has been their trademark since becoming one of the most elite teams in NBA history. Kevin Durant and Klay Thompson combined for 53, while Draymond Green added 16. Andre Iguodala put in 12, which doubled his season average. Let's not forget their bench, as they got 36 points, which matched the Pelicans' bench. All season long one of the biggest questions for the Warriors was whether or not their bench would be productive enough. If the bench can match opposing teams' benches, then it comes down to the starters. I'm willing to bet that the Warriors starters would beat any other starting five in this league with Durant, Thompson, Green, and soon to be back Curry.
Defensively, the Warriors have to be on alert. If they get lazy, especially once they get on the road, the Pelicans may be able to battle with them scoring wise. Locked in, that's how the Warriors need to be on defense in order to close this series out early. Convert defense into offense by getting Durant, Curry, and Thompson running. It is a scary thing when the Warriors run in transition and they need to focus on that to dominate New Orleans.
Prediction: Warriors in 4
Eastern Conference
(2) Boston Celtics vs. (3) Philadelphia 76ers
Series: Begins Monday, April 30th, 8:00 pm ET
This series would be so much more interesting if Kyrie Irving and Gordon Hayward were healthy. Nonetheless, this series is a matchup of two potential Eastern Conference powerhouses for the next decade or so. Each team is drowning in young talent and most other teams in the league should be jealous at how effective these young stars are being so early in their careers. It will also be great to see these two potential Coach of the Year candidates battle it out. Matchups should be something to watch for in this series.
Starting with the Celtics, Jaylen Brown's hamstring will be a huge concern for Game 1. If he plays, hopefully, he's fully prepared to go play as hard as he did in the first round. In my opinion, Jaylen is the Celtics most valuable player in these playoffs. No disrespect to Horford, but without the energy, scoring, and defending of Brown, the Celtics will have a tough time matching up their backups with the 76ers starters. Brown has been playing magnificent in Boston, and with the Celtics struggling on the road in Milwaukee, it makes these home games all that more important. If they were to lose Brown tonight and lose Game 1, then this series will be headed in the wrong direction for Boston.
Al Horford and Aron Baynes will have their hands full with Joel Embiid in this second round. The Celtics were able to out-rebound the Milwaukee Bucks, but that won't be the case against the 76ers. Also, offensively, the Celtics need to shoot well from deep, mainly when the 76ers go cold. One thing Milwaukee was able to do well was force the Celtics to play one-on-one, which doesn't bode well for Boston, as they like to move the ball and play team basketball. This is where matchups can get interesting, to see whether or not Philadelphia will constantly switch like Milwaukee, refuse to switch or go back and forth.
For Philadelphia, the series starts and ends with Ben Simmons and Joel Embiid. These two young stars have been operating at such a high level that it seems as if these two have been playing together since high school. Simmons will most likely play against Jayson Tatum, Marcus Smart (despite the height difference), and Semi Ojeleye, who we saw guard Giannis Antetokounmpo in the last series. His efficiency with these players on him in the half court will be something to keep an eye on.
In my opinion, the three biggest players in this series for the 76ers are J.J. Redick, Marco Belinelli, and Dario Saric. The shooting that Redick and Belinelli bring to this team cannot be overlooked. They are probably the two best shooters on the team along with Robert Covington. However, these two vets have been in the playoffs before and know what they need to do for their team. With Terry Rozier and Marcus Smart on them, their jobs may become difficult, but this 76ers team needs them in order to be successful.
When it comes to Dario Saric, I think he is one of the most underrated players in this league because he is overshadowed by Embiid and Simmons. Saric could cause some matchup problems for the Celtics, and with his outside stroke and solid post-up game, he could end up being the unsung hero for the 76ers in this series. I'm looking for him to take a huge step into the spotlight this round.
Prediction: 76ers in 6
(1) Toronto Raptors vs. (4) Cleveland Cavaliers
Series: Begins Tuesday, May 1st, 8:00 pm ET
How far can LeBron James drag this Cavaliers team? That is the ultimate question. This could be the best series of the Conference Semifinals and it's all on LeBron's shoulders. The Raptors have grown as a team since the playoffs last year and this could be the year they overthrow LeBron and take over the Eastern Conference. With DeMar DeRozan, Kyle Lowry and the depth of this team, the Raptors look ready. However, they struggled to get past the Washington Wizards and let the Wizards steal two games from them before finishing them off in six games. The Raptors always struggle on the road in the playoffs, and I would be worried that they continue this trend from years past.
How do the Raptors finally get over the LeBron hump? Pace. It seems so simple, but if the Raptors can control the pace of the game, then I think they will have a good formula for winning this series. They need to force turnovers and get on the break for some easy points against this Cavs team that struggles at times to put the ball in the basket. Cleveland can get sloppy and it usually comes in bunches. This is when Toronto needs to move their pace of play from a slow attack to a killer mentality. If Lowry and DeRozan can get running and drive to get fouls or slow down and let a streaking Serge Ibaka or C.J. Miles get an easy layup, then things will be flowing nicely for the Raptors.
They cannot let LeBron do whatever he wants though. Yes, LeBron is one player, but he is the best player on the planet. They need to double team him when he drives and close out hard when he passes. Force the other Cavs players to hit their shots, because when they are cold, LeBron is forced to do the scoring. This is actually exactly what Toronto should want. If LeBron gets 40 points but only has 4 assists a night, then I truly believe the Raptors win the series. It is his passing to outside shooters that dismantle opponents. Keeping Korver in check should be their second concern along with keeping Kevin Love away from getting offensive rebounds. Overall, if the Raptors can do these things and shoot effectively against this poor defense, then I believe the Raptors can win the series.
Oh Cleveland, is this the end? The end of the year? The end of the LeBron era 2.0? Is it the beginning of a rebuild and years of missing the playoffs? It just might be. LeBron will need to be better than he was against the Pacers, because this Raptors team is almost better than the Pacers in every single team statistic. This worries me, because the Cavs should have beaten the Pacers well before Game 7. In order for the Cavs to win this series, it will come down to the other stars and role players. Kevin Love absolutely needs to play at an All-Star level. He is too good to be playing this poorly in the postseason. He needs to find a way to get his shot to fall and attack the glass. Easy offensive rebounds could be where he makes his money this series. J.R. Smith and Kyle Korver need to hit their threes to open up lanes for LeBron and others.
Lastly, Larry Nance, Jordan Clarkson and George Hill. These three young guys need to embrace the moment. I'm looking at Nance to rebound and get the ball to LeBron quickly for easy transition baskets to start the offense. Easy baskets will get the rest of the team feeling good about shooting the ball from all over the floor. If Cleveland settles for jumpers and they're missing them on a consistent basis, then the Cavs will fall. Clarkson and Hill need to be a nice one-two punch. If they sub in for each other then, I'm looking for them to produce just as much as the other. These point guards need to distribute the ball and hit their open shots. When their teammates are hitting their shots, then these two can drive to the basket and get some easier points to help the offensive attack.
On the defensive end, they need to limit the free throws created by DeRozan and Lowry. Suffocating the Raptors in the paint should be key. Force them out of the paint and make them take midrange jumpers by chasing them off the line as well. If DeRozan is taking contested midrange shots, then I would look to grab the rebound and start off running. Limiting the Raptors' threes will be essential because when the Cavs shoot poorly, they can't afford to get taken out of the game with the three ball. The Cavaliers have a lot on their plate here, but they have been known to play the Raptors well. Perhaps they can do all the above to advance to the next round and bring LeBron closer to another Finals appearance.
Prediction: Raptors in 7