Daniel Suarez came into the 2021 NASCAR Cup Series season as the lone driver for a brand new race team. Owners Justin Marks and Pitbull teamed up to enter the world of stock car racing and the Trackhouse Racing Team competed in its inaugural season. The organization certainly wasted little time in making its presence felt and turning some heads. Suarez did his best to compete and earn points, but like most new teams, there were a lot of growing pains for him and the No. 99 crew in their first season of competition.
The following article continues a FlurrySports series that looks back on the 2021 NASCAR Cup Series season from the perspective of drivers and race teams. Read on for a season review of the first-ever Trackhouse Racing driver, Daniel Suarez.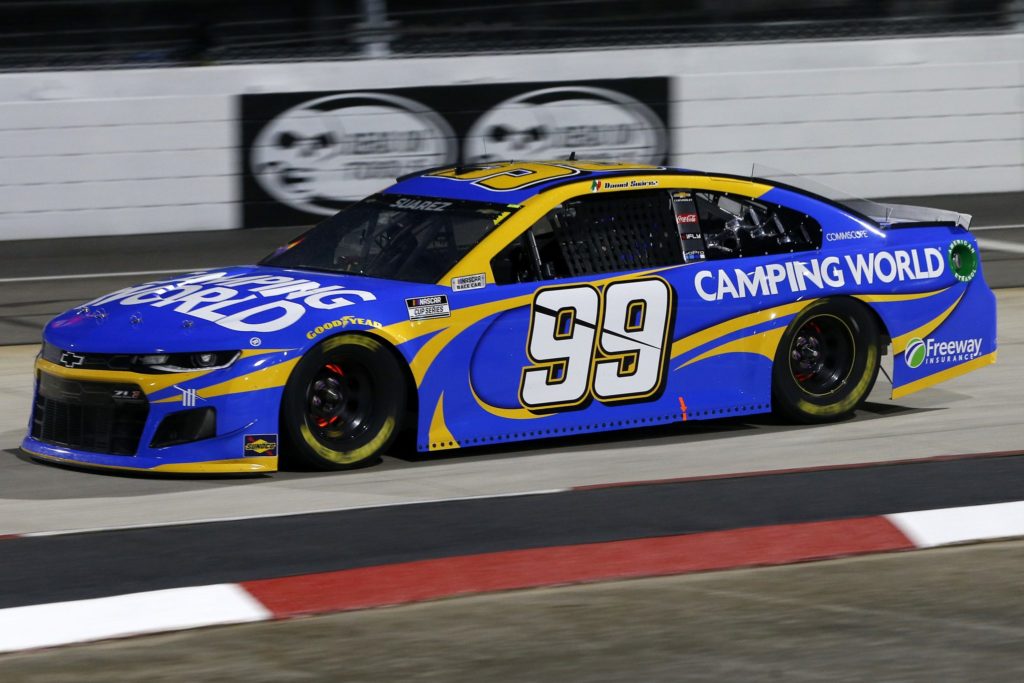 NASCAR Cup Series 2021 Season Reviews | Trackhouse Racing
Daniel Suarez — No. 99
Daniel Suarez and the No. 99 team were certainly hoping to have a better start to their season than what they ultimately experienced at Daytona. It took only 13 laps and they were already on the hook and done for the day after being a part of "The Big One". Facing adversity right out of the gates is never easy, especially for a brand new race team. How would Trackhouse Racing respond?
Top-5 Finish on Bristol Dirt Highlights a Tough Spring Stretch
The second race of the NASCAR Cup Series season at the Daytona Road Course went much better for Daniel Suarez. He completed the race and gained 19 spots on his way to finishing 16th. NASCAR's west coast swing that followed went poorly though. Suarez finished in the back half of the field in both races at Las Vegas and Phoenix. After an average showing at Atlanta, Suarez went out and looked great on the dirt at Bristol. Despite having limited previous dirt track experience, he led 58 laps in the race. Unfortunately, Suarez couldn't get the job done as far as the win was concerned and finished fourth.
Daniel Suarez would not score another top-10 finish until Dover where he came in ninth. A week later, he finished 33rd after some mechanical problems and fell down to 24th in the points standings. Despite the adversity, Trackhouse Racing kept on grinding.
Daniel Suarez Comes Close to Scoring Hail Mary Win at Daytona
Over the next four weeks, Daniel Suarez gained some ground in the points going from 24th to 18th. The momentum once again hit a brick wall thanks to more mechanical issues at Road America and Atlanta. Suarez once again sunk like a rock in the points and remained well below the playoff cutline.
Sitting at 25th in the standings entering the regular-season finale at Daytona, Daniel Suarez knew he needed to win in order to upset the NASCAR Cup Series playoff field. The No. 99 car was looking good and got pushed all the way to the front on the last lap. It turned out to be yet another near-miss for Suarez as he got turned on the backstretch. His chances of making the playoffs ended in that wreck. Suarez would go on to add one additional top-10 at Texas over the final ten races.
Future is Bright for Suarez, Trackhouse Racing After Expansion News
Daniel Suarez ended the year with one top-5, four top-10s, an average finish of 20.1 and a final points position of 25th. After buying out Chip Ganassi Racing's NASCAR operation, Trackhouse Racing will add Ross Chastain to the fray as a second driver alongside Suarez in 2022. They will now have two drivers to gather data from as they look to continue building up the young organization. This should certainly help Suarez out going forward.