The 2021 NASCAR Cup Series season turned out to be a wild one for Chip Ganassi Racing. In addition to the roller-coaster nature of the team's performances on the track, there was also some bombshell news that happened off of it. Kurt Busch and Ross Chastain did their best to provide owner Chip Ganassi with a season to remember. Unfortunately, they couldn't get him a championship in what turned out to be CGR's final season as a NASCAR owner after he sold his assets to Trackhouse Racing last summer.
The following article continues a FlurrySports series that looks back on the 2021 NASCAR Cup Series season from the perspective of drivers and race teams. Read on for season reviews of the two Chip Ganassi Racing drivers, Kurt Busch and Ross Chastain.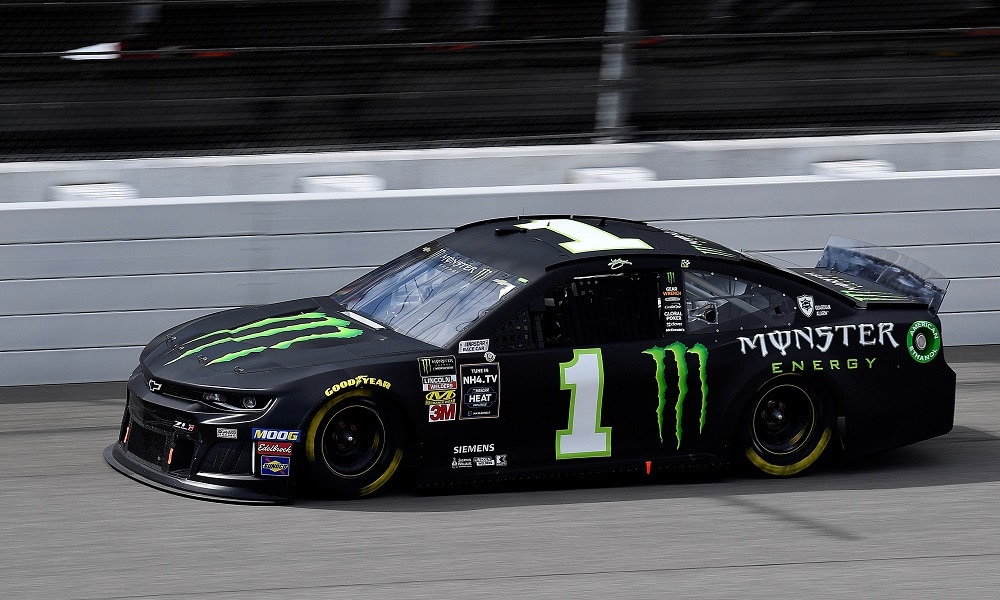 NASCAR Cup Series 2021 Season Reviews | Chip Ganassi Racing
Kurt Busch — No. 1
2021 marked the third season for Kurt Busch with Chip Ganassi Racing and his 21st full-time season in the NASCAR Cup Series overall. He did not have a great run in the Daytona 500 and ended up finishing 22nd. Busch's next two weeks helped build some momentum as he had a top-5 and two top-10s before the end of the Florida stretch. When the NASCAR Cup Series left the Sunshine State, Busch's finishes plummeted. The No. 1 team failed to score any top-10s over the next 12 races.
Kurt Busch Hits His Stride in Summer Months, Wins at Atlanta
Sonoma proved to be a turning point for Kurt Busch and kicked off a hot summer stretch. He compiled three top-10s at Sonoma, Nashville, and the first Pocono race. Busch also secured his first top-5 finish since Daytona Road Course at Road America on Independence Day.
The following week, the veteran finally got back to victory lane at Atlanta Motor Speedway. Busch was able to get around his younger brother Kyle late in the race to score his first win of the season. This automatically ensured that the No. 1 car would partake in the NASCAR Cup Series Playoffs.
Continued Success Boosts Busch's Seeding for Playoffs
Kurt Busch would add another top-5 and two top-10s with his finishes at the Indy GP and Michigan. He was in a position to add another strong result at Daytona in the regular-season finale but caused a wreck while pushing to the front and settled for 12th. Busch went into the NASCAR Playoffs as the 10-seed.
Tire Issues at Richmond Ruins Playoff Hopes for Kurt Busch
After a strong run at Darlington in the postseason opener, Kurt Busch was looking great as far as the standings were concerned. Unfortunately, he then ran into trouble at Richmond and just lacked any sort of speed at Bristol. Busch was eliminated from championship contention in the Round of 16. He was able to add two more fourth-place finishes at Talladega and Kansas down the stretch of the season. He also added two additional top-10s on top of that.
Busch Will Drive Second 23XI Racing Car in 2022
Overall, Kurt Busch had a pretty good year with one win, six top-5s, 14 top-10s, and an average finish of 15.5. He wound up 11th in the final NASCAR Cup Series points standings. With Chip Ganassi Racing exiting the sport, next season will see Busch slide over to 23XI Racing to drive the No. 45 Toyota Camry for Michael Jordan and Denny Hamlin.
Ross Chastain — No. 42
Ross Chastain came into the 2021 NASCAR Cup Series season with a new team. For the first time in his young career, Chastain got a ride in some well-funded equipment as he stepped into the No. 42 car for Chip Ganassi Racing on a full-time basis. He started out well as he finished seventh in the Daytona 500.
After that, Chastain struggled to find much success for a long stretch. He never finished better than 14th until Circuit of the Americas where he was able to get score top-5 result by finishing fourth.
Ross Chastain Builds on Top-5 Showing, Nearly Wins at Nashville
Ross Chastain would continue his hot streak as he finished seventh at Sonoma and runner-up at Nashville after nearly tracking down Kyle Larson in the closing laps. After a pair of disappointing results in the Pocono doubleheader, Chastain finished seventh at Road America, helped Chip Ganassi Racing teammate Kurt Busch win at Atlanta and finished eighth at New Hampshire.
Unfortunately for Chastain, that would be his last positive finish before the playoffs started. Despite making a run at the checkered at Daytona, the No. 42 team was not a part of the 16-car NASCAR Playoffs field.
Chastain Races Playoff Drivers Hard at Southern 500
Despite not having a shot at the NASCAR Cup Series Championship, Ross Chastain did not go down without a fight. At Darlington, he was fighting for the lead late against playoff drivers Kyle Larson and Denny Hamlin before ultimately fading to third. His last top-10 of the season came the following week at Richmond where he finished seventh.
Chastain sort of fell apart over the last eight weeks of the season and had no additional noteworthy finishes. His final season stats included three top-5s, eight top-10s, an 18.6 average finish and a 20th-place finish in the points standings.
New Team, Same Equipment for Ross Chastain in 2022
Chastain will stay in the same equipment for next season as he moves to Trackhouse Racing, the same team who bought out Chip Ganassi Racing. Trackhouse signed Chastain to drive the No. 1 car while current driver Daniel Suarez will continue to run in the No. 99. Can Chastain have a breakout NASCAR Cup Series season in 2022?