Just when you may have been thinking not every week matters in a long MLB season, this past week occurs. The New York Yankees suddenly look like the best team in the MLB, the San Diego Padres now have to play catchup with the Cincinnati Reds, and the Atlanta Braves now have a comfortable lead in the NL East. With another wacky week of baseball, where do teams stack up now? Here are your updated MLB Power Rankings.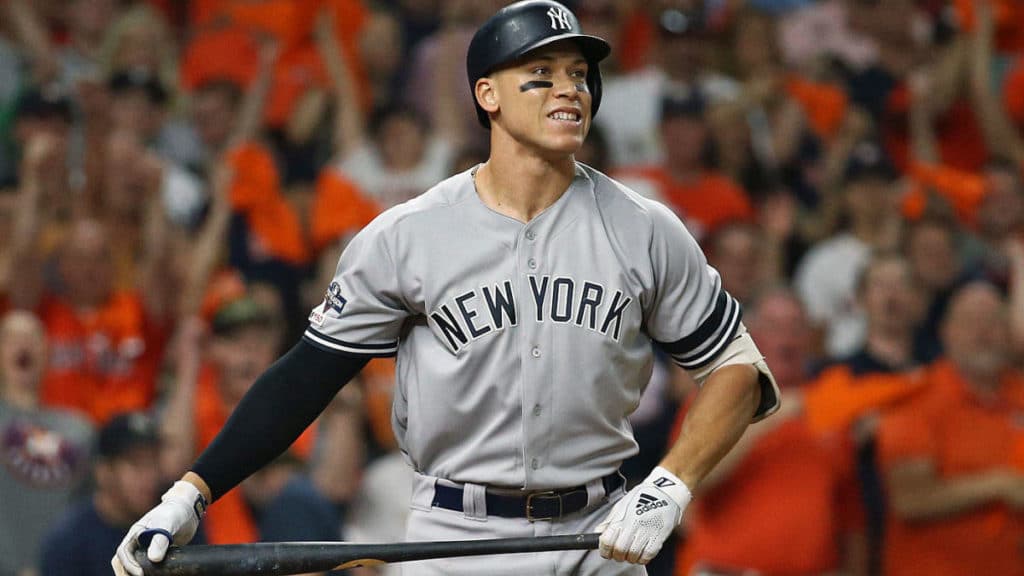 Week 21 MLB Power Rankings
1) San Francisco Giants (80-44) (Previous: 1)
The gap between the San Francisco Giants and the next best team was trimmed down this past week, but it still stands at two and a half games. This team is the first to 80 wins and is clearly the best team in the MLB Power Rankings for the majority of the season. The Giants took two of three games from both the Mets and the Athletics and have the Mets and Braves on deck this week. They should be able to take care of business and remain the clear-cut top team in the MLB.
2) Los Angeles Dodgers (78-47) (2)
The Los Angeles Dodgers keep heating up and, until their loss Sunday, had won nine straight. They easily dispatched Pittsburgh and took three of four games from the Mets. They weren't the most dominant outings by any stretch of the imagination, but wins are wins, and the Dodgers get a lot of them. Whoever loses out on the NL West crown this year might be the best wild card team in modern history.
3) Tampa Bay Rays (77-48) (3)
When the Red Sox started to tail off, it looked like it was their division to lose. Thanks to a resurgence from the Yankees, however, there is still some work to do. They do have a 4.5-game lead at the moment and are coming off a week in which they swept the Orioles in four and took two of three from the White Sox. The only question left for this team is how they'll fare in the playoffs as they are all but in.
4) Milwaukee Brewers (76-49) (4)
If this past week was any indication of how Christian Yelich will play the rest of the season, the Milwaukee Brewers might just be the best team in the National League. He's hit safely in 10 of his last 11 (the one being a one at-bat pinch-hit performance), and he's even flashed some of that MVP power. For as good as Cincinnati has been, the Brewers have been doing a good job keeping them at bay. If they can take their upcoming series against Cincinnati, or better yet sweep them, the Reds will have to focus on a wild card spot.
5) New York Yankees (72-52) (9)
It may have taken them over 100 games, but hats off to the Yankees for finally remembering how to play good baseball with a bunch of All-Stars! This team is absolutely cruising, as they have won nine straight including a nice three-game sweep at home against the much-hated Red Sox. As impressive as they have been, we'll see if they can keep it going, as their next six come against the Braves and Athletics. We could see them rise in our MLB Power Rankings even more next week.
6) Houston Astros (73-51) (5)
Congratulations to the Houston Astros for being the embarrassment of the MLB as of Sunday. Tied 2-2 with Seattle, Houston had the bases juiced in the bottom of the tenth before striking out three straight times to end the inning. They then proceeded to give up four runs before they could even record two outs in the very next inning. As if that wasn't embarrassing enough, they again loaded the bases with one out, before again not being able to cash in. Couple that with their ability to lose three of four to the Royals and the Astros certainly need a mental reset heading into this week.
7) Chicago White Sox (72-53) (7)
With the White Sox virtually already in the playoffs, there isn't a whole lot to play for, minus seeding. Nevertheless, they looked really good against the Athletics as they took three out of four in a possible playoff preview. While they did lose two of three to the Rays, they aren't in any real danger outside of injuries.
8) Atlanta Braves (68-56) (14)
The Braves didn't lose a single game this week and now have a pretty sizeable lead in first of the NL East. While winning three against the Orioles is about as hard as hitting the ball off a tee, every win counts, especially with the Phillies and Mets starting to crumble. With the disoriented state of their rivals, this is their division to lose.
9) Cincinnati Reds (69-57) (10)
I'm calling it now. The Reds are going to make the playoffs over the Padres. Although they lost two of three to the Cubs, they rebounded with a big four-game sweep of the Marlins. With the Padres tumbling and the bats staying hot, the Reds have a real solid chance to make the playoffs. They face a huge three-game series against the Brewers this week. Already seven and a half games back, anything less than two of three would all but assure the Brewers the NL Central crown.
10) Oakland Athletics (70-55) (6)
The Athletics had a chance to make it close in the AL West but seemingly passed on the opportunity. The Athletics have lost seven of 10 games, including three of four to the White Sox before losing two of three to the Giants to end the week. While the competition was quite stiff, this team is built to compete and should be winning those games. The two wild-card spots are far from guaranteed, so Oakland shouldn't be banking on it, and can't if they keep playing like this. They're at risk of dropping even further in our MLB Power Rankings next week.
11) Boston Red Sox (70-55) (8)
Although Boston is in a solid position when it comes to nabbing a playoff spot, they have to be careful. The Yankees are on an absolute tear and the Athletics, although also underwhelming, have looked better than them as of late. Luckily for Boston, they play the Rangers, three against the Twins, and three against the Indians this week. Don't be fooled by them being 15 games over .500, the Red Sox need every single game this week.
12) Seattle Mariners (67-58) (12)
The Mariners had a good start to the week with a three-game sweep of the Rangers before being utterly embarrassed by the Astros for two of three games. Being outscored 27-4 for two games isn't ideal for a team trying to make a playoff push and won't be good enough for a team that finds themselves chasing a wild-card spot. With Oakland and Kansas City on deck for the next six, they should be able to make up more ground and make this American League playoff race interesting.
13) San Diego Padres (68-58) (11)
This may be the most underwhelming team we've ever seen in terms of being head and shoulders above the rest on paper and still struggling. While they are 10 games above .500, they have lost eight of ten, and are now behind the Reds for the final wild-card spot. It's officially panic time for a Padres team that is World Series or bust. They went 1-5 this week, going 1-2 against the Phillies after being swept by the Rockies. With the Dodgers on deck this week and Cincinnati rolling, "Slam Diego" is in serious trouble.
14) Toronto Blue Jays (64-58) (13)
Just when we thought the Blue Jays could finally stay consistent. Much like the Padres, this team is much too good on paper to be playing the way they are. Not only did they lose a shortened two-game series against Washington, they also lost two of three to Detroit at home. With everyone else doing enough to either stay in the hunt or, in the case of the Yankees, grab a spot by force, the Blue Jays are going the other way. A once-promising Toronto team no has just a 10.5% chance to make the playoffs according to ESPN.
15) St. Louis Cardinals (63-60) (16)
Long gone are the days that the Cardinals were yearly contenders in the NL Central. They are over .500 and are still technically in the playoff race, but when you can't even win a home series against Pittsburgh late in the season, you might as well pack it in. The Cards lost two of three to Milwaukee as well to start the week and just don't carry the same allure of previous St. Louis teams. This team needs a shakeup to not be .500 bound for years to come. It's St. Louis though, they'll find it.
---
Are you ready to rock?
Get this exclusive Aaron Rodgers F U Tour 2021 shirt from My Sports Shirt now! Either click here or on the picture above to get yours today!
---
16) Los Angeles Angels (62-64) (19)
With Mike Trout still sidelined, it's a miracle that this team is hovering around .500 with how they usually need him to even hit 70-80 wins. This week couldn't have summed up their season any better as they swept the Tigers before being swept by the Indians. The Angels don't deserve Trout or Ohtani.
17) Cleveland Indians (61-61) (20)
With the MLB season lasting 162 games, it is tough for a "fake" team to make it to the playoffs. The perfect example of this is the Indians. For a decent part of the season, this team somehow looked like a potential playoff team, but not anymore. While they did well to sweep the Angels to end the week, the Indians showed their true colors by losing a series to the Twins to begin the week. Like many others, their inconsistency is too much to pose any legitimate season-long threat to anyone's postseason spot, which is why we see them drop in our MLB Power Rankings.
18) Philadelphia Phillies (63-61) (15)
To say the Phillies had a weird week performance-wise is an understatement. The Phillies were swept by the Diamondbacks before taking two of three in San Diego. They have plenty of work to do to catch up with the Braves as they are already five games behind, so being swept by a team like Arizona is the last thing they need. With the Rays and Diamondbacks on deck this week, they're going to need to exact some revenge in order to stay relevant in the NL East chase.
19) Colorado Rockies (57-67) (21)
Dare I say the Rockies looked…good? They swept the Padres at home before taking two of three against Arizona. If this team could find any consistency on the road, they'd actually be a force seeing that they are one of the top-five home teams in the MLB. With the Cubs and Dodgers on deck, it'll be interesting to see if they can keep this run of good form going.
20) New York Mets (61-63) (17)
The Mets are an absolute trainwreck right now as can be seen by their owner tweeting trash about his own team on twitter. They have lost eight of their last ten and could only salvage one of three against the Giants and one of four against the Dodgers this past week. With the Giants on deck again this week, and seven games behind the Braves in the NL East, their season is on life support right now.
21) Detroit Tigers (60-66) (18)
The Tigers played six games of baseball this week, but none of that mattered. The storyline for a Detroit team that is already all but eliminated from playoff contention is that team legend Miguel Cabrera hit home run number 500. While Tigers fans would've loved for this to happen at home, it's always nice to see generational talents hit career milestones. Hats off to Miguel Cabrera who has certainly earned a first ballot entrance into Cooperstown.
22) Kansas City Royals (55-68) (24)
Say what you will about the Royals, but when this team is hot they might be the best team in the league. The former top team in all of baseball took three of four against Houston before sweeping the Cubs on the road. This team has "it", they just cant' seem to put it together consistently.
23) Minnesota Twins (54-70) (22)
The Twins lost three straight to end the week but it's hard to blame them given they were up against the hottest team in baseball in the Yankees. They did take two of three from Cleveland to start the week however and have game four of their series with New York rescheduled for September 13th. It isn't much of a gift however as they have to play Boston and Milwaukee over the next six.
24) Washington Nationals (53-70) (25)
The newest member to the 70-loss club is Washington. In fairness, they did well to take three to start the week, three against Toronto before another in Milwaukee. They did lose the last two against Milwaukee however to lose the series after the good start. They will be in good position to have a good week this upcoming week as they start the week against the Marlins. Somebody should still probably tell this team how to play fly balls with runners in scoring position though.
25) Chicago Cubs (54-72) (26)
This team went from embarrassment, to success, to embarrassment all within a single week. They started off with an impressive showing against the Reds where they took two of three, much to the delight of fans in San Diego and Milwaukee. Then the Cubs decided they wanted to be a disappointment again by dropping three games at home to the Royals including a thrashing Sunday where they were down 9-1 halfway through the sixth inning. This season can't end soon enough.
26) Miami Marlins (51-74) (23)
The Marlins would be lower in the rankings if they weren't so far ahead of all those below them in wins. The Marlins played seven against the Braves and Reds and couldn't win a single game. While both teams are on somewhat of a tear right now, losing seven straight is just ridiculous, especially after coming in on a four-game winning streak.
27) Pittsburgh Pirates (44-80) (27)
The Pirates received no love from those that made the schedule as they had to travel to L.A. to face the streaking Dodgers right after having to face off against the Brewers. Just as expected, the Pirates were swept in three games, although they did only lose two of those games by a single run. Against the Cardinals they actually played pretty well, winning the first two before being shutout 3-0 on Sunday. Pretty good run considering the little talent they have.
28) Arizona Diamondbacks (42-83) (29)
The Diamondbacks had an impressive week, sweeping the Phillies before taking one of three from Colorado. While a 4-2 week is nothing special, Arizona has won six of ten and is currently the only "cellar dweller" than can even seem to get a moral victory as of late.
29) Texas Rangers (43-80) (28)
Right when the Rangers get a win, the weather cuts their week short. Texas was swept by Seattle before splitting the next two with the struggling Red Sox. Their game from this Sunday against Boston has been rescheduled to Monday at 1:10 EST.
30) Baltimore Orioles (38-85) (30)
All that needs to be said is that this team has lost 18 straight. You read that correctly. EIGHTEEN. They will continue to stay on the bottom of our MLB Power Rankings.
---
Follow us on all of our social channels! Check out our Twitter, Facebook and YouTube for more great FlurrySports content.