Leave it to the worst division in baseball to produce the most exciting playoff race. Although the division-leading Braves and Phillies are five games out of the second wild card spot, the NL East is still somehow the most intriguing divisional race in baseball. With the East being the only division where first and second are separated by less than two and a half games, this one is destined to go down to the wire. Still, there are plenty of other storylines from this past week in baseball. Here are your updated MLB Power Rankings.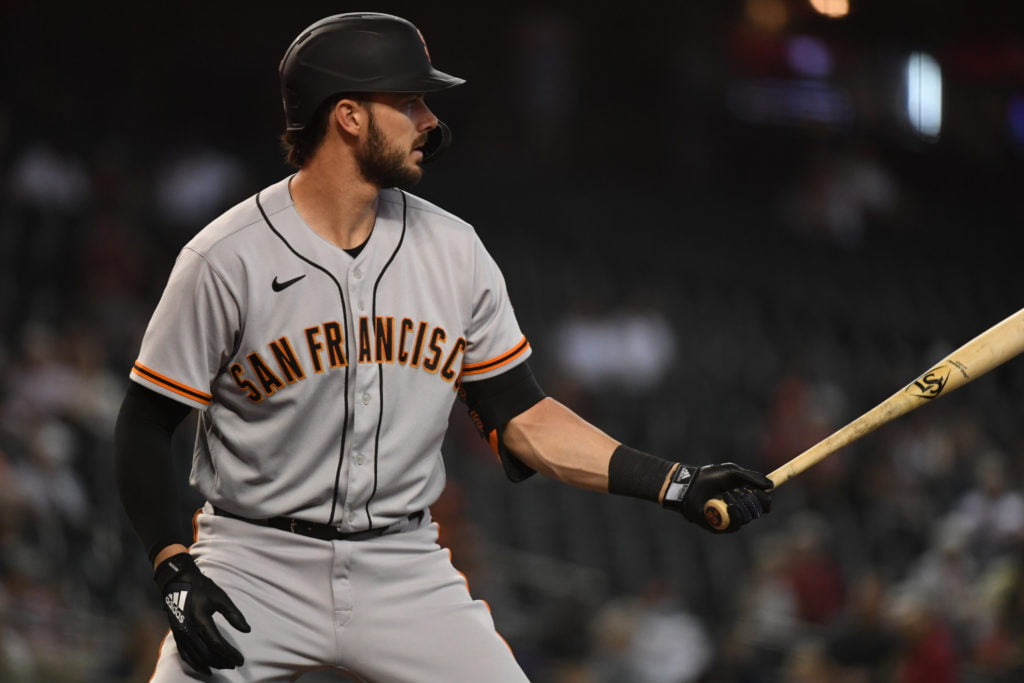 Week 20 MLB Power Rankings
1) San Francisco Giants (76-42) (Previous: 1)
I don't care what ESPN, CBS, or anyone says. The Giants are the best team in baseball and it would be blasphemous to say anyone else is. Not only are they at least four games above everybody else in the entire MLB, but they've been doing this all season. They are an incredible 40-18 at home and 36-24 on the road as well. I don't care who's better "on paper," nobody's better than the Giants where it really matters; on the field.
2) Los Angeles Dodgers (72-46) (4)
After a bumpy start and middle part of the season, the Dodgers have solidified themselves as a serious contender yet again. The only problem is the playoff picture. Let's say the Dodgers don't win the division and play in the wild card against San Diego. IF they beat San Diego, then they have to play San Francisco, the best home team in the league just to get to the NLCS. If the Dodgers are the wild card, will they have enough gas to repeat or will the physical and mental exhaustion catch up to them?
3) Tampa Bay Rays (71-47) (2)
The Rays had a great start to the week when they widened their divisional lead over Boston by taking two of three at Fenway Park. They then followed that up by seemingly sleeping on the job and letting the Twins take two of three from them. Barring a collapse, there is little doubt this team makes the playoffs. As we've been wondering since his injury however, without Glasnow can this team still make the World Series?
4) Milwaukee Brewers (72-47) (3)
The narrative all season has been if the Brewers bats can come around enough to support the best pitching staff in baseball. Since the All-Star break, the Brewers are first in the MLB in runs per game, team average, ERA, and third in OPS. This team is starting to find their groove and they still have a ton of guys hurt, or out due to COVID protocols. If you're tired of seeing the NL West take all the headlines, this team is just for you and are a real contender to take the pennant.
5) Houston Astros (70-47) (5)
The fifth and final team to be at 70 wins for this edition are the Astros. Even with losing George Springer, did we really not expect the villains of the MLB to be here? Houston has a fairly easy schedule from here on out and at this pace, will have the division all but wrapped up by the start of September. Don't be fooled by their spot in the MLB Power Rankings, the Astros have quietly been the second-best team in a loaded American League all season.
---
Are you ready to rock?
Get this exclusive Aaron Rodgers F U Tour 2021 shirt from My Sports Shirt now! Either click here or on the picture above to get yours today!
---
6) Oakland Athletics (68-50) (9)
The upcoming series against the White Sox will be a great barometer for two teams who for one reason or another, have felt underwhelming to this point. With three more against the Giants after, it's now or never for an Oakland team that is two and a half behind a Houston team who has an easy schedule throughout the rest of August. Athletics fans aren't even guaranteed a playoff spot as they are only two and a half games away from being on the outside looking in.
7) Chicago White Sox (68-50) (6)
I don't know what it is about this team, but they just feel underwhelming even with a record of 18 games over .500. They didn't look good over the series against the Yankees but will have a nice opportunity to right the ship against Oakland and Tampa Bay. With the AL Central all but over at this point, the White Sox just need to make sure everyone stays out of trouble injury-wise.
8) Boston Red Sox (69-51) (11)
The Red Sox had been stumbling as of late coming into this week. Nothing a series against Baltimore can't fix. Boston did lose two of three to Tampa to fall further back in the race, but they did sweep Baltimore which should give them some much needed momentum going into an emotional series against the Yankees. After that series however, they play nine straight against teams under .500. The AL East is nowhere near locked up yet.
9) New York Yankees (65-52) (12)
The Yankees are making a push again as they have taken seven of ten. Whether this is another flash in the pan followed by a cold streak still remains to be seen. Although their series against Kansas City doesn't hold much weight, taking two of three from the White Sox is crucial for a team that needs to make up ground. The biggest question this week: can they finally start to beat up on the Red Sox again this week?
10) Cincinnati Reds (64-55) (7)
Cincinnati has lost a bit of their fire, but they are still doing what they need to do to hang around. They split six games this week with Atlanta and Philadelphia, and have fallen back to an eight game deficit to the Brewers in the NL Central. With the Cubs and Marlins on deck for their next seven, could they tighten San Diego's lead even more for the last wild card? Don't count these guys out.
11) San Diego Padres (67-53) (10)
The Padres have had plenty of injuries and still have a solid record. With that in mind, they are still only two and a half above Cincinnati for the second wild card and aren't performing as you'd expect a team as stacked as them to play. Fernando Tatis is back which is crucial. This team still feels like they are teetering on the edge of a disaster though. They're going to need to start winning divisional games if their series about a deep push.
12) Seattle Mariners (63-56) (15)
With how good the American League is, it doesn't look like Seattle will make the cut this year. However, they are starting to show progress as they took two of three from Toronto and Texas. With a five and a half game deficit however, they can't just beat bad teams, they have to beat up on the big guys too. Can they do it or will time run out? The next week and a half will tell us exactly where they stand.
13) Toronto Blue Jays (63-54) (8)
Unfortunately for Toronto, nine games over .500 is only good enough for fourth in the stacked AL East. They are only four and a half back of the second wild card spot, but again are falling back into their old trap of not taking care of business. This team is too good to be .500 over their last ten, splitting a series with the Angels and losing two of three to Seattle. They have the firepower, but will they ever consistently put it together?
14) Atlanta Braves (62-56) (14)
Not many may have understood why the Braves were big buyers at the deadline with their star player in Ronald Acuna out for the season. This push is the why. Atlanta has won eight of ten and now controls their own destiny in the NL East. If Ozzie Albies can get on base a little more consistently, the Braves could be a tough out for any pitching staff come playoff time.
15) Philadelphia Phillies (61-57) (13)
The Phillies had an extremely tough schedule and should feel glad to make it out this week just a game out of first place. They were only able to take two of six from the Dodgers and Reds but are still much in the thick of things. They will have to take care of business against the Diamondbacks this week however as the Braves are starting to warm up.
16) St. Louis Cardinals (61-56) (17)
As much as I've made fun of St. Louis this year, they have done well as of late, winning six straight and eight of ten. Unfortunately for them those games came against either Kansas City or Pittsburgh and they have to play Milwaukee to start the week. With that being said, outside of the Brewers, their schedule through August is incredibly easy and should see them at least look capable of a playoff spot before a brutal September schedule hits them.
17) New York Mets (59-58) (18)
While the Mets are still very much in the division race, they are doing nothing to get themselves out of a dangerous position as they have lost four straight and seven of ten. Somebody needs to step up and make an incredibly moving speech in the locker room because their next ten games come against the Giants and Dodgers. Seven of those games also come on the road where New York is an abysmal 23-35.
18) Detroit Tigers (58-62) (20)
For the record, I would like to apologize to the Tigers franchise. Early on I said they'd likely be the worst team over the course of the year. Here we are in the middle of August however and they are barely under .500 and a game out of second in their division. The big story over the rest of the season is when legend Miguel Cabrera gets home run number 500 as he currently sits at 499.
19) Los Angeles Angels (59-60) (16)
For a team that historically has been let down by their pitching, it was their hitting that left a few wins behind this week. They did split a four-game series with Toronto, but then lost two of three to Houston as they could only muster up six runs in the series. Outside of a few games here and there, the rest of August should be pretty easy for them so don't be surprised if their record balloons higher than they deserve.
20) Cleveland Indians (57-59) (19)
The Indians by no means had a great week, but they made sure they held on to the second spot in the AL Central for a bit longer. In an up and down week they took a makeup game from the Reds, lost three straight to Oakland, and then took two of three from Detroit. While a playoff push is technically in play, they'd need a hell of a run to even make it close as they are 10 games behind Chicago.
21) Colorado Rockies (52-66) (21)
The Rockies had a pretty tough week, but it was hardly unexpected. Not only did they have to play the Astros and Giants, but they had to do so on the road as a team who is tied for the worst road record in baseball. Things should ease up this week though if only for the fact that they get to play at home where they are somehow 38-21.
22) Minnesota Twins (52-66) (24)
Just when we think we know what this team is, they stop making sense again. They were underachievers all season and finally admitted to be in rebuild mode by selling at the deadline. Then this week they took two of three from two division leaders in the White Sox and Rays and have won seven of ten. Their newfound success finally takes them out of the bottom of the pitiful AL Central.
23) Miami Marlins (51-67) (26)
Miami may have had the most solid week out of all the cellar dwellers as they took one of three from San Diego before sweeping the Cubs over three games. Sure, the Cubs are a pathetic excuse for an MLB team right now but three wins for a team like Miami is still impressive. Unfortunately their schedule doesn't stay as easy as they face Atlanta and Cincinnati this week.
24) Kansas City Royals (49-67) (23)
Kansas City couldn't manufacture much of any success as they lost two of three to the Yankees and the Cardinals. They are now dead last in the AL Central and have to play Houston for four games to start the week. Salvador Perez continues to carry this team but they certainly aren't getting any younger and can't build around him for much longer.
25) Washington Nationals (50-68) (25)
The Nationals have lost seven straight and nine of ten and are now dead last in the NL East. With the Braves and Phillies starting to heat up, it was a good decision for the Nationals to sell at the deadline. Not only is there are a nice race for first in the NL East, there's also a race for last as the Nationals are now only a game behind the Marlins for fourth.
26) Chicago Cubs (52-68) (22)
From here on out, the schedule of the Cubs will be a problem. That's not because they're playing good teams, it's because Chicago is that bad. The Cubs have lost ten straight and their loss on Friday to the Marlins was the third time this year they have scored ten or more runs and lost. As if it wasn't bad enough, the billboard praising Brewers fans as the "best in baseball" went up this past week as well. The Cubs will be near the bottom of the MLB Power Rankings the rest of the season.
27) Pittsburgh Pirates (42-76) (27)
The Pirates are only 1-9 in their last ten games, but it's hard to blame them for it seeing that they had to play the Brewers and Reds for seven of those games. Their only goal the rest of the way will likely be to not take last in the NL Central. With nine and a half games between them and the Cubs, that goal may not be all that attainable.
28) Texas Rangers (42-76) (28)
The Rangers had another subpar week in another lost season. They took one of three against the Mariners before taking two of three from Oakland. Although it's a nice moral win for the team, this team has nothing to play for and this looks to be a very long rebuild.
29) Arizona Diamondbacks (38-81) (30)
Where was this team all season? Although they lost two to San Francisco to start the week, they only lost the first by a run. Then they took three straight against San Diego, holding them to 5 runs in three games. The biggest storyline or the week was easily rookie pitcher Tyler Gilbert no-hitting the Padres in his first career start. Last time that was done: Bobo Holloman in 1953.
30) Baltimore Orioles (38-78) (29)
Well it was a nice little run but Baltimore is yet again dead last in our MLB Power Rankings. They've lost 10 in a row and have the worst run differential (-201). How bad is that? Seeing the next closest is Pittsburgh at -180, it's definitely not good.
---
Follow us on all of our social channels! Check out our Twitter, Facebook and YouTube for more great FlurrySports content.