The NBA MVP award this season will have a winner that no one anticipated. It could go in any direction, and no one would be shocked in the slightest. Injuries to key players have played a major role in this condensed and shortened season. Currently, we have two big men topping the odds to win NBA MVP — Nikola Jokic and Joel Embiid.
In March, it was a three-man race, with no other player in sight — LeBron James, Joel Embiid and Nikola Jokic. James suffered a high ankle sprain, which has forced him to miss almost half of the season, and essentially eliminating him from the NBA MVP race. Major injuries have thrown a wrench into each of their seasons, making this race much more interesting.
Winning plays a key factor in securing the NBA MVP award, with the exception of Russell Westbrook in 2016-17. His team went 47-35, while being the sixth seed in the Western Conference. He did average a triple-double, and there were not many other deserving candidates that season, so no one complained about the Thunder's record.
Factoring in games played, wins and dominance these are the top five NBA MVP candidates, along with their odds to win NBA MVP.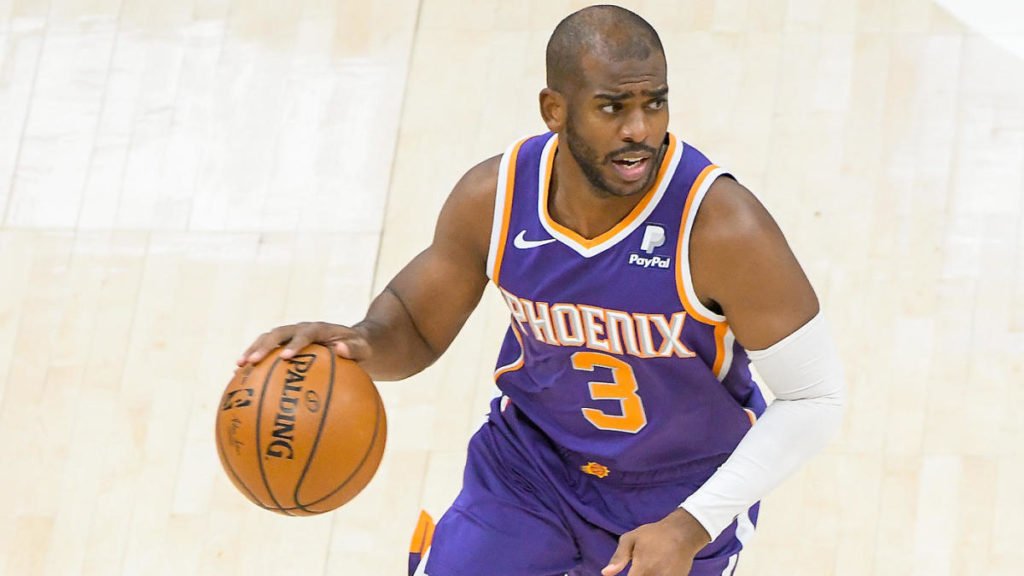 Top-5 NBA MVP Candidates | NBA Odds
5. Chris Paul, Suns
Before Chris Paul arrived in Phoenix, the Suns were 34-39 last season, and were concerned regarding Devin Booker's future with the team. In walks Paul, and all of a sudden the Suns are 42-18, and only two games behind the Jazz as the top seed in the loaded Western Conference. Meanwhile, they still have 12 games left in a shortened season. Paul's numbers are not overwhelming, but his leadership skills, knowledge and understanding of the game shows what an asset he is. He averages 16 points, 8.7 assists and 4.6 rebounds per game. But his impact goes beyond the numbers, as a mentor to the young Booker, this will only help take Booker's game to the next level as well. Paul has made everyone around him better, and his leadership has propelled the Suns to one of the top teams in the conference.
Odds to Win NBA MVP: +15000
4. Luka Doncic, Mavericks
Luka Doncic is a walking triple-double, but he simply cannot get a supporting cast to help carry his team deep into the playoffs. Granted, it is a regular season award, but Kristaps Porzingis cannot stay healthy, which is why the Dallas Mavericks sit at 33-26. That is good for the sixth seed in the Western Conference, similar to when Westbrook won it in 2016-17. Doncic is so lethal in every aspect of the game, that if he went on a tear to end the season, then he has a legit chance at winning the MVP. He currently averages 28.5 points, 8.8 assists and 8 rebounds per game. He is an extremely clutch offensive player that can launch it from anywhere on the court. Over their last 13 games, if he can dominate and manage to win nine or 10 of them, then he could win the NBA MVP. Also, if he dominates to win those games, his number will clearly rise, and he could be averaging close to a 30-point triple-double.
Odds to Win NBA MVP: +4500
3. Giannis Antetokounmpo
Giannis Antetokounmpo is the reigning back-to-back MVP, which means voters will most likely want a fresh face to hoist the award. This does not mean that he doesn't deserve MVP with how amazing he has been thus far. His numbers are on par with what he has been able to do the last two seasons, and he is dominating night in and night out. Giannis averages 28.5 points, 11.4 rebounds and 6 assists per game. Also, he is arguably the best defender in the NBA, and he is as durable as they come. If Giannis could hit a jump shot on a consistent basis, he could easily be the best player in the league. But truthfully, he is a big man, and shooting will never be his style. Giannis needs to dominant the paint and force his way to the top of the Eastern Conference, as they sit at 37-23, 3.5 games behind the Nets for first place. If the Bucks are able to pass the Nets and take over the one seed, he could easily win the MVP for a third straight season.
Odds to Win NBA MVP: +2000
2. Joel Embiid
Joel Embiid suffered a knee injury that forced him to miss 18 games earlier in the season. Before that injury, he was firmly in the MVP race. He was putting it all together and showing how great he truly is, and has returned to form since returning from that injury. There is not a single player in the NBA that can stop Embiid in the post. Considering he will miss roughly 20 games, depending how the season ends, it would be tough to give him the MVP. Still, he averages 30 points, 11.1 rebounds and 3 assists per game, to go along with being arguably the best rim protector in the NBA. The 76ers remain in second place in the Eastern Conference, trailing the Nets by 1.5 games, so it's possible for him to will his way to the first seed in the conference and the MVP award. If he is determined enough to get the MVP, he will have to put on a scoring clinic to finish the season.
Embiid is too skilled for any single player to matchup with, and he shows this against the best interior defenders in the NBA. This is why staying healthy towards the end of the season will be crucial for Embiid to take this award.
Odds to Win NBA MVP: +340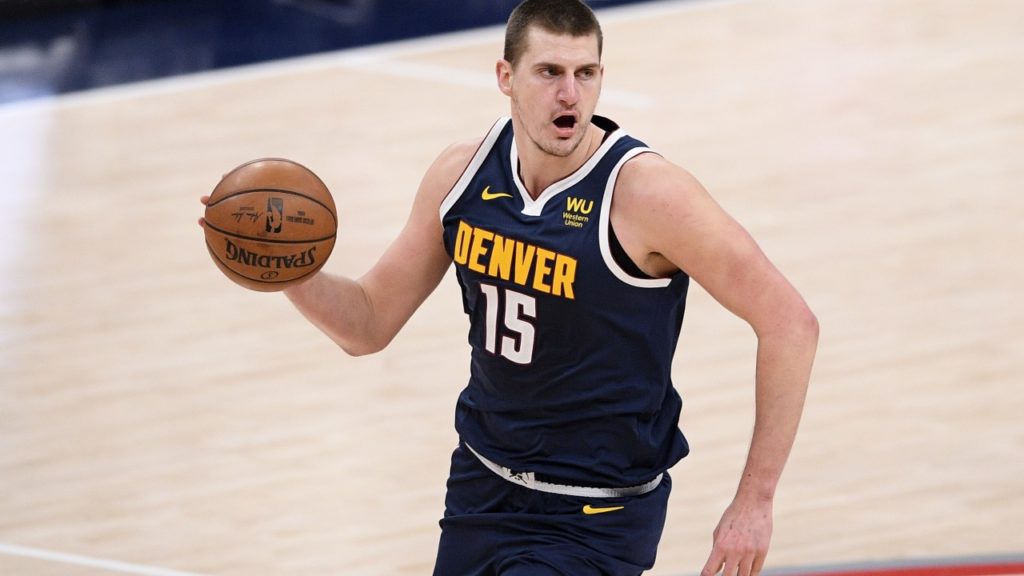 1. Nikola Jokic
Nikola Jokic is a unicorn and cannot be stopped on a basketball court. He doesn't have the looks or athleticism of the LeBron James' of the world, but that is irrelevant when watching him play. Jokic is one of the most gifted passing centers of all time. This season, he has emphasized scoring more, putting up a ridiculous 26.2 points, 10.9 rebounds and 8.7 assists per game. It's clear why he has been the leading MVP candidate most of the season.
Those numbers are baffling for a center, and with Jamal Murray now out for the season, Jokic will have to dominate even more for the Nuggets to win games. The injury could also work against him, because he could be forcing the issue and taking on too much of the burden. Since the injury, he has not slowed down. And considering there are only 12 games remaining, his unstoppable play will likely continue. The Nuggets are the four seed in the West, sitting at 39-21, which is the exact same record as the 76ers. Also, unlike Embiid, Jokic has yet to miss a single game this year. The Joker seems to have the MVP award locked up this season, barring any catastrophic injury, and he will be the first Denver Nugget to win the NBA MVP in franchise history.
Odds to Win NBA MVP: -360
---
Follow us on all of our social channels! Check out our Twitter, Facebook and YouTube for more great FlurrySports content.
---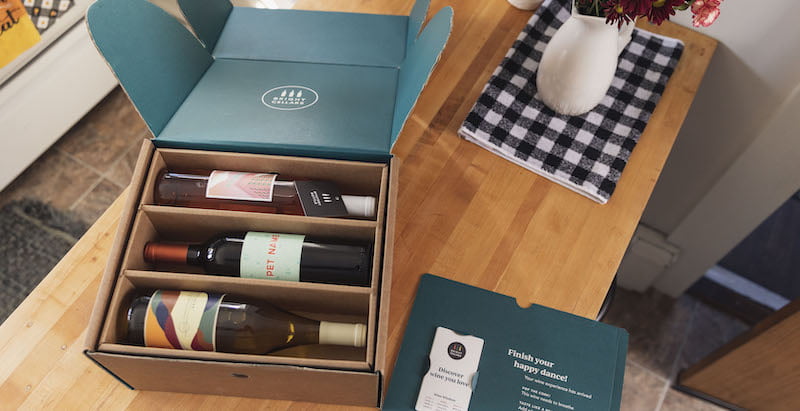 Get 50% off your first curated six-bottle case of wine at brightcellars.com/flurry!