Sure, it's important to draft good players to your fantasy football team. However, you can draft the greatest team in the work, but if you're using the default fantasy football team names that the site gives you, you are still the laughing stock of your league.
Some people want clever fantasy football team names and others want more meaningful names. However, the best fantasy football team names are the ones that will get you to laugh. So, if you want the 100 best fantasy football team names, click that link. If you want funny fantasy football team names 2022, then continue reading below.
Funny Fantasy Football Team Names 2022
Aiyuken!
Baby Got Dak
Bad Mother Tucker
Belichickawowow
Country Roads, Take Mahomes
DakStreet Boys
Deebo's Nutz
Dobbins is a Free Elf!
Fournetteflix and Chill
Gouldmember
Half Chubb
Hocktoberfest
Hot Chubb Time Machine
Hotel, Motel, Golladay Inn
Is It Too Late to Say Amari?
Jeudy, Jeudy, Jeudy Rocking Everywhere
Kamaravirus
Knockin' on Evans' Door
My Ball Zach Ertz
My Kupp Runneth Over
Myles High Club
NickelDak
Post Mahomes
Rollin' Wit Mahomies
The Quadfather
The Rafi Bombs
The Real Slim Brady
Waddleburger
Watson's Happy Endings
Watsonder My Towel
Yippee Ki-Yay Justin Tucker
Zach Wilson: Cougar Hunter
Zeke Squad
Rookie Fantasy Team Names 2022
Breece's Pieces (Breece Hall)
Olave Nother (Chris Olave)
Olave Garden (Chris Olave)
For Whom David Bell Tolls (David Bell)
Werewolves of London (Drake London)
Slim Pickens (George Pickens)
Shakir the Bag (Khalil Shakir)
The Skyy is the Limit (Skyy Moore)
Kenneth Walker, Texas Ranger (Ken Walker III)
The Oregon Treylon (Treylon Burks)
Chip and Wan'Dale (Wan'Dale Robinson)
---
Follow us on all of our social channels! Check out our Twitter, Facebook and YouTube for more great FlurrySports content.
---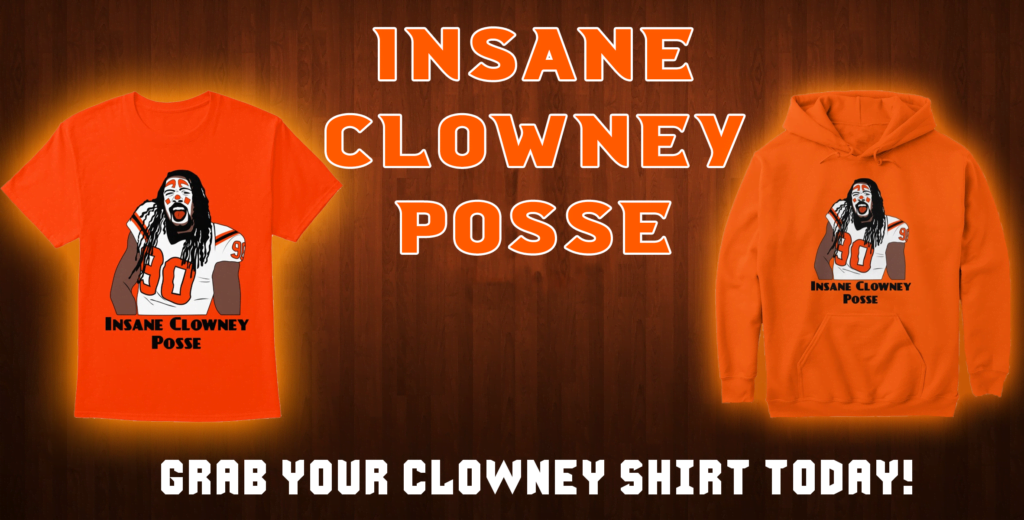 The only thing scarier than the Browns' pass rush are clowns. Get the design that shows off both today!
Available shirts in men, women and kids, along with posters and tumblers! Click here or the image above to see!
---