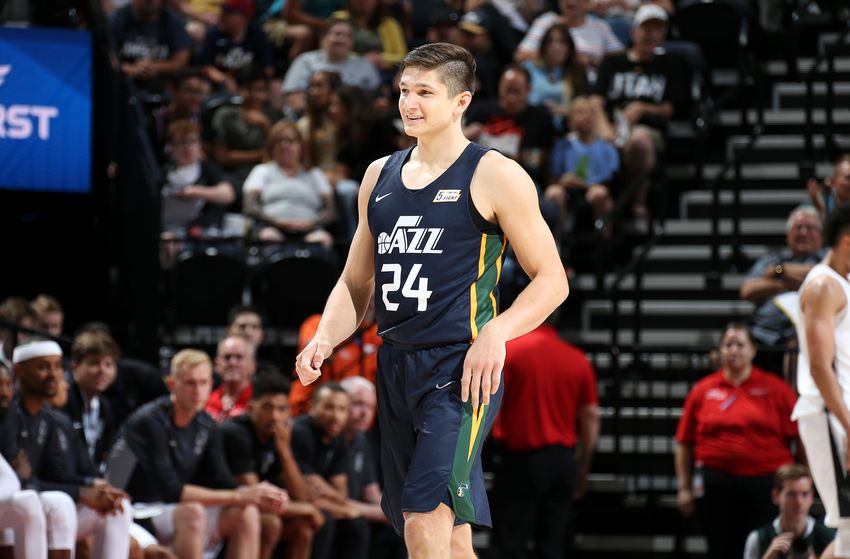 Duke Blue Devils are scattered all across the NBA. One of college basketball's historically elite programs, Duke turns out more NBA players than almost anyone. Regardless of position, team, or era, Duke players have left their mark on the NBA. The current rookie class has not one or two but five Blue Devils looking to make their claims to NBA fame. Two of those players, Utah's Grayson Allen and Portland's Gary Trent Jr., met in a fast-paced summer clash that was full of excitement. There were several impressive dunks, plenty of physical play, and even one ejection (from an incident that, to no one's surprise, involved Allen).
The Blazers got the win, but the game was much more competitive than the score would indicate. The Blazers pulled away significantly in the fourth quarter. Both team's draft selections had strong performances in the game. Utah saw more solid play from potential rotational pieces. Portland saw the promise of young draft selections that could represent the future of the franchise. All in all, the 93-78 Blazers victory was a fun one in Vegas.
Draft Picks Flash Potential
The Portland Trail Blazers draft selections were seen as long-term plans when the additions were made in last month's Draft. Both point guard Anfernee Simons and shooting guard Gary Trent Jr. are incredibly young players. That being said, the pair flashed some of what led Portland to pick them up in their Summer League debuts.
Simons only played 17 minutes but was able to score 11 points on 4-6 shooting. The young guard also managed to avoid recording a single turnover in his time on the court. Ball security and sound shot selection are two things most young players struggle with, particularly young guards. If Simons is able to demonstrate that he has a solid grasp of both over the duration of the summer, it will come as a positive surprise in his NBA development.
Trent Jr., who set the Duke freshman record with 97 three-pointers, looked like an NBA-ready scorer from the jump. The 6'6″ sharpshooter scored 16 points in the game. He got to the line early and often drawing fouls both at the rim and on jumpshots. Trent Jr.'s 9-9 mark from the free throw line was impressive and he seemed comfortable attacking from multiple levels offensively.
Of course, the star of the game was Portland's Wade Baldwin IV. The third-year pro got a chance to play in seven games with Portland towards the end of the 2017-18 season and impressed teammates and staff with his hustle and defense. With Portland having not resigned guard Shabazz Napier, Baldwin could be next up for the full-time backup duties behind superstar Damian Lillard. Taking advantage of the opportunity presented to him, Baldwin poured in 20 points on a scorching 9-13 shooting and added 5 assists to the effort.
Utah's Summer Three Continue Strong Play
The trio of Grayson Allen, Tony Bradley Jr., and Georges Niang continued to lead the way for Utah's summer team. All three scored 16 points in the loss. The ability to score from multiple levels has been an interesting aspect of Utah's summer team. The team has a sort of balance to its offense that some NBA teams do not even have.
Niang is fighting hard to secure an everyday spot with the Jazz. The former Iowa State Cyclone continued his run as the team's leading scorer this summer. After struggling with his shot in the win over Atlanta he resorted back to his usual efficient ways and connected on 7-14 from the field including 2-5 from deep. Niang's defensive ability is limited due to his tweener size, but if he continues to score at the rate he has this summer it would seem like a mistake for the Jazz to not at least give him a chance in the rotation.
Bradley Jr. had his first questionable game of the summer. The big man nearly become the fifth player in Summer League history to foul out and had eight fouls in the game. The loss also marked the first game this summer in which Bradley Jr. has not had a double-double. That said, the promising young center still had 16 points and only missed one field goal attempt (6-7).
Allen continued his all-around contributions despite not finding his shot yet. He went 6-17 from the field, yet was able to fill out the box score with 6 rebounds, 5 assists, and 3 steals. Like Simons for Portland, Allen also managed to go the duration of the game without a turnover. The Duke product has been one of the more impressive players of the summer thus far despite his offensive struggles.
The Extracurriculars
The game was physical throughout and saw more than one confrontation. Early in the second half, Portland's Zach Collins and Utah's Isaac Haas got tangled up in the paint. The play resulted in a foul on Haas, who then committed a second foul against Collins on the defensive end on the following possession that saw the two exchange some words.
The most notable altercation, of course, involved Grayson Allen in his second incident in just four games this summer. Allen and Wade Baldwin of Portland got tangled up heading out of bounds with a bit less than two minutes remaining in the game. It appeared Allen was holding Baldwin, who took issue and shoved back to get Allen off of him. Baldwin's retaliatory shove landed a bit too high for the liking of the referees and Baldwin was ejected from the incident.
Needless to say, these incidents are something that is a part of Allen's game. It is simply the type of player he is. I would not say he is a dirty player, but simply that he is an emotional player and sometimes that becomes these types of altercations as emotions spill over. Allen will certainly remain a player to watch, for both his play and his antics, moving forward.
More NBA Summer League
Malik Monk Leads Charlotte Past Oklahoma City in a Thriller
Both Suns Rookies Solid in Debut
Robert Williams III Injured in Debut; Unlikely 76er goes OFF!