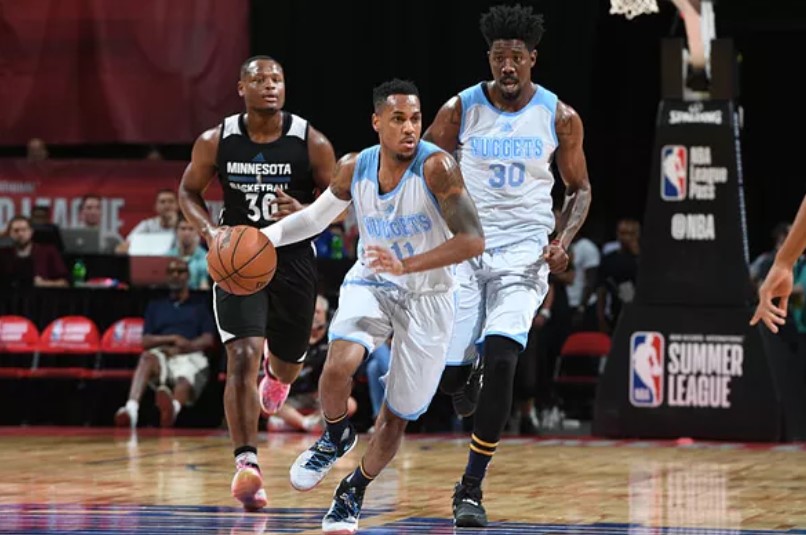 Conference and divisional rivals Denver and Minnesota met each other for what became a drudgingly low scoring affair Friday night. Despite the low score, the game was not void of excitement. Denver outscored Minnesota in each of the first three quarters, taking a 62-41 lead into the fourth quarter. Minnesota then held Denver to just eight points in the fourth while exploding for 28 points themselves. Despite the roaring comeback, Denver was able to hang on for a one-point win 70-69.
Young Vets Lead the Way for Denver
Even a little experience can go a long way. NBA and G-League veterans Monte Morris and Malik Beasley displayed some of what they have learned in their brief NBA time Friday night. Leading a team that saw only one other player, forward Vlatko Cancar, reach double figures is an impressive feat, even in the Summer League.
Morris posted a team-high 15 points on 46.7% shooting (7-15) and also added 4 assists. Better yet, Morris had only 1 turnover in the game. A point guard that takes 15 shots and still dishes out 4 assists is certainly dominating the ball for at least portions of the game. For Morris to have enough control to only have a single turnover while touching the ball as much as he did Friday night is impressive.
Beasley, although less efficient than Morris, was a factor in the winning effort. The 6'5″ Florida State product scored 10 points of his own to go along with 5 rebounds, 3 assists, a block and a steal in 28 minutes. The balanced contribution helped compensate for his poor shooting (3-10 from the floor) and 5 turnovers. Of course, if he hopes to take the next step in his career, the turnovers and poor shooting will have to improve.
Isaiah Cousins Steals the Show
Diehard college basketball fans may remember Isaiah Cousins. The former Oklahoma Sooner was the Robin to Buddy Hield's (now of the Sacramento Kings) Batman during Oklahoma's run to the Final Four in 2016. Hield, the dominant scorer that went on to be a lottery pick, overshadowed almost all of his teammates during the run. That being said, Cousins was a key factor in the team's success and was taken with the second to last pick in the Draft by the Sacramento Kings. Cousins spent some time bouncing around the NBA G-League before joining Cholet Basket out of Cholet, France. With another crack at the NBA as a member of the Timberwolves Summer League, Cousins decided to make the most of it.
Cousins led the Timberwolves in scoring with 15 points on 7-12 shooting (58.3%). Playing point guard at 6'4″ gives Cousins a substantial size advantage, particularly against the Summer League competition. The general basketball experience he has built up since his Oklahoma days seemed to be on display as well. Cousins came out aggressive and seemed in control of things for the majority of the game even when the team itself was trailing by a wide margin.
While it will take quite a bit for Cousins to make it in the NBA it would certainly be one of the feel-good stories of the year. Coming out of the shadow of one of the most dominant collegiate scorers in recent memory to fight and claw his way into the league would be a tremendous testament to the willpower of Cousins. With outings like the one he had Friday, he can only be one step closer to his NBA goals.
The Rest of the Pack
Rookies Josh Okogie and Keita Bates-Diop had some first game jitters for Minnesota in the loss. The two combined to shoot 5-21 from the field (23.8%). Okogie did manage to make himself a major factor on defense, a part of his game that was believed to be the most NBA-ready coming out of Georgia Tech. At 6'5″ with an incredible wingspan Okogie demonstrated his perimeter stopping power on more than one occasion in the loss. He also displayed sound defensive instincts, with 2 steals and 3 blocks to his name for the evening.
Former Duke Blue Devil Amile Jefferson had a methodically productive evening himself. An aggressive rebounder since his early days at Duke, Jefferson notched a double-double with 12 points and 14 rebounds. He did miss all four of his free throw attempts, but foul shooting has become a secondary skill for big men particularly ones that do not see a ton of playing time. If Jefferson continues his high-effort play he could squeeze into Minnesota's frontcourt rotation as the roster shakes up amid the drama currently plaguing the team's locker room.
More NBA Summer League
Former Blue Devils Shine as Portland Coasts Past Utah
Malik Monk Leads Charlotte Past Oklahoma City in a Thriller
Both Suns Rookies Solid in Debut
Robert Williams III Injured in Debut; Unlikely 76er goes OFF!