As Week 6 begins, so do the bye weeks. Those dreaded bye weeks do nothing but make it even harder to find players, specifically quarterbacks, to stream. With the recent play of quarterbacks like Sam Darnold and Kirk Cousins, the usual candidates for weekly fantasy football streamers are gone, making it seem almost impossible to find a quarterback who can fill a small role, much less perform as a QB1 this week. With that being said, there are always three out there waiting for a chance to prove themselves. Here are your Week 6 QB streamers.
Read on for three QB fantasy football streamers that are worth consideration for Week 6. In some cases, one might still be able to claim these passers off of waivers. In order to be included in the fantasy football QB streamers article, they must be rostered in less than 60 percent of ESPN leagues.
Week 6 Fantasy Football QB Streamers
Taylor Heinicke | Washington Football Team (vs KC)
Taylor Heinicke has had an up and down fantasy season, to say the least. Out of five games, he has scored 20 or more three times and less than 11 the other two games. The differences between those games have been stark. He struggled against the Chargers and Saints, while he balled out against the Giants, Bills and Falcons. I'm sure, by now, you can see the trend. Heinicke can absolutely tee off against bad defenses but struggles, for the most part, against good ones. This week, he plays against the Chiefs at home, who have had one of the worst defenses this season.
We know the Chiefs are going to win this game. Kansas City will likely have a big lead early and coast to an easy win against a porous Washington defense. All of that adds up to Heinicke having not only a great game script, but having one against a historically bad defense. Heinicke is rostered in just 18.3% of fantasy football leagues and will likely fall under the radar due to his horrific performance in Week 5 against the Saints. Don't let his erratic play change your view on him. He will be throwing all game against the worst pass defense in the league.
Teddy Bridgewater | Denver Broncos (vs LV)
Teddy Bridgewater is like an office desk job. He's stable and you can certainly do worse, but you wish you could do better. With that being said, with the bye weeks starting to come in, if you have a bad matchup with your current QB, or the fantasy football waiver wire is dry, Bridgewater will be able to carry his own weight. While Teddy did struggle in Weeks 3 and 4 against the Jets and Ravens, he returned to form this past week against the Steelers. He is a steady 18-22 points per week, which is more than enough to keep you afloat at the very least.
This week, Teddy faces off against Las Vegas in Denver. Not only will the Raiders have to deal with the Colorado air, but they'll also have to do it while dealing with the major distractions caused by Jon Gruden and his emails being leaked. This Raiders team will be emotional, and not the type that is usually conducive to good play. The Raiders just lost to Justin Fields and Teddy is far better in a more stable offense. Rostered in just 20.1% of leagues, Teddy is available and does provide more than may initially meet the eye.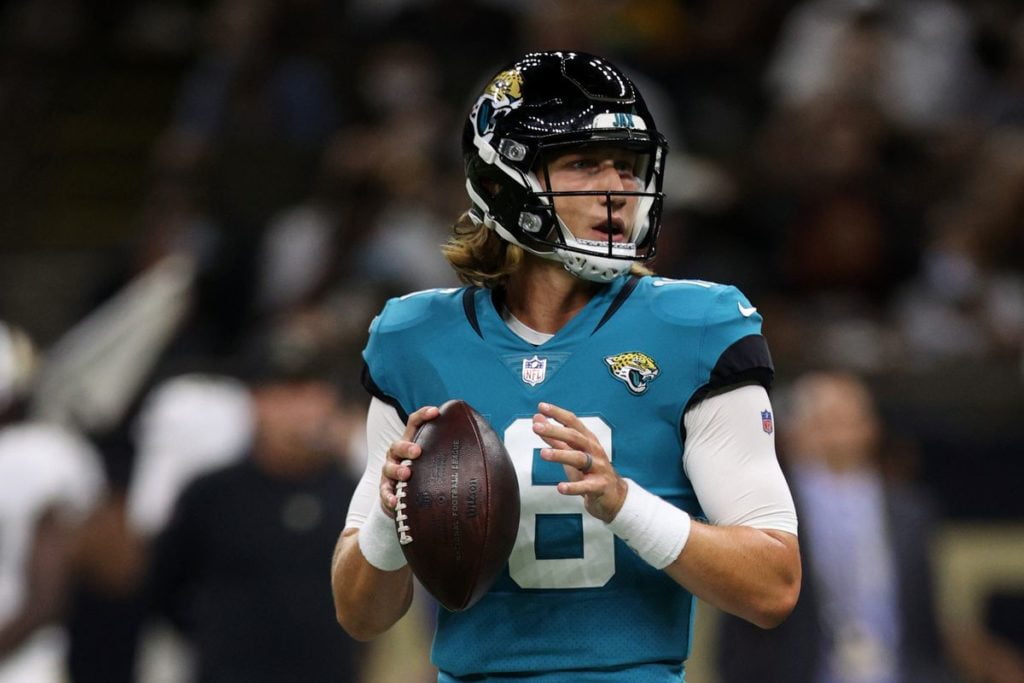 Trevor Lawrence | Jacksonville Jaguars (vs MIA)
Trevor Lawrence hasn't been great this season. The former first overall pick is fantasy football QB25 as it stands and is rostered in just 43.9% of leagues. Lawrence has been picking up his play as of late and has dropped 17 and 21 in the last two weeks against the Bengals and Titans, respectively. This week, Lawrence and the Jaguars get Miami over in London. The Dolphins were just annihilated by the Buccaneers and even backup quarterback Jacoby Brissett had trouble staying on the field.
Lawrence has been playing better the past two weeks and has done it against decent defenses. They may not be elite, but he is passing the tests they're giving him. Now he faces the Dolphins and their 27th-ranked defense against quarterbacks. The last time the Dolphins played a mobile quarterback, of sorts, Josh Allen and the Bills blanked them 35-0. While Jacksonville is not Buffalo, this offense should still be able to have an absolute field day on this Miami defense and it all starts with Trevor Lawrence.