The 2022 NFL season is just around the corner and fantasy football drafts are at the front of everyone's minds. If you are like the majority of modern day fantasy players, you likely play in a PPR league where one position is simply the ruler of them all; the wide receiver. Though running backs have made a big comeback in regards to fantasy football value in recent years, wide receivers remain your best chance at those massive, often week-saving, fantasy numbers in a PPR format. For this article, we are going to debate the fantasy football values of three great WRs: Davante Adams, Tyreek Hill and Keenan Allen.
The "start" will be the most valuable player, based on their average draft position (ADP). On the other end, the "cut" is the player with the least amount of value, based on where they are being selected. The ADP of these players was taken from Fantasy Football Calculator on August 25th, looking at 12-team PPR draft data.
Fantasy Football Start/Sit/Cut: Davante Adams, Tyreek Hill, Keenan Allen
Start: Keenan Allen (ADP: 3.04 – WR11)
Since the arrival of Justin Herbert in 2020, Keenan Allen has only had four single-digit fantasy point games, one of which was Herbert's first career start. His floor has always been very high. Even before Herbert, Allen was a guy you could build your fantasy football team around. Since 2017, the Keenan Allen fantasy football finish has been WR8, on average. He represents consistency. Unlike Adams and Hill, he has not undergone a major change. He will almost never lose you a match-up and is always a threat to give you 25 or 30. Keenan Allen is also the only one who is not both playing in a new offense and for a new head coach.
As long as he can stay healthy, there is no reason Keenan Allen could not have the best year of his career at age 30. His production will likely rival both Adams and Hill this season, while the Keenan Allen fantasy ADP allows you to try and first secure a top-notch RB, a position group that is much thinner down the board.
---
After you check out our list of the 100 best fantasy football team names for 2022, join our new Facebook group called Fantasy Football by Committee (FFBC). At FFBC, you can get and give fantasy football advice all season long. Whether you are looking to win your fantasy league or make your name known in the fantasy industry, FFBC is a great place for you!
---
Sit: Davante Adams (ADP: 2.01 – WR5)
While Davante Adams isn't listed as the "start: player, he could very well have another incredible year because he is an incredible player. However, he can not accomplish that himself. In Green Bay, the entire offense worked in perfect harmony. Their Hall of Fame QB benefited from having an All-Pro running game, which also benefited from and contributed to the success of the receivers and so on. As a Raider, everything around Adams takes a step back. Their RB group is simply not as good, and even more alarming is the fact that Derek Carr has never played with a top-10 fantasy football receiver in his eight NFL seasons.
Hunter Renfrow came close last season, finishing as WR11, and Darren Waller has been dominating the TE scene for three years now. While it's always better to have as much talent as you can, both of those things could be looked at as potential negatives in Adam's total fantasy output. Adams boosts Carr's value, and the Raider offense as a whole, but if he does not take a step back in every statistical category, it will be shocking.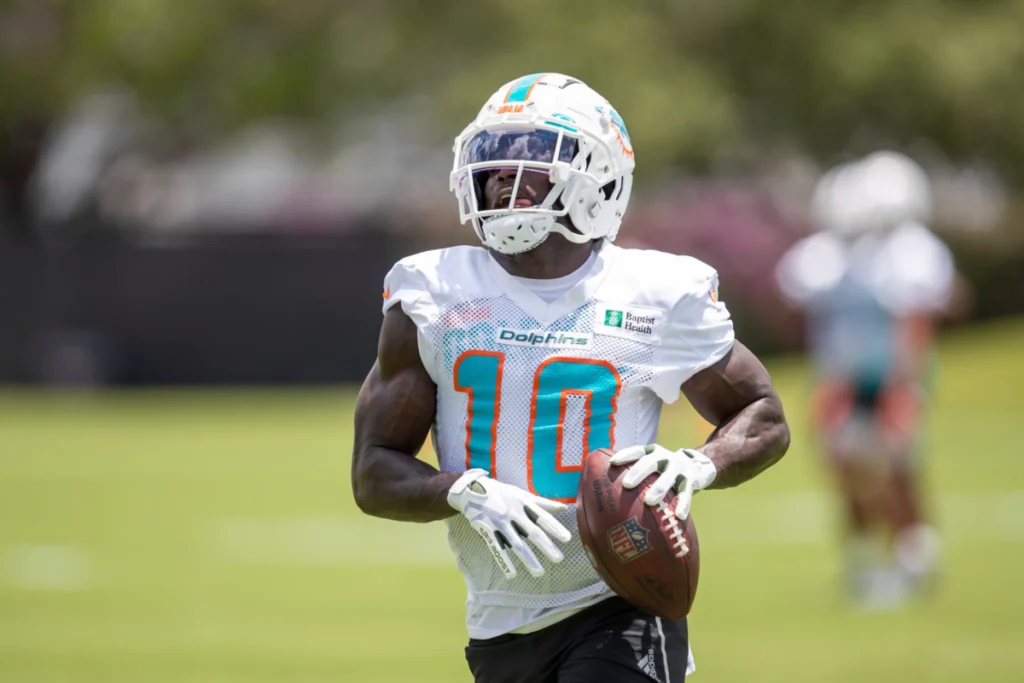 Cut: Tyreek Hill (ADP: 2.11 – WR8)
As a Chief, Tyreek Hill was often a boom or bust type player with regards to touchdowns and total yards. His value always stayed strong and he was an unquestioned starter on your roster because of the high volume of targets and catches he racked up each week. That is likely where his value will continue to lie during his time in Miami. Much has been made of Tua Tagovailoa's accuracy and the supposed connection that has been established between the QB/WR duo.
Still, the move carries with it great uncertainty. Hill's speed has gone nowhere, but the question remains if quarterback play will impede him from using it to its greatest ability. There is no guarantee Tyreek Hill will be the same player we've always known while in his first of a four-year deal.
There is just too much unknown to be confident in the Tyreek Hill fantasy football value as a sure thing this season. If he drops to you and brings with him some value, it may be hard to resist. However, if your draft falls into line with these projections, there are likely going to be better options available.
---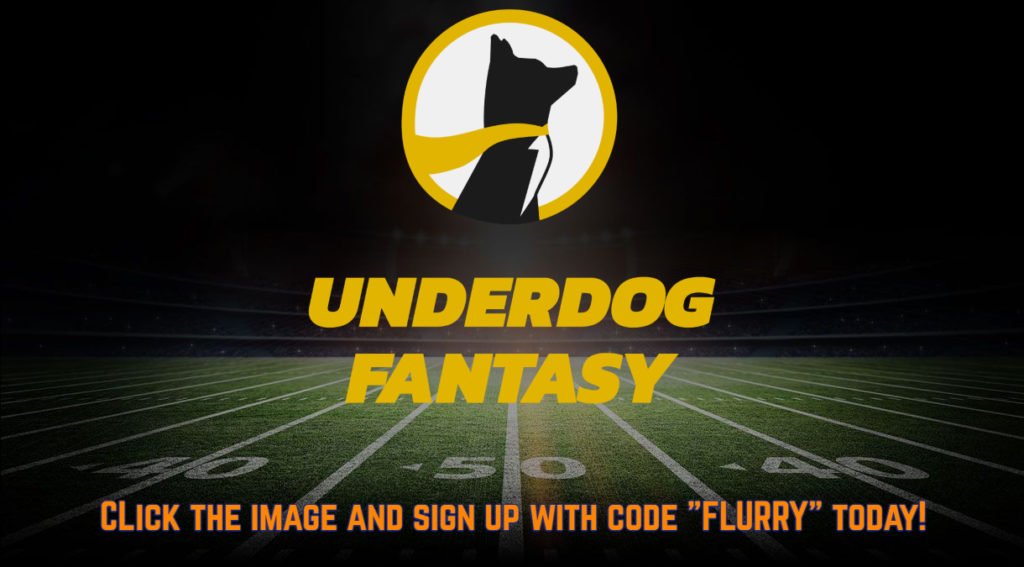 Underdog Fantasy is a new type of DFS that combines the fun of season-long drafts with daily fantasy sports. Aside from their fun, addictive draft mode, Underdog Fantasy also has pick'em player props for many different sports and athletes!
Click the image or RIGHT HERE to get signed up today, and don't forget to use the promo code FLURRY for a FREE $10 bonus on your first deposit!
---