If there is one position that is a constant pain in the ass for fantasy football owners, it's the tight end position. Outside of a few elite options, there seems to have been limited consistency and production over the past few years. With it being easy to lose sight of what tight ends are worth your time, it's important to take their fantasy football strength of schedule into account.
With that in mind, let's dive into the five easiest TE fantasy football strength of schedule, including George Kittle, Logan Thomas, Gerald Everett, Hayden Hurst and Jake Ferguson.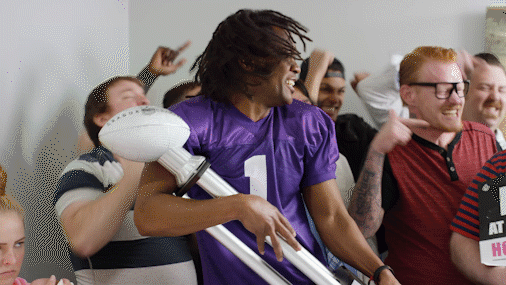 Check out TrophySmack today to get the best fantasy football trophies, belts, rings and draft boards in the industry! Use Promo Code FLURRY to get a free ring with a trophy purchase today!
5 Easiest TE Fantasy Football Strength of Schedule
George Kittle Fantasy Outlook (San Francisco 49ers)
Many fantasy analysts seem to think the top tight ends in fantasy are unquestionably Travis Kelce and Mark Andrews. While Kelce is the undeniable top option, my money is on George Kittle to be the next-best tight end available.
Kittle was TE3 last year and he would've been TE2 if not for two monster weeks from T.J. Hockenson. He caught 11 touchdowns and was a force to be reckoned with even while he missed two games and the San Francisco 49ers had troubles sorting out their quarterback situation. Aside from the obvious talent and role he possesses, the George Kittle fantasy outlook is high in 2023, due to the easiest fantasy football strength of schedule amongst all tight ends.
Logan Thomas Fantasy Outlook (Washington Commanders)
Since finishing as TE3 in 2020, Logan Thomas has really struggled to replicate his success. In 2021, he played just six games due to injury. Last year, he played 14 games but still finished as TE32. He will be a true lottery ticket selection even with a great fantasy football strength of schedule to take advantage of.
Logan Thomas is now 32 and he isn't getting any younger. Word out of camp is that Cole Turner could take his spot with Thomas losing the explosiveness that he showed in 2020. Thomas shouldn't be drafted, but if he or Turner claims the bulk of the work, they should definitely be on your fantasy radar.
Subscribe to Fantasy Football by Committee!
We have a new fantasy football podcast called Fantasy Football by Committee! Please subscribe to the podcast on Spotify and rate us five stars. If you'd rather listen on Apple Podcasts, click here! Additionally, you can join the Fantasy Football by Committee Facebook group to ask questions and answer others' all season long, helping to build a great, new fantasy community!
Gerald Everett Fantasy Outlook (Los Angeles Chargers)
Much like Thomas, Gerald Everett is a guy to keep an eye on this season even if he isn't the sexiest pick at the position. Everett has never finished higher than TE13 and is now in an offense that added another offensive weapon in receiver Quentin Johnston.
The good news for Everett is that he has slowly been increasing his output since he left the Los Angeles Rams. He was a stud early in the season before tapering off near the end. Everett was a "starter" (Top-12 TE) 40% of the time last season which was more than Cole Kmet of the Chicago Bears who fantasy owners are drooling over this year. Everett likely won't finish in the upper echelon at the position this year, but with a very light fantasy football strength of schedule and no durability issues, he'll be a solid option week to week.
Hayden Hurst Fantasy Outlook (Carolina Panthers)
When you're creating your list of tight ends you want on your fantasy team, Hayden Hurst rarely shows up in the top half. Outside of his 2020 TE9 finish with the Atlanta Falcons, he's been nothing to write home about. With that in mind, Hurst has plenty of upside that is currently flying under the radar.
Not only does Hurst have a weak fantasy football strength of schedule, but he also has a chance to become a weapon in an offense that doesn't have many proven targets yet with rookie quarterback Bryce Young. Terrace Marshall is the only notable receiver who's been with Carolina for more than a year and nobody in the tight end room is anything to write home about. The last time Hurst was given a chance to play a role in an offense he finished as TE9, so don't discount the chances he could get with the Panthers.
Jake Ferguson Fantasy Outlook (Dallas Cowboys)
Nothing was expected from Jake Ferguson in his rookie season with Dalton Schultz in town but, he still showed some flashes that he could be a starter in the league. He is expected to get the nod as the starting tight end even with the Dallas Cowboys drafting tight end Luke Schoonmaker in the second round.
Ferguson didn't get many opportunities last year in the passing game, but he had no drops and hauled in 19-of-22 targets. While CeeDee Lamb will again likely take the bulk of targets in this offense, Dallas and Dak Prescott love their tight ends. With an easy fantasy football strength of schedule in his favor too, Ferguson could be a sneaky starting tight end candidate.