If there is one position that is a constant pain in the ass for fantasy football owners, it's the tight end position. Outside of a few elite options, there seems to have been limited consistency and production over the past few years. With it being easy to lose sight of what tight ends are worth your time, it's important to take their fantasy football strength of schedule into account.
With that in mind, let's dive into the five toughest TE fantasy football strength of schedule, including T.J. Hockenson, Evan Engram, Zach Ertz, Hunter Henry and Cade Otton.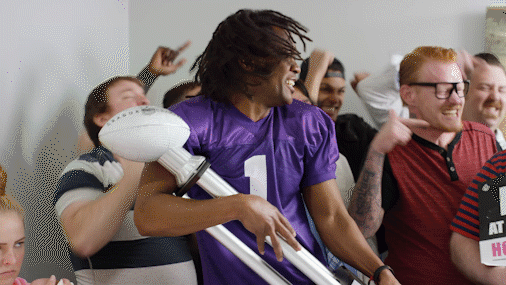 Check out TrophySmack today to get the best fantasy football trophies, belts, rings and draft boards in the industry! Use Promo Code FLURRY to get a free ring with a trophy purchase today!
5 Toughest TE Fantasy Football Strength of Schedule
Evan Engram Fantasy Outlook (Jacksonville Jaguars)
In 2018, Derrick Henry had one of the best hot streaks ever seen in fantasy as he went berzerk just in time for the fantasy football playoffs. While the Evan Engram fantasy output was nowhere near Henry's, he still is the reason for a lot of teams making the playoffs and making a deep run. Engram had three finishes as TE5 or better in Weeks 13-16 before falling back down to earth in Week 17.
Just like with Gabe Davis after his insane performance in the AFC Divisional round in 2021, everyone wants a piece of Engram now. Engram will be a part of this Jacksonville Jaguars offense, but with wide receiver Calvin Ridley returning from suspension, his role may take a step back. When you factor in that he has the toughest fantasy football strength of schedule amongst all tight ends this season, it's important to be cautious of drafting him at his ADP (average draft position).
T.J. Hockenson Fantasy Outlook (Minnesota Vikings)
From Week 9 to Week 17, T.J. Hockenson had nine or more targets in every single game. Unfortunately, he was still incredibly inconsistent. In those nine games, Hockenson finished below TE10 four times.
The targets are a huge upside for Hockenson and there is no reason to believe he won't be a major part of this offense yet again. With that in mind, it should be concerning that while he has huge "boom" potential, he also has the potential to drop some low scores too. With the second toughest fantasy football schedule as well, it's important not to reach too much for Hockenson.
Subscribe to Fantasy Football by Committee!
We have a new fantasy football podcast called Fantasy Football by Committee! Please subscribe to the podcast on Spotify and rate us five stars. If you'd rather listen on Apple Podcasts, click here! Additionally, you can join the Fantasy Football by Committee Facebook group to ask questions and answer others' all season long, helping to build a great, new fantasy community!
Zach Ertz Fantasy Outlook (Arizona Cardinals)
Zach Ertz has been a stud for fantasy football ever since 2016 when he's able to stay on the field. Unfortunately, in two of the last three seasons he has missed five or more games, including the last seven games last year due to a torn ACL and MCL.
Ertz is 32 now and he may not see a full workload to start this season. As if that wasn't bad enough, Ertz has one of the toughest fantasy football strength of schedules out there. DeAndre Hopkins leaving town should open up some more targets, but it's tough to trust Ertz much outside of best ball leagues.
Hunter Henry Fantasy Outlook (New England Patriots)
The entire New England Patriots offense took a step back last season, and that made Hunter Henry nothing short of a wasted roster spot last season. Henry played all 17 games last year, but he finished as TE10 or better just three times. Out of those three games, a receiving touchdown in two of them was the only reason he wasn't outside of TE10.
The fact of the matter is there is no reason to trust Hunter Henry this year. The Patriots should see more production from their offense, but unless Henry can find the end zone, he's not worth a place in your starting lineup. The worst part of it all is that Henry has one of the toughest schedules as well. Fade Henry as much as you can this season.
Cade Otton Fantasy Outlook (Tampa Bay Buccaneers)
This year will be the first time since 2019 that the Tampa Bay Buccaneers don't have the services of legendary quarterback Tom Brady. How that change affects tight end Cade Otton remains to be seen. Otton's rookie year was one to forget although he did show some flashes throughout the season.
This year, Otton will probably have his toughest test yet. Not only does he face a brutal fantasy football strength of schedule, but he also does so with a less-than-promising quarterback room. Either Baker Mayfield or Kyle Trask will be throwing the ball. With Chris Godwin and Mike Evans eating up the bulk of the targets, Otton could struggle to get the ball enough to be a consistent asset for fantasy in 2023.