Today, the Cleveland Browns front office decided to listen to running back Kareem Hunt. He had been calling for a Nick Chubb contract extension to get finalized. His wishes, along with other fellow Browns fans, have come to fruition.
According to Mary Kay Cabot of Cleveland.com, the Nick Chubb coontract extension is worth $36.6 million over three years, including $30 million in guarantees. This new deal means that Chubb will remain in Cleveland until 2024.
Chubb is simply one of the best running backs in the NFL. He only played 12 games last year, but Chubb still managed to rack up 1,067 yards 12 rushing touchdowns on the ground. It's often a tough decision to make for a team to invest in a running back. However, Chubb isn't just any regular old running back. He has a physical running style, but at the same time, when he breaks out into open field, no one is catching him.
Nick Chubb Contract Extension Finalized
"Pay That Man"
In a couple of different appearances over the past year, Kareem Hunt has made it very clear that he wanted the Browns to sign Chubb to an extension. Both running backs compliment each other quite nicely in Cleveland. Chubb is more of a power back, but still has breakaway speed. As for Hunt, he is a great receiver out of the backfield, and on top of that, both backs are two of the top pass-blocking backs in the NFL. During his youth football camp, Hunt commented on the future contracts for Chubb, as well as some of the other players.
"Pay that man. He's a freak of nature," Hunt said. "He's like a brother to me … hope we can play together for a long time." Well, it looks like, at least for the near future, Hunt and Chubb will be in the backfield together.
Who to Extend Next?
The Cleveland Browns front office is really in a lose-lose situation regarding contract extensions. By getting Chubb's out of the way, they still need to work on an extension for Baker Mayfield, Wyatt Teller and even Denzel Ward. Mayfield has proven he is worthy, as has Ward. However, the importance of positional value comes into play when talking about extensions and contracts. I think I speak for most Browns fans when I say, Mayfield deserves an extension. However, he seems content to let that go into the season. He's assured the media that it won't be a problem.
Ward, who has more than once said he wishes to stay in Cleveland his entire career, should hopefully be thinking that a contract extension is coming his way. However, the Browns and Ward will likely not be getting a deal done before the season. Another player who likely won't get an extension until next year is Wyatt Teller. He's spent most of his career in Cleveland. It's safe to assume that if he has another spectacular year, an offer will come flying out at him.
With Nick Chubb and Myles Garrett off the board, it will be interesting to see where the Browns go next.
---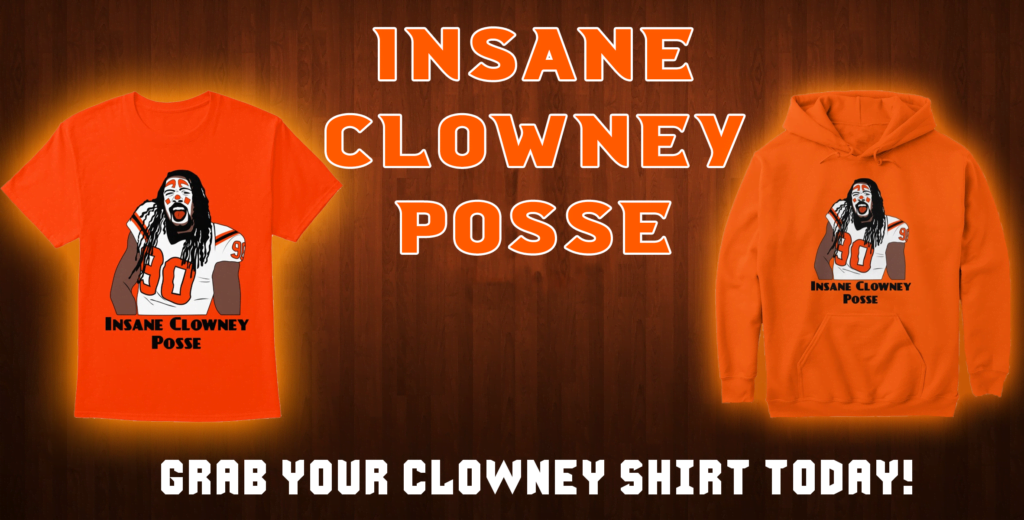 The only thing scarier than the Browns' pass rush are clowns. Get the design that shows off both today!
Available shirts in men, women and kids, along with posters and tumblers! Click here or the image above to see!
---
Browns Training Camp Time
Obviously, the Nick Chubb contract extension is a huge win in the eyes of the front office and the players. They now know their do-it-all back will be in Cleveland for the long term. However, Browns training camp is here, so there's no more need to think back to 2020. Right now it's all about getting guys to camp, keeping them healthy and improving on the field.
The Browns added a lot of high-caliber free agents, like John Johnson III and Jadeveon Clowney, but that will all mean nothing if playoff wins don't come from it.
---
Follow us on all of our social channels! Check out our Twitter, Facebook and YouTube for more great FlurrySports content.