The Western Conference Finals begin on Wednesday night with Game 1 between the Dallas Mavericks and Golden State Warriors. Despite the fact that the Mavericks won three of four regular-season meetings between the teams, oddsmakers have installed the Warriors as a hefty favorite to win this series and advance to the NBA Finals. Given the personnel on both teams, one would have to believe that three-point shooting and quality defensive play will be two hallmarks of this series. In addition to betting on the game itself, the NBA player props market has several betting picks worthy of consideration. The following article offers three of the best NBA player prop bets for the May 18th Mavericks vs Warriors Game 1 matchup.
But first, check out this exclusive NBA betting offer from BetMGM!
---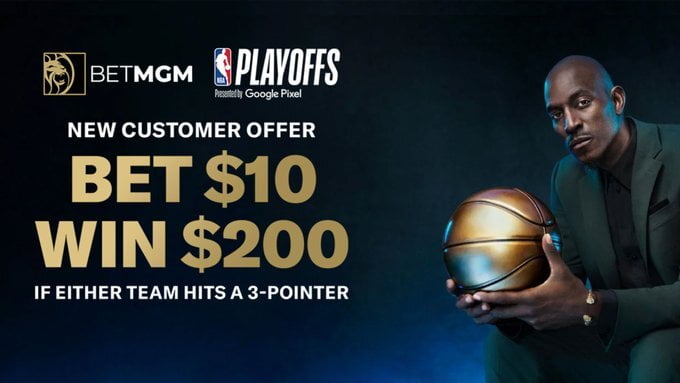 Bet $10 to Win $200 at BetMGM Sportsbook
Have you ever seen a player hit a three-pointer? Of course, you have. In today's NBA, a long-range three is as effective as a shot in the paint for many players. For some reason, BetMGM is deciding to give away money if a player hits a three! All you need to do is make an account and deposit!
Bet $10 on any team to win. If they hit a three-pointer during the game, you win $200!
That's right, you win 20x your money regardless of if you pick the winner correctly. I can guarantee even the losing team will hit a three-pointer. Either CLICK HERE or click the image above to claim the limited-time offer!
---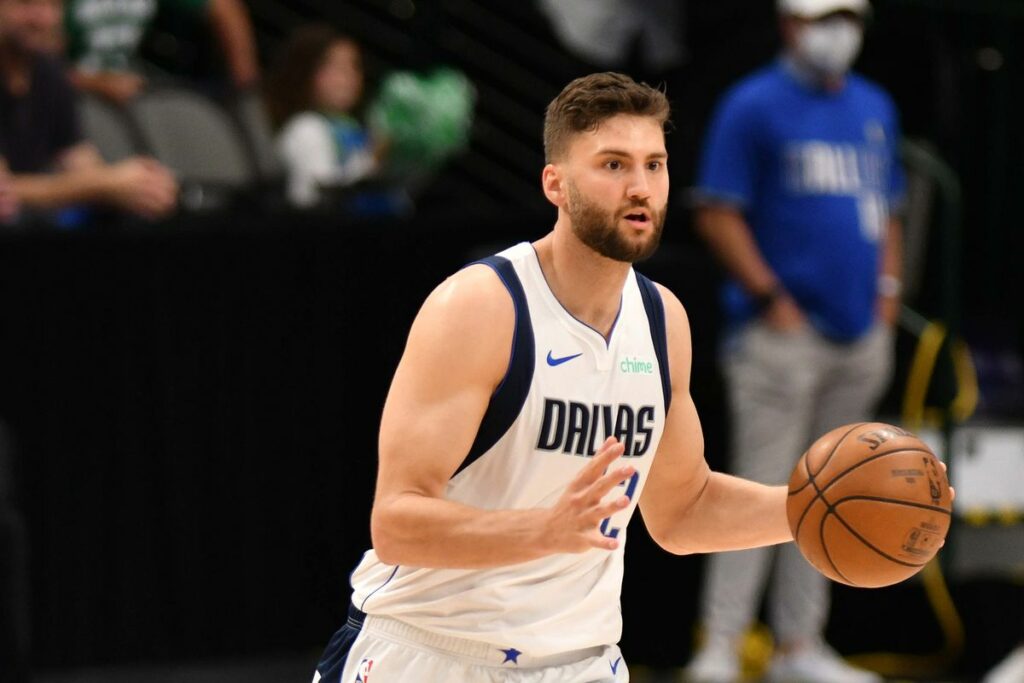 Best NBA Betting Player Props for Mavericks vs Warriors Tonight, 5/18
All NBA betting player props odds are taken from BetOnline Sportsbook
One of several three-and-D options that Mavericks coach Jason Kidd has at his disposal, Maxi Kleber has stepped up with big games on numerous occasions in these playoffs. While his ability to space the floor offensively has been vital at times, it shouldn't be lost on bettors that Kleber also brings plenty of size at 6'10". Despite only averaging 24.6 minutes per game over the course of the full season, the 30-year-old was able to reel in 5.9 rebounds per contest.
Based on his per-game average, tonight's NBA player props total of 4.5 boards comes in more than one full rebound below Kleber's usual production. After grabbing four rebounds in 21 minutes of action in the Mavs' Game 7 rout of Phoenix, Kleber has now finished with no fewer than four boards in four consecutive games. Add in his First Round stats and Kleber has successfully cleared the NBA betting picks total in seven of Dallas' playoff games to date.
Thanks to a lack of quality big men, the Warriors are known for playing small. While this typically forces opponents to also downsize in order to match up, Kleber moves quite well defensively and in the open floor compared to most 6'10" players. One has to imagine that he will be able to make an impact on the glass both tonight and throughout the Western Conference Finals.
NBA Player Props Prediction: Maxi Kleber OVER 4.5 Rebounds (-137)
---
Best Sportsbook Offers and Promotions
---
Even at age 32, Draymond Green continues to serve as the heart and soul of a revitalized Warriors franchise. After missing out on the NBA Playoffs entirely in each of the past two seasons following a run of five straight trips to The Finals, Golden State is once again on the brink of playing for a title. Green only played 46 games during the regular season and has struggled for the most part offensively in these playoffs. However, he continues to make an impact on the defensive end and fill up the stat sheet in other ways, including as a distributor.
In the Warriors' first 11 games of these playoffs, Green has distributed at least six assists eight times. Furthermore, he has totaled no less than five dimes in every game aside from the one in which he got ejected last round against Memphis. Taking these facts into consideration, it makes sense that the betting odds are juiced to the over on his NBA player props line of 6.5 helpers for Game 1 of the Western Conference Finals.
While Green has consistently dished out a half-dozen assists in the playoffs, he has actually only surpassed the prop total five times. Knowing how strong the Mavericks are at the defensive end, achieving the seven assists needed to clear the NBA picks threshold may be easier said than done for Green tonight. The availability of plus-money odds only adds to the intrigue surrounding this under prediction.
NBA Player Props Prediction: Draymond Green UNDER 6.5 Assists (+114)
---
FlurrySports posts daily NBA player props for betting and DFS on this page! Make sure to bookmark it and come back tomorrow.
---
For the most part in these playoffs, center Kevon Looney has only been used sparingly. With the Warriors typically being at their best when they go small, there simply hasn't been a need for Looney to play big minutes in the majority of games. That all went out the window in Game 6 against Memphis. After getting killed on the boards by Steven Adams, Golden State countered by playing Looney for 35 minutes in the closeout win. He certainly made an impact, finishing with a whopping 22 rebounds.
Despite the sharp uptick in minutes, Looney did not make much of an impact offensively in Game 6. He scored just four points on 2-7 shooting. It's worth pointing out that he typically converts at a much higher percentage given that he plays close to the basket. As a result, Looney was actually able to eclipse the NBA player props line of 5.5 points on three different occasions in the conference semifinals.
On the season, Looney averaged 6.0 points per game while playing 21.1 minutes. Despite this, the NBA betting odds are listing a plus-money price on the over for his scoring prop ahead of tonight's Game 1. When contemplating this NBA picks offering, one has to believe that the Warriors will need to utilize Looney in this series against the Mavericks. The size and length of the Dallas frontcourt are likely to limit the effectiveness of Golden State's small lineup. While he may not see 35 minutes as he did in the closeout win over Memphis, Looney should certainly play more than he was in the playoffs prior to that.
NBA Player Props Prediction: Kevon Looney OVER 5.5 Points (+108)
---
Free $100 for Sleeper Over/Under | New NBA DFS Game
If you're looking for another way to make money on NBA player props tonight, you should check out Sleeper! That's right. It's the same fantasy sports app where you may have your season-long fantasy football league every year!
Recently, Sleeper launched their over/under pick'em game. You can pick over or under various NBA player props and string them together into a parlay. If you CLICK THIS LINK, join the FlurrySports over/under channel and follow the promo directions, you get a free $100 when you deposit any amount! That's right! Deposit $20 and you'll have $120 in your Sleeper wallet!