What was once a best-of-seven NBA Finals series has morphed into a best-of-three. The Golden State Warriors managed to reclaim home-court advantage by beating the Boston Celtics on the road last Friday. With the series tied at two games apiece, the action shifts back to the Bay Area for Game 5 on Monday night. When it comes to making NBA betting picks on tonight's matchup, the props market is easily the best option. The following article offers three of the best NBA player prop bets for the June 13th Celtics vs Warriors Game 5 matchup.
But first, check out this exclusive NBA betting offer from BetMGM!
---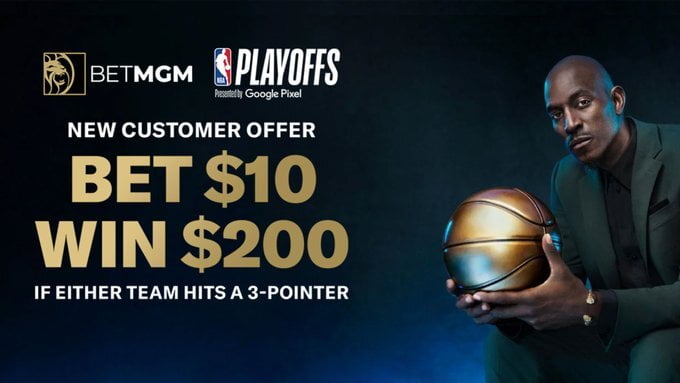 Bet $10 to Win $200 at BetMGM Sportsbook
Have you ever seen a player hit a three-pointer? Of course, you have. In today's NBA, a long-range three is as effective as a shot in the paint for many players. For some reason, BetMGM is deciding to give away money if a player hits a three! All you need to do is make an account and deposit!
Bet $10 on any team to win. If they hit a three-pointer during the game, you win $200!
That's right, you win 20x your money regardless of if you pick the winner correctly. We can guarantee even the losing team will hit a three-pointer. Either CLICK HERE or click the image above to claim the limited-time offer!
---
Best NBA Betting Player Props for Celtics vs Warriors Tonight, 6/13
All NBA betting player props odds are taken from BetOnline Sportsbook
In general, the longer a prominent series such as this drags on, the tighter the rotations for both teams become. This is bad news for reserves like Celtics forward Grant Williams. Despite the fact that he made a huge impact off the bench in Boston's Game 3 win, Williams only saw the floor for 13 minutes in Friday's Game 4 loss. That was enough time for him to attempt just two field goals, both of which were from three-point range. Williams hit one of them and finished with only three points to his name.
How much playing time Williams sees will be vital to the NBA betting outcome of his Game 5 scoring prop. Oddsmakers have elected to set the line at 5.5 points. On the full season, the 23-year-old averaged 7.8 points per contest. However, he was playing north of 24 minutes per game as well. So far in the NBA Finals, Williams has yet to play more than 21 minutes in any game. The two contests in which he was on the floor for at least 20 minutes were also the two games in which he managed to go over tonight's scoring prop line.
As long as starting center Robert Williams III is healthy enough to log his standard amount of minutes, it's hard to envision Grant Williams seeing a ton of minutes on the road tonight. Add in the fact that his primary role offensively in this series is to space the floor by spotting up from beyond the arc and easy buckets are also not likely. Minimal playing time combined with the three-point shot being his primary offensive weapon make the under our preferred NBA picks choice.
NBA Player Props Prediction: Grant Williams UNDER 5.5 Points (-124)
---
Best Sportsbook Offers and Promotions
---
For as awful as Draymond Green has played offensively in these NBA Finals, he was at least able to make an impact in other areas on Friday night. One of those was on the glass, where the 32-year-old corralled nine rebounds total for the game. While it was not his highest total of The Finals (Green had 11 boards in Game 1), it was certainly a step in the right direction. After all, his Game 4 rebounding output matched the combined total that he reeled in across both Games 2 and 3.
When it comes to the NBA player props for Game 5 tonight, the market has bumped Green's rebound total up to 7.5. Based on the fact that Green averaged 7.3 rebounds per game over the full season, this prop total is essentially spot-on accurate. However, the Celtics do pose a much bigger challenge when it comes to compiling big numbers on the glass than the majority of teams in the league.
Going back to the sentiment discussed for our previous NBA betting picks, bettors can reasonably assume that the Warriors' rotation will continue to tighten up just like Boston's as the series continues. While the decision of Steve Kerr to bench Green in the second half of Game 4 got a lot of press, he still played 33 minutes in the game overall. When push comes to shove, Kerr will likely opt to stick with the core veterans like Green who have been here before and know what it takes to win a title. Thus, exceeding his season-long rebounding average is a feat that is certainly achievable.
NBA Player Props Prediction: Draymond Green OVER 7.5 Rebounds (-107)
---
FlurrySports posts daily NBA player props for betting and DFS on this page! Make sure to bookmark it and come back tomorrow.
---
One has to give Warriors center Kevon Looney credit for elevating his game during the NBA Playoffs. For the most part, the ongoing NBA Finals have been no exception to this. Despite playing less than 25 minutes twice in the first four games of this series, Looney has managed to hand out multiple assists in every game so far. Furthermore, dating back to Game 6 of Golden State's Second Round series against Memphis, a span of ten games, the 26-year-old has matched or exceeded his regular-season average of 2.0 assists nine times.
Despite the consistency displayed in this area, one can't help but be suspect of Looney's Game 5 NBA player props total of 2.5 assists. After all, this line is half of an assist more than he averaged over the entire season. While Looney is garnering more playing time during the postseason, his minutes have fluctuated greatly in The Finals. After playing only 17 minutes in Game 3, the former UCLA Bruin logged 28 in the Game 4 win last Friday. Oddly enough, Looney surpassed 2.5 assists in Game 3 and failed to do so in Game 4!
Based on what we have seen from the Warriors' rotation so far in this particular series, bettors should assume that Looney will be on the floor for between 20 and 25 minutes this evening. Can he really be trusted to dish out three helpers in that amount of time? As an offensively-limited big man, it's difficult to rationalize this NBA picks line. We'll roll with the under as our preferred bet.
NBA Player Props Prediction: Kevon Looney UNDER 2.5 Assists (-139)
---
Free $100 for Sleeper Over/Under | New NBA DFS Game
If you're looking for another way to make money on NBA player props tonight, you should check out Sleeper! That's right. It's the same fantasy sports app where you may have your season-long fantasy football league every year!
Recently, Sleeper launched their over/under pick'em game. You can pick over or under various NBA player props and string them together into a parlay. If you CLICK THIS LINK, join the FlurrySports over/under channel and follow the promo directions, you get a free $100 when you deposit any amount! That's right! Deposit $20 and you'll have $120 in your Sleeper wallet!