Despite all of the outside commotion, the college basketball season pushes onward. To date, the Atlantic 10 Conference schedule has remained relatively on schedule. A few cancellations from this past week failed to overshadow the thrilling action on the court that A10 fans have grown accustomed to. This article contains the latest Atlantic 10 basketball headlines, updated standings, and games to watch this week.
Check out our updated college basketball top 25 rankings, which include Saint Louis of the A10!
Atlantic 10 Basketball Headlines
From a masterful scoring performance to an overtime thriller, the A10 had it all this past week. Here are some of the latest storylines to note.
Dayton Takes Down Davidson in OT
The stars were out in full force last Friday night when the Dayton Flyers took on the Davidson Wildcats in the national TV spotlight. Fueled by a career-high 29 points from Atlantic 10 basketball player of the year candidate Jalen Crutcher, Dayton pulled out an 89-78 overtime victory. It was a tremendous rebound for the Flyers after being upset by Fordham earlier in the week.
Crutcher's 29-point effort was highlighted by four made 3-pointers. Despite playing 44 minutes, the senior guard never seemed to tire, shooting an impressive 11-17 from the floor. Fellow backcourt senior Ibi Watson wasn't far behind with 24 points of his own to aid the Flyers' effort.
It wasn't just Dayton players stealing the show though, as one can imagine in a game that required extra time. Senior Davidson guard Kellan Grady lit up the scoreboard in his own right with 27 points. Junior forward Luka Brajkovic also made his presence felt, posting a 20-point, 10-rebound double-double. While the loss dropped the Wildcats to 2-2 in Atlantic 10 basketball play and 6-5 overall, you can't deny that Davidson has played their competition tough every time out.
Jaren Holmes Goes Off in Bonnies' Win
NBA fans marvel every night at superstars who eclipse the 30-point threshold. Such a feat is arguably even harder to accomplish in the college game. Eight fewer minutes of game time combined with a heavier emphasis on team defense make any 30-point effort truly impressive. Junior St. Bonaventure guard Jaren Holmes achieved just that last Wednesday evening in a blowout Atlantic 10 basketball win over St. Joseph's.
In hindsight, the final score of the game was drastically different from where things stood through the opening half of play. St. Bonaventure only led by four at the break, but pulled away in the second half, outscoring St. Joe's 51-29. Holmes stuffed the stat sheet full in numerous areas, headlined by a whopping 38 points. Of course, when you knock down eight 3-pointers, the points will start to add up quickly! Holmes added 10 rebounds and three assists as the Bonnies continued their strong start to the season.
Fatts Russell Spearheads Rhode Island Win Over VCU
It has been an up-and-down first month and a half to the season for Rhode Island. Saturday saw the young team point their roller coaster ride back skyward. The Rams traveled south to take on VCU and came away with an impressive 83-68 victory. The win marked their third in Atlantic 10 basketball play on the season.
Naturally, senior guard Fatts Russell was the star of the show for the Rams. His 23 points led the way for Rhode Island while his 9 rebounds speak just to how gritty a player he is. At 5'10" tall, you wouldn't expect to see a player of Russell's stature nearly reach double-digit boards. Russell remains firmly in the A10 Player of the Year conversation.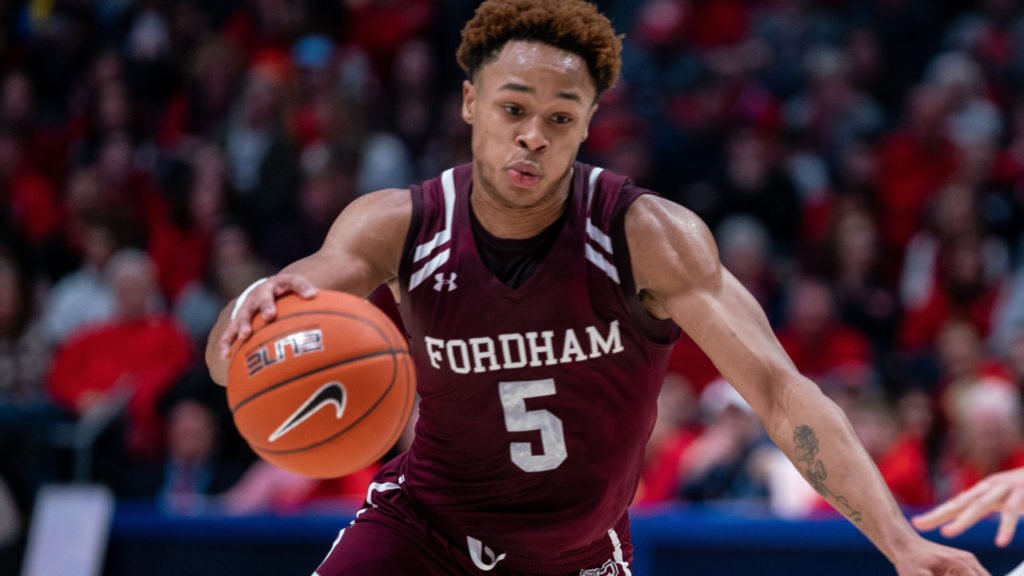 Fordham, Saint Joseph's Earn First Wins of the Season
After this past week, every Atlantic 10 basketball team has officially notched a win this season. Both Fordham and Saint Joseph's were projected to be among the weaker teams in the league, but both squads are showing plenty of fight all the same.
Fordham notched their first victory of the 2020-21 season with a 55-54 upset of Dayton last Tuesday. With limited pure scoring talent on the Rams roster, defense will be key this season. Chris Austin led Fordham in the victory with 20 points. The Rams also nearly won again over the weekend, coming up just short in a three-point loss to Duquesne.
Saint Joseph's is yet to notch a win in conference play but got off the schneid, all the same, this past weekend. The Hawks managed to topple America East opponent Albany 67-64. Junior guard Taylor Funk led SJU with 14 points, six rebounds, three assists, and a pair of steals in the winning effort.
Updated Atlantic 10 Basketball Standings
| Team | Conference Record | Overall Record |
| --- | --- | --- |
| St. Bonaventure | 10-3 | 12-3 |
| VCU | 10-3 | 17-5 |
| Richmond | 6-3 | 13-5 |
| UMass | 6-3 | 7-5 |
| Davidson | 6-4 | 11-7 |
| George Mason | 7-6 | 11-8 |
| Dayton | 8-7 | 12-8 |
| Saint Louis | 4-4 | 11-5 |
| Duquesne | 6-7 | 7-8 |
| George Washington | 3-4 | 4-10 |
| Rhode Island | 7-9 | 10-13 |
| La Salle | 6-10 | 9-14 |
| Saint Joseph's | 2-9 | 3-14 |
| Fordham | 2-11 | 2-11 |
Upcoming Atlantic 10 Basketball Games to Note
Good news Atlantic 10 basketball fans! There are games spread out across the entire upcoming week to enjoy. In fact, only Thursday night will not have any A10 teams in action. Here are some of the top matchups to tune in for in the week ahead.
Rhode Island at UMass
Date: Wednesday, Jan. 13
Time: 7 pm EST
TV Coverage: ESPN+
Duquesne at St. Bonaventure
Date: Friday, Jan. 15
Time: 7 pm EST
TV Coverage: ESPN2
VCU at Richmond
Date: Saturday, Jan. 16
Time: 1 pm EST
TV Coverage: CBSSN
George Mason at Rhode Island
Date: Saturday, Jan. 16
Time: 5 pm EST
TV Coverage: NBCSN
Dayton at George Washington
Date: Sunday, Jan. 17
Time: 2:30 pm EST
TV Coverage: NBCSN