Well, that was a pretty uneventful trade deadline. This morning started out hot with the trade of Ajayi to the Eagles, then Adam Schefter said how this was the most active trade deadline in awhile with all the chatter between teams. Everything then went silent. There was no trade news to be had until after the deadline passed. We then found out that Kelvin Benjamin surprisingly was traded to the Bills and the Browns did the most Browns thing ever by not calling the league in time to notify them of their trade for Bengals backup quarterback, A.J. McCarron. This epic failure made McCarron breathe a sigh of relief and show Kizer he's not the answer in Cleveland. Way to go, Browns.
These trades have fantasy implications this week, and the six teams on bye add to it too. The teams off this week are the Bears, Vikings, Browns, Chargers, Patriots, and Steelers. There's a lot of fantasy relevance between those six teams, so there's a good chance you'll be missing some players this week. If you're looking for some bye week fill-ins, maybe I can help!
Let's jump right into it and see if we can find some gems to win you the championship! I will be giving you some suggestions of players you should add or drop, with each player's ownership in ESPN leagues.
Quarterback Adds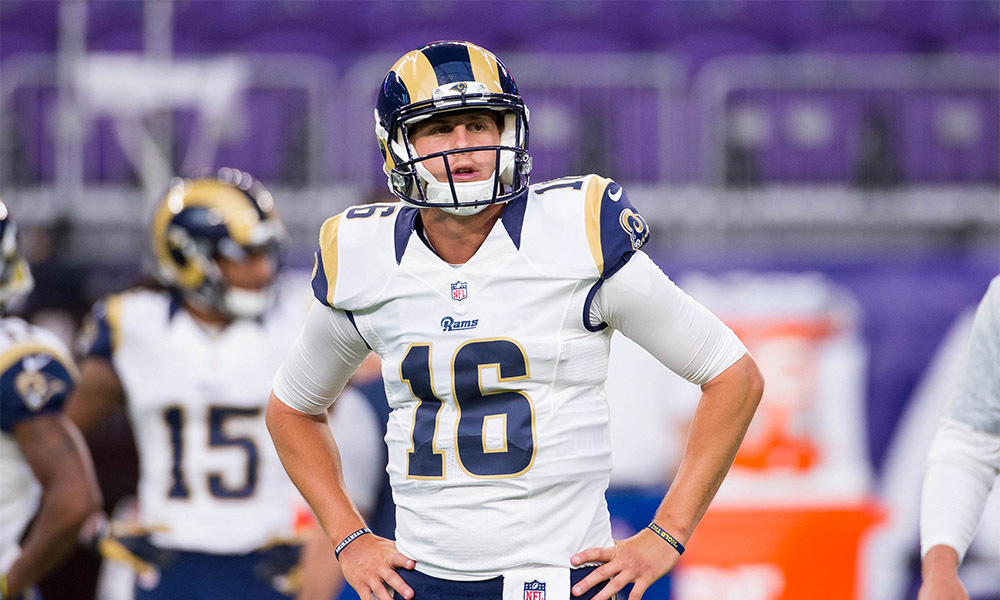 QB Jared Goff, LAR (26.7%)
The matchup with the Giants doesn't look great, but they actually suspended corner Janoris Jenkins indefinitely. That is a big blow to their secondary, and Goff should be able to exploit that coming off his bye.
QB Josh McCown, NYJ (25.9%)
McCown is QB9 so far this season, yet he is owned in only a quarter of leagues. You can beat the Bills through the air, so if you need a bye week replacement, don't be afraid of the Jets quarterback.
QB Brett Hundley, GB (10.1%)
Hundley supposedly put in a ton of work during Green Bay's bye week, so maybe McCarthy will actually call a passing play or two this game. You know, since you have Jordy Nelson, Davante Adams, Randall Cobb, and Martellus Bennett. I don't have a ton of confidence in Hundley or this coaching staff, but he's usable if you're in need this week.
Running Back Adds
RBs Darren McFadden (34.7%) and Alfred Morris (30.0%), DAL
Here we are again. I think Ezekiel Elliott is suspended this time, but it's too soon to be sure. Like I said last time, I think they give Morris the first shot, but I don't think he's especially good at football. They have kept McFadden in the fridge to keep him fresh, knowing of the looming punishment for Elliott. McFadden also possess traits more similar to Zeke than Morris does, so it made more sense to make the guy who brings a different skill set active. Both of these guys need to be owned, but I personally am placing the higher priority on McFadden. I have further explanation in the Add/Drop two weeks ago.
RB Marlon Mack, IND (29%)
The rookie continues to see his workload increase. The Colts are in need of some kind of spark, and Mack is a player than can get the rest of the offense going. He will have to share snaps with Gore, but he is still valuable.
RB Kenyan Drake, MIA (0.4%)
Jay Ajayi was shipped off to Philadelphia this morning, so we now have a little competition in Miami's backfield between Drake and Williams. I think Drake sees the larger uptick in touches, and since it is such a luxury to have good running backs on your fantasy team, you need to give Drake a look. Even if you can't use him, it's better to drop your kicker to pick him up so nobody else can. You may be able to trade him before Sunday, or if nothing else, you can drop him before kickoff so nobody can use him.
Pass Catcher Adds
WR JuJu Smith-Schuster, PIT (29.3%)
Unfortunately, the Steelers did not move Bryant before the trade deadline. Pittsburgh is also on bye this week, but if you don't put your claim in for JuJu now, you won't get him. He lit up the Lions for 193 yards and a touchdown in week 8. Now, I know the majority of you own him since I told you to pick him up last week. If you happen to be new to FlurrySports, welcome, and pick up JuJu Smith-Schuster.
WR Corey Davis, TEN (24%)
The rookie first rounder returned to practice Monday in a limited fashion. He looked good in the short amount we've seen him this season, so if he can get back on the field, you'll want to own him.
WR Robbie Anderson, NYJ (26.5%)
Anderson has posted double-digit points in each of the past three games. If you're desperate for a receiver this week, check to see if Anderson is available.
TE Jack Doyle, IND (39.5%)
I said last week that I was surprised by how low Doyle's ownership was. Even after that, his ownership rose only 4%. Doyle went on to put up 30 fantasy points. Want to pick him up now?
TE Greg Olsen, CAR (42.1%)
Olsen is expected back for week 12, but with Kelvin Benjamin and the Panthers being in the news, I expect Olsen's ownership to rise. Depending on your league size, you may need to pick him up this week.
TE Vernon Davis, WAS (13.8%)
It sounds like Jordan Reed will miss this week, so Davis will be active in the receiving game. While the matchup isn't great, he'll get targets, and that's all you can ask for with the tight end position.
Drops
QB Trevor Siemian, DEN (23.8%)
Yeah…you can drop Siemian.
RB David Johnson, ARI (77.2%)
Unless you have an IR slot, you don't need to hang onto DJ. Arians doesn't expect him back this season, and neither do I. Without Palmer, this team doesn't have playoff hopes, so they have no reason to rush him back.
RB Mike Gillislee, NE (75.9%)
The reason to own Gillislee was that he would get the goal line carries. Well, he hasn't scored since week 2.
RB Wendell Smallwood, PHI (51.1%)
With the acquisition of Ajayi, this backfield becomes too crowded to feel good about Smallwood emerging.
WR Terrelle Pryor Sr., WAS (73.9%)
It's okay to admit you were wrong for drafting him. Drop the dude.
WR Eric Decker, TEN (45.4%)
With Davis back soon, there's zero reason to hang onto Decker.
Are you looking for another way to play NFL DFS every week? Join the highest-rated fantasy football app, DRAFT! Drafts start every couple minutes, so you can enter one right now for week 9!
If you click the picture or this link to sign up and use the promo code "FlurrySports," you get a free entry into a $3 game! There's not much better than free money, so sign up today!