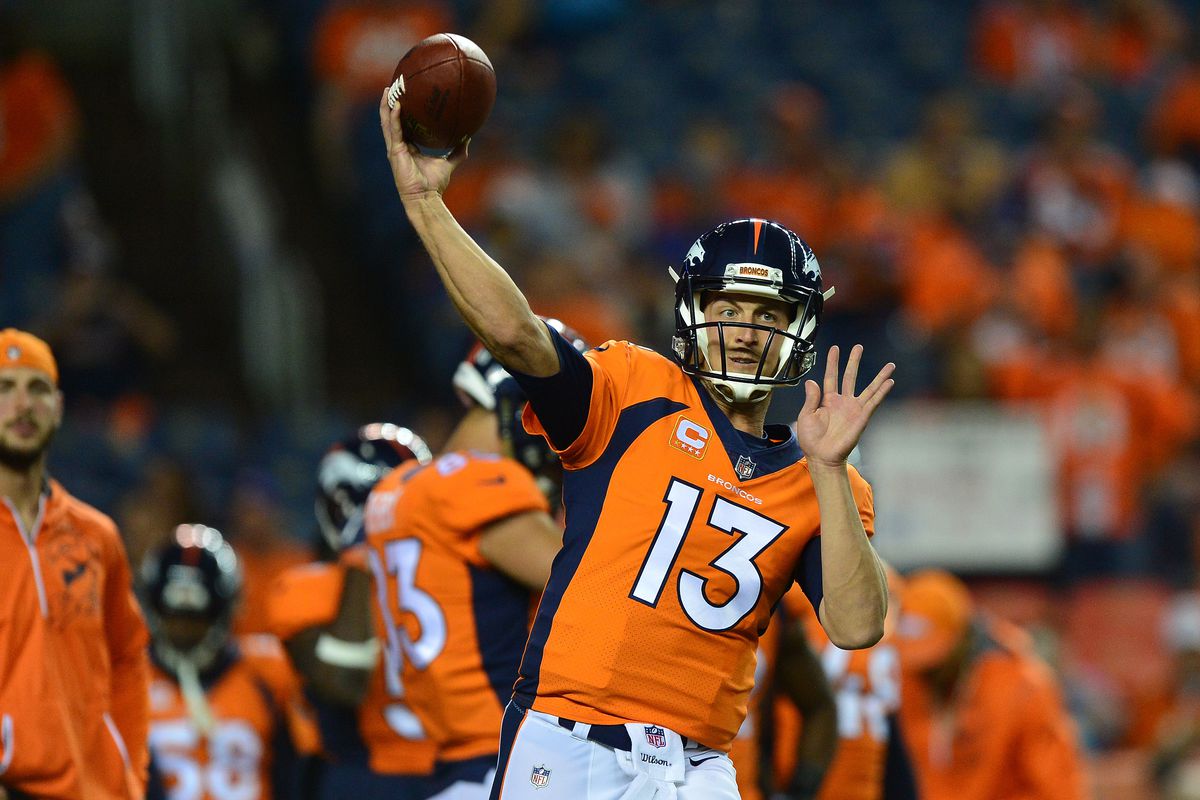 How about those rushing performances by a few of the league's top backs?
Running the ball today:
Elliott: 9 Att, 8 Yds
McCoy: 12 Att, 9 Yds
Gordon: 9 Att, 13 Yds
Howard: 9 Att, 7 Yds
Murray: 9 Att, 25 Yds

— Zach Brunner (@FantasyFlurry) September 18, 2017
Yikes. That doesn't even include last year's leader in rushing touchdowns, LeGarrette Blount, going without a single rushing attempt. There is some panic among fantasy owners, and rightfully so. This week showed that you may have a near perfect draft, but that doesn't mean anything when we get into the season. My two starting running backs in a league are Ezekiel Elliott and LeSean McCoy. I thought I would be looking at an undefeated season with the roster I had, but much like the Patriots, I was wrong. I was embarrassed, let down, bamboozled!
But it is time to move on to week three. It doesn't matter whether you're 2-0, 1-1, or 0-2, you have to work the waiver wire. The second you feel comfortable with your team is the second you lose a David Johnson, Allen Robinson, etc. What I do every single week is drop my kicker the night before waivers process, then try to pick up any player. Now, I don't value my kickers worth a damn. If you do and spent a valuable draft pick on them, then I'm sorry you didn't use my draft strategy. Streaming kickers allows me to pick up a player every single week, while also usually getting an above average kicker performance. This player picked up every week does not necessarily need to be someone I plan to keep permanently. Maybe my cocky opponent for the week desperately needs a running back. If that's the case, I may pick up the best available running back option for the week. I can drop them Sunday morning to pick up my kicker, then because of the waiver period, nobody else can pick them up and play them. Gamesmanship. Again, like the Patriots.
There's some interesting players that emerged as targets to add this week. Of course, there are also some that I said to pick up last week. Should I be shocked that not everyone reads my "Add/Drop" articles yet? Well, maybe that will change after you all share this article this week…right? I will be giving you some suggestions of players you should add or drop, with each player's ownership in ESPN leagues.
Add
QB Trevor Siemian, DEN (13.6%)
Same thing as last week. I love Siemian and this offense. He's the second-best quarterback so far, only behind my next "add."
QB Alex Smith, KC (42.2%)
The top quarterback in fantasy is Alex Smith. While this will not be the case much longer, he has proven that he can be a QB you can start. Andy Reid has Smith throwing the ball downfield more, and that's good news with the speedy weapons he has. His stats would look even better if he didn't overthrow Tyreek Hill for a 40-yard touchdown. I'm a little bitter since I had Hill in DFS, but Smith is still a QB to add.
QB Carson Wentz, PHI (47.1%)
Wentz is starting out hot, much like last season. The Eagles clearly have no interest in running the football, so as long as Wentz keeps throwing, he's valuable.
RB Chris Thompson, WAS (70.2%)
Thompson has a role whether Fat Rob misses time or not, but if he does take a week off, Thompson should be a great play.
RB Tarik Cohen, CHI (51.4%)
The rookie's ownership made a huge jump last week, but he's still out there in nearly half of leagues. With the amount of targets he's getting, he needs to be owned more.
RB Javorius "Buck" Allen, BAL (8.6%)
He saw 19 touches this week, including five catches. He needs to be owned.
RB Chris Carson, SEA (9.7%)
Who is the starter, Lacy or Rawls? How many snaps will Prosise take from these two? Yeah, nobody saw this coming. Carson is the back to own in Seattle after a 21-touch game.
RB Chris Johnson, ARI (2.1%)
He's a hesitant add for you desperate fantasy owners. He only got 11 touches, but he did look the best out of that group. As long as the Cardinals don't bring someone else in, Chris Johnson should be the most valuable Cardinal back.
WR J.J. Nelson, ARI (20.7%)
John Brown is expected to miss week three, so Nelson is in position to receive a bunch of targets again. He has capitalized on those targets so far, as he's the third scoring WR in fantasy.
WR Jermaine Kearse, NYJ (6.5%)
This is getting annoying. I talked about him last week and the week before, yet he's still available in over 90% of leagues. Don't be a part of the statistic.
WR Mohamed Sanu, ATL (22.5%)
He's a must-own for a Julio Jones owner, but he's worth a look even if you don't have Julio.
TE Dwayne Allen, NE (0.9%)
Gronkowski got banged up against the Saints and stayed on the sideline the rest of the game. If the Patriots play this situation cautious and keep Gronk out, Allen will see a great opportunity.
TE Jason Witten, DAL (74.5%)
He's not available in many leagues, but if the #1 TE is there, pick him up.
TE Coby Fleener, NO (30.6%)
Fleener gets to enjoy another week without Willie Snead. If you're without your starting tight end this week, Fleener will be a good option.
TE Zach Miller, CHI (1.4%)
As long as he is healthy, Miller will see plenty of targets. The other receiving weapons in Chicago are a rookie running back and Kendall Wright, so I would target Zach Miller too.
TE Ben Watson, BAL (0.8%)
In week one, the Ravens barely passed the ball. Week two looked more like the offense we will see on a week-to-week basis, and Watson caught all eight of his targets. While this may be a little high, I think he can consistently see 5-6 targets per game.
D/ST Dolphins (3.3%)
The Dolphins are the next team with the privilege of playing the Jets.
Drop
QB Eli Manning, NYG (21.6%)
Could Eli become a top-12 QB on a week-to-week basis? Yes, but it will be next to impossible with the way his line is playing right now. Feel free to drop him, I don't think anyone will rush to pick him up.
RB Adrian Peterson, NO (100%)
Not a must-drop, but what you have seen is real. If the Saints defense keeps getting exposed (likely), then Peterson will stay on the sideline and shout as his coach. Kamara is obviously the future, and he has also looked much better than Peterson, so Kamara's role will only continue to grow. The only way Peterson becomes somewhat reliable is if he is traded somewhere else, and even then, he has a lot to work on before he's effective.
RB Danny Woodhead, BAL (94.1%)
If you can afford to hang onto the injury-prone RB for nearly two months while he out, go for it, but it's probably better to cut ties and move on.
RB Eddie Lacy, SEA (95.6%)
Lacy's time in Seattle is coming to a close. Single digit snaps against his former team in week one, then a healthy scratch this past week.
RB Darren McFadden, DAL (60.3%)
McFadden was a healthy scratch yet again. If Zeke misses time with injury, I think McFadden is upgraded to the lead back, but that's just my gut feeling.
RB Kerwynn Williams, ARI (22.3%)
Arians said last week that Williams would be his "featured back," but that was assuming he'd look good. Clearly that didn't happen, so he lost his opportunity.
WR Allen Robinson, JAC (91.9%)
What's going on? Either fantasy owners are in denial or ESPN's numbers are off. If he's on your team, obviously drop him.
WR Corey Coleman, CLE (88.5%)
Coleman broke his hand again and will be placed on IR, which means he's out until November. I don't think he's worth hanging onto at this point in the season.
WR Kevin White, CHI (59.9%)
Refer to Allen Robinson above.