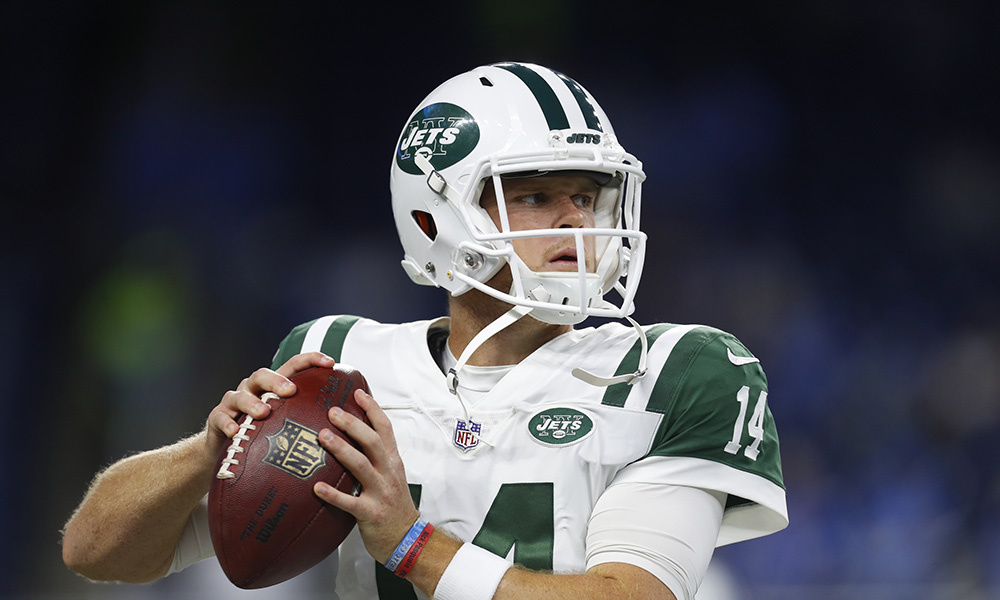 We made it through the first week of the NFL season! Hopefully, you got a win and escaped without injuries to your roster. Unfortunately, not everyone was this lucky, myself included. The first few weeks on waivers can win or lose you the season, so get your picks in quickly! I will be giving you some suggestions of players you should add or drop, with each player's ownership in ESPN leagues.
QB/RB Adds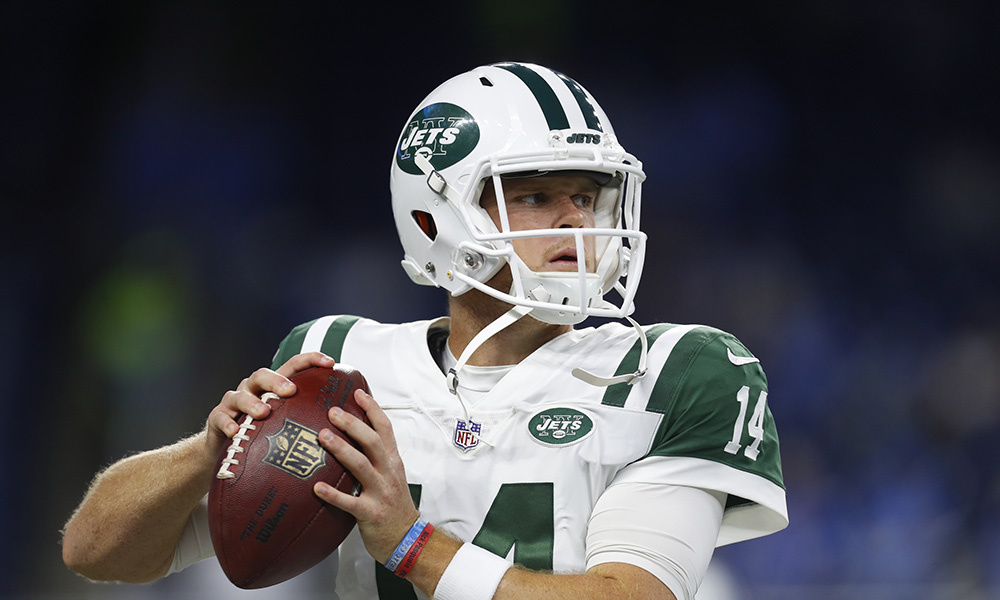 QB Sam Darnold, NYJ (8.3%)
Fresh off of his first NFL win, Darnold may be the waiver wire add to help QB-needy teams achieve victory. With several defensive and special team scores by the Jets, Darnold was not asked to do a lot. After throwing a pick-six of his own (his first pass attempt of the game) he responded well by tossing two touchdowns. Darnold used his scrambling ability to buy time for his receivers and he seemed to read the field well. He is ready for the NFL, are you ready to pick him up on your fantasy team?
QB Ryan Fitzpatrick, TB (1.6%)
The expectation for Fitzpatrick was to hold the fort while Jameis Winston served his suspension. What occurred was something not even the most diehard Fitzpatrick supporters could have seen coming. The veteran QB tossed four touchdowns and ran in another against what was last year, a very good Saints defense. If the Fitzmagic continues, Winston might not have his starting job in three weeks. Fitzpatrick is worth an add for fantasy teams looking for a QB.
Ryan Fitzpatrick shocked the NFL world! pic.twitter.com/c4CEOWWG69

— FlurrySports (@FlurrySports) September 9, 2018
RB T.J. Yeldon, JAC (8.0%)
The one-time lead back in Jacksonville might get another shot at the job. Leonard Fournette left the Jaguars opening game with a hamstring injury. Yeldon came in and had 69 scrimmage yards and a TD. He had 14 rush attempts and was targeted 7 times. With that type of workload, Yeldon can be useful to fantasy teams in most formats.
RB Phillip Lindsay, DEN (2.0%)
Lindsay is not the RB everyone thought would be fighting for work. Rookie Royce Freeman got a healthy dose of touches but *spoiler alert* Devontae Booker was a non-factor in week 1. Lindsay matched Freeman's 15 carries and he was targeted three times. He even took one of those passes 29 yards for a TD. With another performance like this, Lindsay will solidify his third-down role, with enough carries to be a flex play in most formats. For a breakdown of the Broncos backfield in week 1 with snap counts, click here.
Pass Catcher Adds
WR Tyler Lockett, SEA (53.7%)
It is difficult to say breakout when discussing a player who scored 8 TDs as a rookie. That is what Lockett is on the verge of doing in 2018. In light of Doug Baldwin's knee injury, (notice a theme?), Lockett is the Seahawks receiver with the most experience and chemistry with QB Russell Wilson. We now essentially have a team's #1 WR that is owned in only half of fantasy leagues. If you are in the other half of leagues, put in a claim now.
WR John Brown, BAL (21.6%)
The title of #1 WR in Baltimore is up for grabs. Still, the receiver on Joe Flacco's longest pass play should have a higher ownership than 21.6%. All offseason, there seemed to be nothing but positive reports about Brown. The former 1,000-yard receiver has a skill set that Flacco can utilize to its fullest potential. With a speedy guy like Brown, you'll want to hurry and grab him off the waiver wire before it's too late.
WR Cole Beasley, DAL (12.4%)
I can already tell this will be a reoccurring mention in these weekly articles. I have been preaching for Cole Beasley on fantasy squads everywhere from Twitter, to my podcast, and even on FlurrySports for quite some time. He's Dak Prescott's favorite target. Plain and simple. He's even expanded his role from previous seasons and led the receivers in snap count in week 1. So if you're in a PPR league especially, check to see if Beasley is there.
WR Chris Godwin, TB (33.7%)
Chris Godwin received plenty of preseason hype, but it was DeSean Jackson getting the work on Sunday. However, DJax is expected to miss week 2. Godwin has played 40 snaps just four times in his career, and he had double-digit PPR fantasy points in all of them.
TE Jared Cook, OAK (28.4%)
Do you think Jon Gruden wants to utilize the tight end? Good Lord. Gruden has talked up Cook even before returning to the sideline, but nobody expected him catch 9 passes for 180 yards last night. The Rams aren't phenomenal against tight ends, but this wasn't a fluke. Pick him up.
TE Jonnu Smith, TEN (0.2%)
Yet another week 1 injury causes a player's fantasy stock to rise. Smith will probably not take over all of Delanie Walker's workload right away. However, Smith is a talented TE who has high expectations, after being selected in the third round of last year's draft. After a poor showing in week 1, the Titans may look to inject some more young talent into the offense regularly. QB Marcus Mariota has relied on his TE before, so this may be the time to grab Smith before he has a breakout.
Drops
RB Devontae Booker, DEN
Throughout training camp, Booker was constantly at the top of the RB depth chart. That makes his workload in week 1 all the more perplexing. Two carries (both in the second half) and two targets (which he caught both of). Again, click here for the full breakdown of that backfield, then drop Booker afterwards.
WR Cameron Meredith, NO
The offseason acquisition was an interesting late-round flier in fantasy drafts. Joining a highly productive offense, some thought Meredith could see a lot of time in the slot for the Saints. However, in week 1 he only saw the field from afar, as he was inactive. Meredith spent 2017 recovering from an ACL tear, so perhaps the Saints thought he was not quite ready. He did, however, play in the preseason, therefore it appears the Saints have more faith in their other options.
TE Delanie Walker, TEN
This is one of those injuries I was talking about. Walker broke his ankle and suffered ligament damage. The productive TE will miss the rest of the season and can be dropped in redraft leagues.
TE Cameron Brate, TB
In the offensive shootout that occurred in week 1, it is surprising that Brate did not catch a pass or even see a target. While the Buccaneers other receiving options were lighting up the Saints defense, Brate remained silent. Perhaps Jameis Winston would target TE more than twice, as Fitzpatrick did. At this point, however, it is not certain that a QB change will happen. There are much better options than Brate out there.
Are you looking for another way to play NFL DFS every week? Join the highest-rated fantasy football app, DRAFT! Drafts start every couple minutes, so you can enter one right now for week 2!
If you click the picture or this link to sign up and use the promo code "FlurrySports," you get a free entry into a $3 game! There's not much better than free money, so sign up today!
Related Articles
Overreaction Monday: NFL Week 1
Broncos' Running Back Committee