ACC basketball went through the gauntlet this week as they started the week with the ACC/BIG10 challenge and finished with conference play. Due to the schedule, there were a flurry of outcomes, with some teams losing big, some winning big and some getting upset. There are no undefeated teams left in the ACC after this week. If you want to understand how crazy this week has been, Boston College is tied for number one in the conference. With that being said, let's look at an updated Atlantic Coast Conference.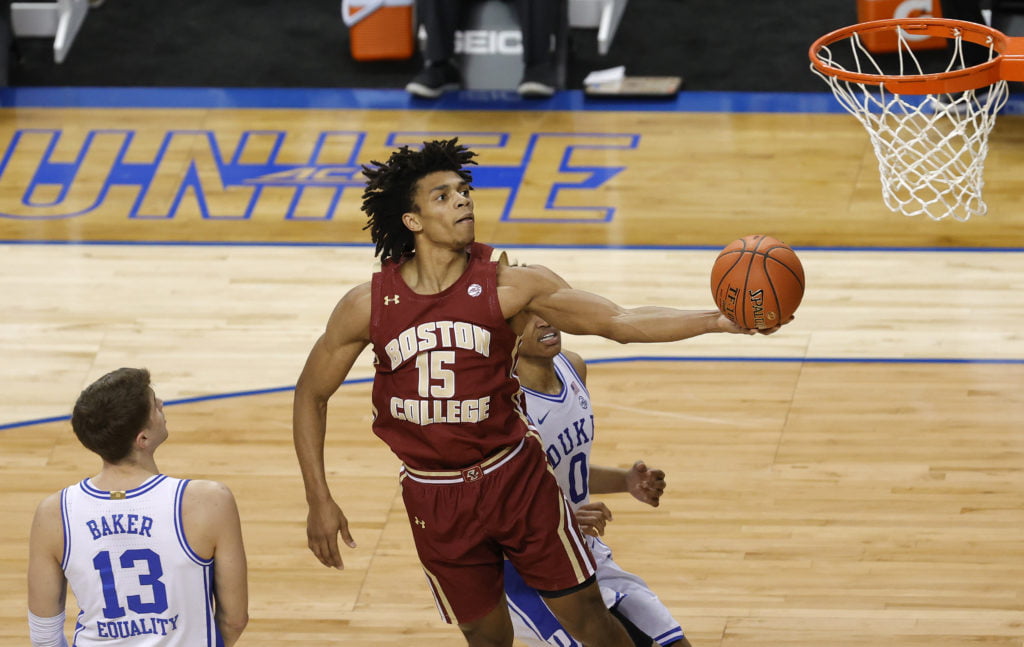 ACC Basketball Weekly Headlines
Like I said before, Boston College is tied to be atop the conference right now. They started their conference season off with a win over Notre Dame. Wake Forest, North Carolina, Louisville, Miami, Virginia and Syracuse are tied with the Eagles. The only team that has not played a conference game yet is Duke. Wake Forest outplayed expectations, as they went 2-0 on the week with wins over Northwestern and Virginia Tech.
Duke Loses to Ohio State
The Blue Devils started their week off by taking on an unranked Ohio State team. Duke traveled to Columbus, where they went down to the Buckeyes, 71-66.
Coach K and Duke took a 13-point lead into halftime. However, they grew their lead in the first couple of minutes of the second half to get it to 15. After that, the Blue Devils went ice cold. The Buckeyes took advantage and made a great second-half comeback. With 1:06 remaining in the game, Buckeye big man E.J. Liddell stepped to the line for two foul shots. On the night, the Buckeyes struggled at the line, hitting only 11 of 12 free throws. However, in this situation, Liddell nailed both to give the Buckeyes their first lead since early in the second half. Then, on the next possession for Ohio State, Liddell widened the margin to three after hitting a tough jump-shot.
Paolo Banchero missed a game-tying three in the final seconds, and Cedric Russell nailed two free throws to give the Buckeyes a huge early-season victory. Buckeye head coach Chris Holtmann had this to say after the win.
Syracuse and Florida State Open ACC Play with a Wild Ending
Florida State led the game at halftime, 32-24, but almost immediately went cold. The Orange opened the second half scoring 19 out of the first 25 points, culminating in a 43-30 lead. With just under six minutes in the game, Syracuse led, 55-44. These leads came after Florida State shot an abysmal 20% from the field in the second half.
With 42 seconds left, the Seminoles found themselves down, 61-60. After Syracuse turned the ball over on their possession, Florida State gave the ball right back with 12 seconds left in the game. Fouling came into play, as the Seminoles were forced to foul twice to get to the bonus. Syracuse's Cole Swider put in two free throws to go up, 63-60. On the Seminoles' final possession, they missed two three-pointers to lose the game.
Updated ACC Basketball Standings
| | | |
| --- | --- | --- |
| School | Conf. Record | Record |
| Wake Forest | 1-0 | 8-1 |
| North Carolina | 1-0 | 6-2 |
| Louisville | 1-0 | 6-2 |
| Miami (FL) | 1-0 | 6-3 |
| Boston College | 1-0 | 6-3 |
| Virginia | 1-0 | 6-3 |
| Syracuse | 1-0 | 5-3 |
| Duke | 0-0 | 7-1 |
| North Carolina State | 0-1 | 6-2 |
| Virginia Tech | 0-1 | 6-3 |
| Georgia Tech | 0-1 | 5-3 |
| Florida State | 0-1 | 5-3 |
| Clemson | 0-1 | 5-4 |
| Notre Dame | 0-1 | 3-4 |
| Pittsburgh | 0-1 | 2-6 |
Upcoming ACC Basketball Games to Note
ACC basketball will have several opportunities to make more headlines in the upcoming week. Here are a handful of games to watch for throughout this coming week.
Syracuse vs. Villanova
Date: Tuesday, December 7
Time: 9:30 P.M. EST
TV Coverage: ESPN
Louisville vs. DePaul
Date: Friday, December 10
Time: 8:00 P.M. EST
TV Coverage: ACC Network
Boston College vs. Saint Louis
Date: Saturday, December 11
Time: 5:00 P.M. EST
TV Coverage: NBC Sports Network