Sports are a great place to relax your mind from work and life. With that being said, sports can sometimes be very intense. The professional athletes in sports leagues across the world are some of the best in their craft, which sets up fun and intriguing matchups. Outside of the matchups, with players as good as they are, there are sure to be some crazy stats. This article dives into the craziest and most mind-blowing stats/records that have ever been recorded in professional sports.
Mind-Blowing Stats – Football
• Larry Fitzgerald has more career tackles than career drops.
• Based on percentages, Tom Brady is more likely to make a Super Bowl than Steph Curry is to make a three-point shot.
• The Cleveland Browns are the only team to have neither played in or hosted a Super Bowl.
• Joe Gibbs is the only coach in NFL history to win a Super Bowl with three different quarterbacks.
• During the 2014 NFL season, Kansas City had 18 touchdown passes, 0 went to wide receivers.
• Chiefs running back, Jamaal Charles scored 51.5 fantasy football points on 10 rushing yards.
• Only three players have caught a pass after they turned 40. Jerry Rice (185), Brett Favre (1), Tom Brady (1).
• Peyton Manning has a longer career rush than Trent Richardson.
Mind-Blowing Stats – Basketball
• In the 1961-62 NBA season, Wilt Chamberlain averaged 50.4 points per game and 25.7 rebounds per game, Oscar Robertson averaged a triple-double and Elgin Baylor averaged 38.3 points per game and 18.6 rebounds per game. None of these three won the MVP (Bill Russell).
• Manute Bol has more career blocks than points.
• Cal Bowdler received seven fouls in one game.
• Draymond Green recorded a triple-double without points.
• Eric Money played for and scored for both teams in a game.
• Vince Carter has played against 37% of players to play in the NBA.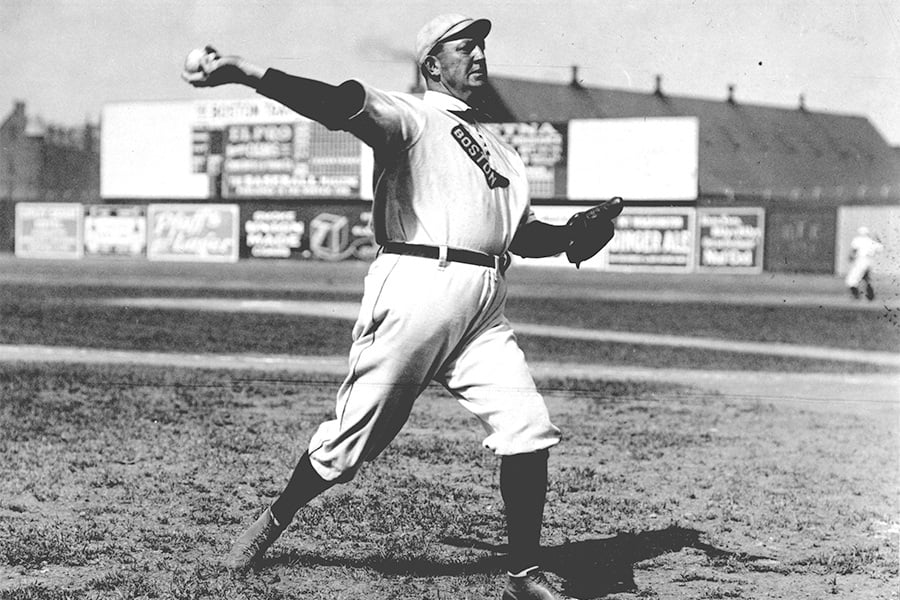 Mind-Blowing Stats – Baseball
• More people have walked on the moon (12) than have scored an earned run against Mariano Rivera (11) in the playoffs.
• Cy Young compiled 511 wins in his career. In 22 seasons, he averaged 23.23 wins per year.
• There have been eight 60+ home run seasons in MLB history. Sammy Sosa has three of them.
• Ken Griffey Jr. is second all-time in hits by a left-handed outfielder born in Denora, Pennsylvania on November 21 (Stan Musial).
• Stan Musial has 3,630 career hits. 1,815 coming at home, 1,815 coming on the road.
• Greg Maddux faced 20,241 batters during his career. Only 310 of them saw a 3-0 count. 177 of them were intentional walks.
• Fernando Tatis Sr. hit two grand slams in one inning.
• You would have to add 1,183 hitless at-bats to Tony Gwynn to see his career batting average dip below .300.
• Tony Gwynn has 11 more four-hit games than multi-strikeout games.
• Greg Maddux threw a 76 pitch complete game.
Mind-Blowing Stats – Hockey
• If Wayne Gretzky never scored a goal, he would still be the all-time leading scorer in NHL history.
• Mario Lemieux is the only player to score a goal five different ways in one game. (Even Strength, Power Play, Short-Handed, Penalty Shot and Empty Net)
• Bill Mosienko scored three goals in 21 seconds.
• Darryl Sittler scored 10 points in one game.
• Tiger Williams accumulated 300+ penalty minutes six times in his career.
Mind-Blowing Stats – Soccer
• Since 1982, Bayern Munich has had at least one player in the starting line-up in every World Cup final.
• Lionel Messi scored 91 goals in a calendar year (69 games).
• Fernando Torres scored in seven competitions in one year.
• Pele won his first World Cup at 17 years old.
• Dundee United is the only English Club to have 100% versus Barcelona.
• Denmark won the 1992 European Champions without qualifying for the tournament.
Mind-Blowing Stats – Golf
• Tiger Woods made 144 cuts in a row on the PGA Tour.
• Charles Kocsis won the PGA Tour in 1931 at 18 years old.
• Andrew Magee hit a hole-in-one on a par 4.
• Babe Zaharias is the only woman to ever make the cut in a male PGA Tour event.
Mind-Blowing Stats – Olympics
• There have been three Olympic Games held in countries that no longer exist.
• Michael Phelps won 23 Olympic medals.
• Ian Millar appeared in 10 straight Olympic Games.
• 13-year-old Marjorie Gestring won a gold medal in 1936.
• The United States won 239 medals in the 1904 Olympic Games