I think it's about time we can call DeMarcus Cousins a more emotional, not as good, Dwight Howard 2.0. Earlier today, Cousins was released from the Houston Rockets. While Cousins is still only 30 years of age, injuries have plagued his career, recently. When you add in the fact that he has not been very effective and Christian Wood has emerged as a solid, borderline elite, big man, and it's no wonder he's walking. 
There are reports swirling around that Cousins was frustrated in his backup role and wanted to start. Whether these reports are true or not, it doesn't really matter all that much. NBA fans already know the type of player Cousins is. He is an extremely passionate and, at times, toxic player who will give a team everything he has….as long as he's happy.
What teams would be willing and able to take on the enigma that is DeMarcus Cousins? Here are the three most likely DeMarcus Cousins free agent destinations.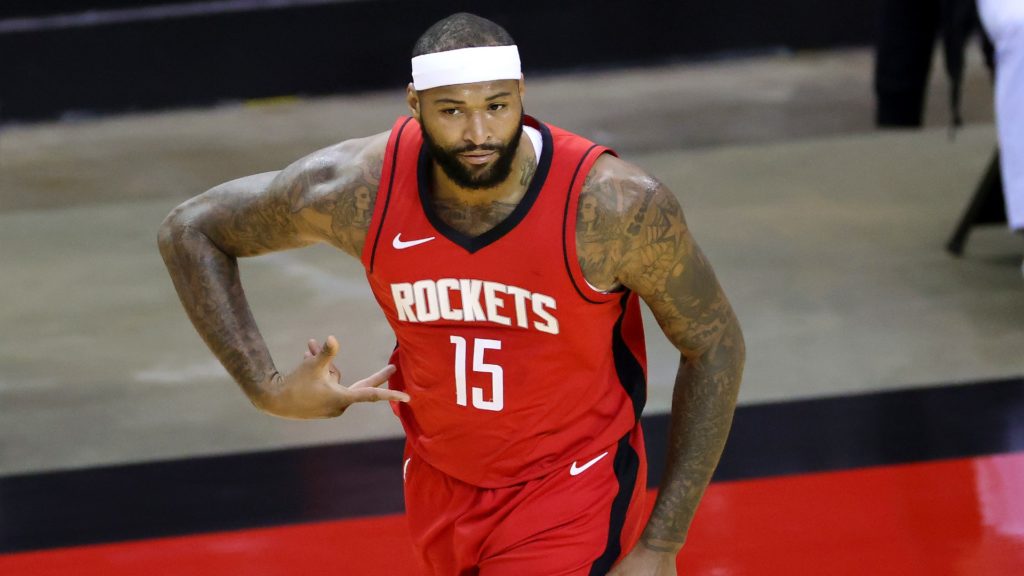 DeMarcus Cousins Free Agent Destinations
New York Knicks
While the Knicks are a measly 15-16, that's good enough for the seven seed in the Eastern Conference. The Knicks are bursting at the seams with power forwards, but really don't have a solid center. Just last week, starting center Mitchell Robinson underwent surgery for a fractured hand. Nerlens Noel is a less than the ideal replacement for New York. Cousins still has enough left in the tank to at least keep the Knicks afloat while Robinson is gone.
Even when Robinson does return, he's hardly much of an impact player. Cousins could easily stay the Knicks starter even when Robinson does return. The icing on the cake for the Knicks is they have the most salary cap room in the league, with over $15 million collecting dust in the corner. Why not put some of that to use on a cheap Cousins who could surely make sure the Knicks finally get back to the playoffs again?
Charlotte Hornets
Does anyone in the world who knows NBA basketball believe Cody Zeller should be a starter in the league? Seriously, this guy was a bust even before he played a single game. It was extremely obvious, to everyone but Charlotte apparently, that his game would not translate. The Hornets have so little talent at the position outside of him that he is somehow starting. Charlotte sits a half game out of the eighth spot in the East, and adding Cousins would almost certainly put them over the top to sneak in.
Even if Cousins is mostly used as a rebounder and a guy to occasionally go to, he will certainly be effective. If nothing else, he can be one heck of a player the defense has to at least worry about if he stays healthy and is allowed to carve out a role.
Golden State Warriors
Every "expert" is saying the Los Angeles Lakers, and I can see why. He's had experience and he'd be able to fill out the backup role. What about Golden State, though? The Lakers have center Montrezl Harrell, who has a player efficiency rating (PER) of over 22 right now (for reference 20+ is seen as very good while 15 is average). The Warriors also already have experience with Boogie. While James Wiseman is stuffing the stat sheet, the metrics, specifically PER, say he's just average. Bringing in Cousins would not only help with the development of Wiseman, but would also give the Warriors a serviceable backup at the position.
The one problem with the Warriors would be the salary cap issue. While the Warriors can simply go deeper into the luxury tax, for obvious reasons that isn't ideal. On top of this, there are likely to be a few suitors for Cousins, in which case it's harder to see him take less money. However, if Cousins is one thing, it is unpredictable, and he could help the Warriors, who are somehow the eighth seed in the Western Conference, solidify their place in the playoff race.