Following the NBA Draft Lottery, the San Antonio Spurs hold the number one pick in the 2023 NBA Draft. It seems likely that they will draft yet another generational player, Victor Wembanyama. Not many liked that San Antonio came away with the top pick, as the team's last two times selecting first resulted in Tim Duncan and David Robinson. While Wembanyama will be the first pick, it will be interesting to see how the rest of the first round shakes out, the 2023 NBA Mock Draft community seems to be torn on who will go next.
Was Brandon Miller's poor NCAA Tournament enough to cause him to fall to the third pick? Where do the Thompson brothers land? With Jordan Hawkins having the best NCAA Tournament out of those in the draft, does he sneak into the lottery picks? All of those questions and more will be answered in this 2023 NBA Mock Draft.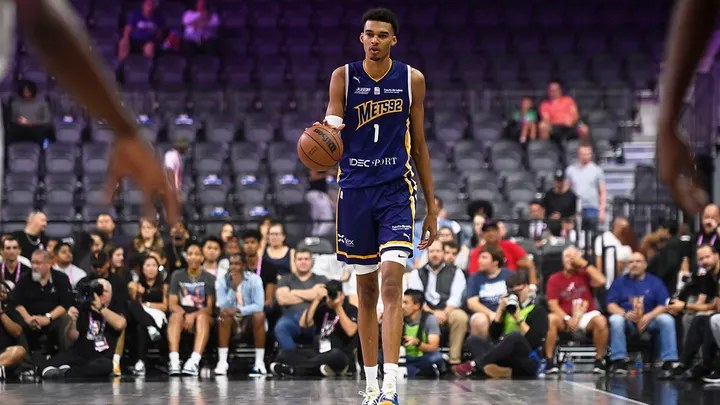 Updated 2023 NBA Mock Draft | First-Round Projected Order
1. San Antonio Spurs – Victor Wembanyama – France
In the 2022-23 season in France, Victor Wembanyama averaged 21.5 points per game and 10.4 rebounds per game on 56% shooting. Thought of as a generational and franchise-changing talent, Wembanyama may be the most-hyped NBA prospect since LeBron James.
The San Antonio Spurs have been in NBA purgatory since the retirement of Tim Duncan. Wembanyama's combination of size, speed, and wingspan is something that has never been seen before in NBA history. This selection should instantly jolt the Spurs back into the playoff picture, as Wembanyama can take the burden off of the shoulders of many of the young guys they have there now.
Wembanyama is a guard in a center's body, who is just as capable of taking his defender off the dribble and finishing strong in the paint, as he is hitting a fading, one-legged three-pointer. He is not going to be hitting one-legged threes in the NBA, but his eight-foot wingspan should be enough alone to create his own shots and lock down on defense.
Player Comparison: Kristaps Porzingis
2. Charlotte Hornets – Scoot Henderson – G-League Ignite
With G League Ignite producing as many NBA players as they do, there may not be one that has been better or is going to be better than Scoot Henderson. His physical tools set him apart from other guards in this 2023 NBA Mock Draft, as the 18-year-old stands at 6-3 and weighs just short of 200 lbs. His long arms, ability to finish at the rim and exceptional passing ability should be enough to make him an impact player in the NBA.
Adding Henderson to a team that is led by LaMelo Ball should provide some sort of relief for Hornets fans. Ball is obviously a ball-dominant guard, but with Henderson in the mix, Ball can go back to his high-school days of playing off of the ball. Henderson's energy and defensive skills should be a huge factor moving forward as the Hornets continue to rebuild their team.
Player Comparison: Russell Westbrook
3. Portland Trail Blazers – Brandon Miller – Alabama
In my last NBA mock draft, I had Brandon Miller selected second. Since then, Miller had a very poor NCAA Tournament, leading many to drop him a spot or two down their draft board. I don't think that he should totally be judged on this tournament, as he still was far and away the best player in college basketball last season. Obviously, his legal troubles are a concern, but his overall talent should be enough for the Trail Blazers to spend a pick on him here. Miller has the ability to take over the game with his length and scoring ability. He played the guard position in Alabama, but will probably be used more as a three in the NBA. If he is used at a two, there aren't many who have the ability to match up with his 6-9 frame.
Adding Miller to Portland should give Damian Lillard the best offensive player that he has played with since LaMarcus Aldridge. Portland needs to take Miller to take some of the weight off of Lillard's shoulders. Wembanyama will probably win Rookie of the Year, but Miller is a sneaky pick if you are a betting person, especially if he lands in Portland.
Player Comparison: Danny Granger
4. Houston Rockets – Amen Thompson – Overtime Elite
If the Rockets are serious about a James Harden or Khris Middleton trade, I can see this pick being a part of that trade. In this scenario, I have Houston taking Amen Thompson. Given a little development, Thompson should be able to develop somewhat into a lead guard. Whether Jalen Green is on the team next year or not, Thompson should be able to slide into the two or one positions.
Thompson is everything you want from a slashing guard. At 6-7, Thompson loves to play above the rim, whenever he can find a lane or sneak behind a defense. Thompson will need to improve his three-point shooting to become a potential all-star, but he should have all of the opportunity to do so with a Houston team who is not close to contending.
Player Comparison: Andre Iguodala
5. Detroit Pistons – Ausar Thompson – Overtime Elite
If this pick seems eerily similar to the previous pick, you probably aren't the only one noticing that. Ausar and Amen are twin brothers who share a lot of the same game. Ausar plays with a little faster pace than Thompson, which should fit Detroit's playing style. Cade Cunningham will be back next year, but the Pistons need someone to handle their second unit. While Thompson will be projected to be an off-guard, or even a three, he has the ability to move in transition. With Jaden Ivey's strength of his game being speed in transition, adding Thompson will give this ability to the bench unit as well. He shoots a little bit better than his brother, but will need to continue to improve upon it to become a strong NBA player.
Player Comparison: Jason Richardson
6. Orlando Magic – Cam Whitmore – Villanova
The Orlando Magic have a very interesting roster, comprised of players who succeeded in college. Paolo Banchero was the Rookie of the Year and for good reason. Orlando's starting lineup is solid, but its bench unit could use a little bit of help. Whitmore has outstanding scoring ability. His best feature is finishing at the rim. Whitmore has never seen a dunking opportunity that he hasn't loved. Whitmore will provide much-needed scoring off of the bench for a Magic team that greatly lacked it last season. The Magic are still a couple of pieces away from seriously contending, so adding a dynamic player like Whitmore can only help them out. His athleticism should be perfect for a young Magic team.
Player Comparison: Jaylen Brown
7. Indiana Pacers – Jarace Walker – Houston
Over the last couple of seasons, Indiana's relationship with Myles Turner has seemingly soured. If Indiana finally pulls the trigger or continues to look to shop Turner, Walker should be able to slide into the rim-protecting position perfectly. At 6-8, 240 pounds, Walker contains a 7-2 wingspan.
The Pacers have a couple of holes to fill on their roster, so I think that they go "best player available" here. Jarace Walker really made his name stand out towards the end of the season, going to the NCAA Tournament with Houston. Walker showed his dominance inside as he is a big forward who should be able to play down low with some physicality. He will make his money in the NBA on the defensive side of the ball. Walker should also provide Indiana with some much-needed rebounding.
More than just rebounding and defending, Walker has shown flashes of above-average court vision. All that culminated with a soft touch inside, should give Indiana an instant contributor.
Player Comparison: Paul Millsap
8. Washington Wizards – Anthony Black – Arkansas
Anthony Black started his college season off hot without teammate Nick Smith in the fray. In Maui, Black averaged just over 22 points, while shooting 40% from three. Black is lanky and has the ability to switch on to almost any player in college basketball. Questions surrounded his offensive game coming into the 2022-23 season. Black proved those questions wrong as he was able to settle into the number one scoring role with Smith out. He has great court vision and understands the game of basketball well. If he can improve his defense, Black may be an instant contributor to Washington.
Player Comparison: Josh Giddey
9. Utah Jazz – Nick Smith Jr. – Arkansas
Nick Smith Jr. is an awesome passing point guard, who oftentimes finds the open teammate before the defense realizes that they are open. More than that, Smith has shown that he can consistently finish in the paint, often resorting to a good-looking floater. He always wants to run in transition and with a solid three-point shot-making ability, that may be what the Jazz need to take over the offense.
Player Comparison: Gilbert Arenas
10. Dallas Mavericks – Keyonte George – Baylor
Keyonte George may have been the best player on a veteran-led Baylor team. His instincts as a scorer should immediately grab the attention of NBA scouts, as the freshman is a three-level scorer. He is no slouch on defense either. Dallas is not in any immediate need of a scorer, especially from the guard position, but I think that they need to go best available player in this 2023 NBA Mock Draft. Dallas' problem is on defense, and with no big-time defender here, the Mavericks taking George should make them one of the best offensive teams in the league.
Player Comparison: Eric Gordon
11. Orlando Magic – Taylor Hendricks – UCF
12. Oklahoma City Thunder – Gradey Dick – Kansas
13. Toronto Raptors – Cason Wallace – Kentucky
14. New Orleans Pelicans – Dariq Whitehead – Duke
15. Atlanta Hawks – GG Thompson – South Carolina
16. Utah Jazz – Jett Howard – Michigan
17. Los Angeles Lakers – Kobe Bufkin – Michigan
18. Miami Heat – Rayan Rupert – France
19. Golden State Warriors – Kris Murray – Iowa
20. Houston Rockets – Leonard Miller – G-League Ignite
21. Brooklyn Nets – Jordan Hawkins – Connecticut
22. Brooklyn Nets – Maxwell Lewis – Pepperdine
23. Portland Trail Blazers – Terquavion Smith – North Carolina State
24. Sacramento Kings – Trayce Jackson-Davis – Indiana
25. Memphis Grizzlies – Jalen Wilson – Kansas
26. Indiana Pacers – Bilal Coulibaly – France
27. Charlotte Hornets – Bobi Klintman – Wake Forest
28. Utah Jazz – Trey Alexander – Creighton
29. Indiana Pacers – Noah Clowney – Alabama
30. Los Angeles Clippers – Julian Strawther – Gonzaga