The 2022 USA Powerlifting Nationals meet is officially upon us! Over the next several days, the best strength athletes from across the country will converge on Fabulous Las Vegas, Nevada. This year's USAPL Mega Nationals meet is being hosted by the Westgate Las Vegas Resort and Casino. The meet will span nearly an entire week. Multiple sessions are scheduled on each of the six competition days.
The following serves as a one-stop-shop for all vital and pertinent information for the USAPL Nationals meet. Read on for the 2022 USA Powerlifting Nationals meet dates, session times and a complete day-by-day schedule breakdown.
USAPL Nationals Meet Info
2022 USA Powerlifting Mega Nationals
Dates: June 7-12
Start Times: 8 a.m. PDT (Primetime Sessions begin at 6 p.m.)
Venue: Westgate Las Vegas Resort and Casino — Las Vegas, NV
USAPL Mega Nationals Ticket Info
Compared to other sporting events, tickets to attend the 2022 USA Powerlifting Nationals can be obtained at a bargain price! Fans can witness the best strength athletes in the country compete for all of $15 per session. Tickets for all Primetime sessions can be pre-purchased online through the USAPL website.
Athlete coaches are able to purchase a coaching pass to any session at the meet for the price of $10. Note that there is no fee for coaches to attend Session 2 of the Youth Nationals on Tuesday.
Complete 2022 USAPL Nationals Meet Schedule
Although the final schedule for the USA Powerlifting Nationals meet will not be locked in until after the late registration deadline passes, a detailed overview of the event has already been released. Below is a day-by-day roadmap and breakdown of the USAPL Nationals schedule that may be useful to athletes, event attendees, or those watching the meet via live stream.
Note: "Kilograms" abbreviated as "kg", "Pounds" abbreviated as "lbs" throughout schedule breakdown
Tuesday, June 7th
Session 1 — TBA
Session 2 — Youth Nationals

All divisions and weight classes

Session 3 (Primetime) — Youth Nationals (Raw and Equipped)

Primetime lifters selected based on highest qualifying totals
Wednesday, June 8th
Session 1 — Female Bench Nationals (Raw and Equipped)

All divisions and weight classes

Session 2 — Male Powerlifting Nationals (Raw and Equipped)

Includes both Open and Master Divisions for the following weight classes:

52 kg (114.6 lbs)
56 kg (123.5 lbs)
60 kg (132.2 lbs)
67.5 kg (148.8 lbs)
75 kg (165.3 lbs)

Session 3 (Primetime) — Male Powerlifting Nationals (Raw and Equipped)

Includes both Open and Master Divisions for the following weight classes:

52 kg (114.6 lbs)
56 kg (123.5 lbs)
60 kg (132.2 lbs)
67.5 kg (148.8 lbs)
75 kg (165.3 lbs)

Primetime lifters selected based on highest qualifying totals
Thursday, June 9th
Session 1 — Female Powerlifting Nationals (Raw and Equipped)

Includes both Open and Master Divisions for the following weight classes:

44 kg (97.0 lbs)
48 kg (105.8 lbs)
52 kg (114.6 lbs)
56 kg (123.5 lbs)
60 kg (132.2 lbs)

Session 2 — Female Powerlifting Nationals (Raw and Equipped)

Includes both Open and Master Divisions for the following weight classes:

44 kg (97.0 lbs)
48 kg (105.8 lbs)
52 kg (114.6 lbs)
56 kg (123.5 lbs)
60 kg (132.2 lbs)

Session 3 (Primetime) — Female Powerlifting Nationals (Raw and Equipped)

Includes both Open and Master Divisions for the following weight classes:

44 kg (97.0 lbs)
48 kg (105.8 lbs)
52 kg (114.6 lbs)
56 kg (123.5 lbs)
60 kg (132.2 lbs)

Primetime lifters selected based on highest qualifying totals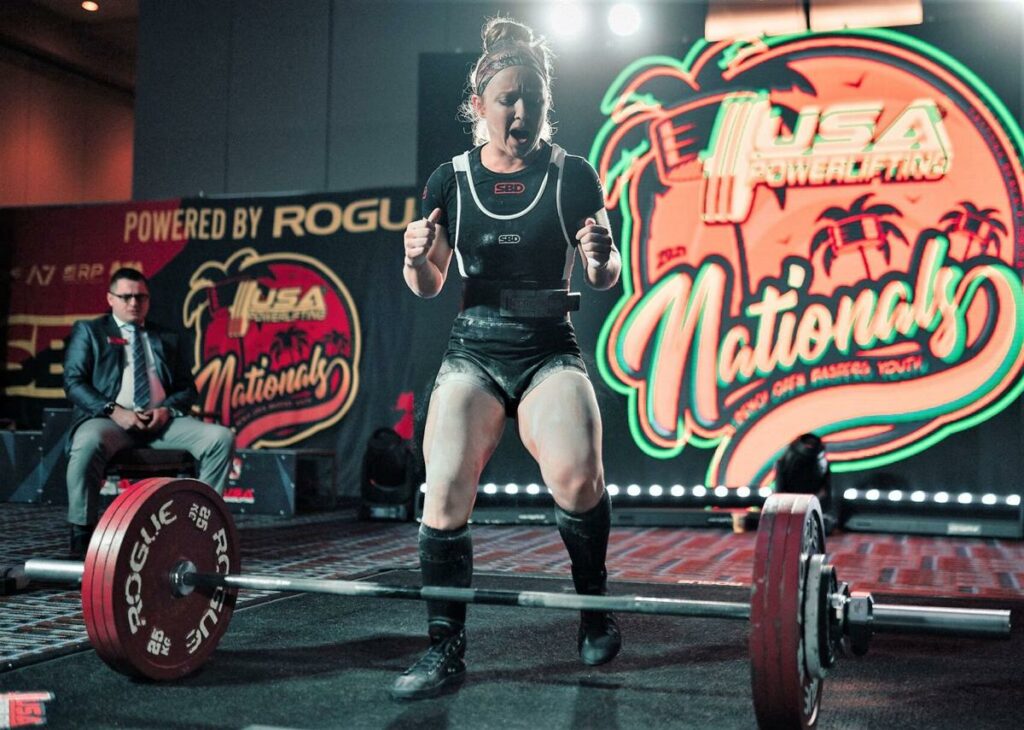 Friday, June 10th
Session 1 — Female Powerlifting Nationals (Raw and Equipped)

Includes both Open and Master Divisions for the following weight classes:

67.5 kg (148.8 lbs)
75 kg (165.3 lbs)

Session 2 — Male Powerlifting Nationals (Raw and Equipped)

Includes both Open and Master Divisions for the following weight classes:

82.5 kg (181.9 lbs)
90 kg (198.4 lbs)

Session 3 (Primetime) — Male and Female Powerlifting Nationals (Raw and Equipped)

Includes both Open and Master Divisions for the following weight classes:

Female:

67.5 kg (148.8 lbs)
75 kg (165.3 lbs)

Male:

82.5 kg (181.9 lbs)
90 kg (198.4 lbs)

Primetime lifters selected based on highest qualifying totals
Saturday, June 11th
Session 1 — Male Bench Nationals (Raw and Equipped)

All divisions and weight classes

Session 2 — Female Powerlifting Nationals (Raw and Equipped)

Includes both Open and Master Divisions for the following weight classes:

82.5 kg (181.9 lbs)
90 kg (198.4 lbs)
100 kg (220.5 lbs)
100+ kg (220.5+ lbs)

Session 3 (Primetime) — Female Powerlifting Nationals (Raw and Equipped)

Includes both Open and Master Divisions for the following weight classes:

82.5 kg (181.9 lbs)
90 kg (198.4 lbs)
100 kg (220.5 lbs)
100+ kg (220.5+ lbs)

Primetime lifters selected based on highest qualifying totals
Sunday, June 12th
Session 1 — Male Powerlifting Nationals (Raw and Equipped)

Includes both Open and Master Divisions for the following weight classes:

100 kg (220.5 lbs)
110 kg (242.5 lbs)

Session 2 — Male Powerlifting Nationals (Raw and Equipped)

Includes both Open and Master Divisions for the following weight classes:

125 kg (275.6 lbs)
140 kg (308.6 lbs)
140+ (308.6+ lbs)

Session 3 (Primetime) — Male Powerlifting Nationals (Raw and Equipped)

Includes both Open and Master Divisions for the following weight classes:

100 kg (220.5 lbs)
140+ (308.6+ lbs)

Primetime lifters selected based on highest qualifying totals