With the all-star games having passed and the Scouting Combine approaching quickly, it's a good time to take a look at the updated big board for the 2022 NFL Draft.
While many question how working out without pads can significantly impact these players' final grades, I argue that it's not so much the testing numbers as much as living up to the expectation. These workouts are like the final exam at the end of a school year. The process is vital. It's much more than the "Underwear Olympics," as some have deemed them.
With that in mind, here are my top 2022 NFL Draft prospects leading up to the next month and a half of workouts.
---
---
2022 NFL Draft Prospects: 41-60
41. Darian Kinnard, OL, Kentucky
Darian Kinnard is a fun player to watch if you like smash-mouth football. His powerful hands, core strength, and leg drive combine for a player that gets tons of movement in the run game. I also love his grip strength, though he can have trouble anchoring down in pass protection.
Kinnard's so-so athleticism and footwork may make guard his best position. It's not that he can't be a tackle in the NFL, but his ceiling is higher on the inside where space is limited. Still, the offensive scheme he is drafted into will likely be the determining factor for his NFL position. Don't be shocked his name is off the board before the first round is over.
42. Cameron Thomas, DE, San Diego State
While we didn't get to see him compete in Mobile, I thought Cameron Thomas would shine with his explosion off the snap and violent hands. His ability to quickly convert speed to power and get movement on the blocker is impressive, and his hands never quit fighting.
Thomas has also worked hard to become a versatile pass rusher, as he uses a variety of techniques to beat the man across from him. The Aztecs' coaching staff also lined him up all over the defensive front. He may not have the same ankle or torso flexibility as Michigan's David Ojabo, but there are quite a few similarities between the two.
43. Perrion Winfrey, DT, Oklahoma
There is a lot to like about Perrion Winfrey's game, as he is a violent, high-motor player capable of single-handedly shutting down drives. The guy fires off the snap with an impressive burst, and he may have some of the strongest hands in the class.
The biggest knock for me is his focus, as his effort never waivers. However, there are times that I think he gets locked in on the battle with the blocker, and it compromises his ability to make the play. Still, the energy he plays with is infectious, and he can wreak havoc on all three downs.
44. Chad Muma, LB, Wyoming
Chad Muma continues to move up boards after a strong showing in Mobile. There just aren't many things he can't do at linebacker. He is quick to react to his keys, and plays the game at full speed with sideline-to-sideline range.
Muma has no reservations about navigating through traffic, and he is a disciplined tackler that always brings his arms with him. In addition, he also shows very good range in coverage and has drawn comparisons to a lightly smaller version of Leighton Vander Esch.
45. Jalen Wydermyer, TE, Texas A&M
My second-ranked tight end, Jalen Wydermyer could be the top prospect selected at the position for a team looking to add a traditional skill set. Wydermyer made an early impact at Texas A&M, quickly proving to be a physical blocker and a mismatch nightmare in coverage.
However, I hoped to see him improve at separating in his routes during his final season in College Station, and that didn't happen. Wydermyer can play too upright in hard-breaking routes, and that needs to get better if he is going to be the kind of possession target his size suggests he can be.
46. JaQuan Brisker, S, Penn State
The Penn State defense had a ton of NFL talent on it, and JaQuan Brisker was one of the top playmakers of the bunch. The most notable thing I see from Brisker on tape is how quickly he jumps into motion once he's read his key. Once he locks on to the ball or a play design, he springs into action and gets to full speed.
He has a nose for the ball when lined up near the line of scrimmage, but I like him playing deep where the entire play is in front of him. He's got great range in coverage and elevates with ease to high-point interceptions. Also, while he may occasionally lack discipline as a tackler and fail to wrap up, that's certainly not the norm. If there is one question I have, it's whether or not he can match up in coverage.
47. Logan Hall, DL, Houston
While Logan Hall often played on the edge during his time at Houston, the interior is likely where he will excel in the NFL. Hall has the size and length to fit well as an end in an odd-man front but could also line up as a three tech in some schemes.
He's at his best when he gets his hands on his opponent, and Hall disengages well to get in on plays. I do think he can be a little one-dimensional as a rusher. Still, while he was at the Senior Bowl, he showed progress with several techniques that make the most of his length.
48. Derion Kendrick, CB, Georgia
After entering college as a receiver, Derion Kendrick moved to the defensive side of the ball, where he flourished as a cornerback for Clemson and Georgia. There were some bumps in the road that forced him to leave Clemson, but reports were that he really matured from that experience.
As a corner, he's still getting used to some of the techniques, but he is quite comfortable in press-man where his physical nature and smooth hips can thrive. Kendrick has excellent ball skills, and as he gets more comfortable playing in off coverage without getting too grabby, I believe he can become a shutdown corner in the NFL.
49. Nicholas Petit-Frere, OT, Ohio State
While some tackles like Mississippi State's Charles Cross took huge steps in their development, others like Nicholas Petit-Frere had a rougher time in 2021. He's got everything scouts look for physically, from his strapping frame to his long arms. He is a terrific athlete for the position, and he doesn't have much bad weight on his frame, allowing him to make the most of that athleticism.
For me, there are still several technical issues with him. Petit-Frere has got to develop the confidence to be patient in his sets. He can be quick to punch or overset, and there are times he lunges as a run-blocker as well. If he would trust his athleticism and strength, I think we'd see a much cleaner prospect at this time. Instead, he's like to be a day-two pick that needs some patience before he competes for a starting job.
50. Daniel Faalele, OL, Minnesota
There are going to be a lot of differing opinions on Daniel Faalele. At 6'8" and 387 pounds, he has monstrous size, but in a game that revolves around leverage, there is some concern about his natural position. Though he's not a bad athlete, some will want to move inside where his size will be tough to avoid, given the limited space.
Others may keep him at tackle, where his length can make it tough to get around without the defender running themselves out of the play. As a run-blocker, he plays with good grip strength, and once he latches on, he moves people against their will. Still, Faalele may never be the most agile pass-protector, and his pad-level will always be high. Each team will need to decide if he can develop the proper techniques to be serviceable in space.
51. Lewis Cine, S, Georgia
On a star-studded defense for Georgia, it was Lewis Cine that led the team in solo and overall tackles. That's impressive given the linebackers and edge players constantly flying to the football on that unit. However, Cine just has an eye for the ball. He reads his keys and jumps into motion, and this guy has no problem operating at full speed through the traffic.
He's like a heat-seeking missile that is determined to get to the ball, and he finishes with a thump. While he does compete when matched up in coverage, I'm not sure if it will ever be a strength, as he is a bit stiffer than some of the other safeties in this class. Still, he's adequate in zone assignments because of his eyes and acceleration.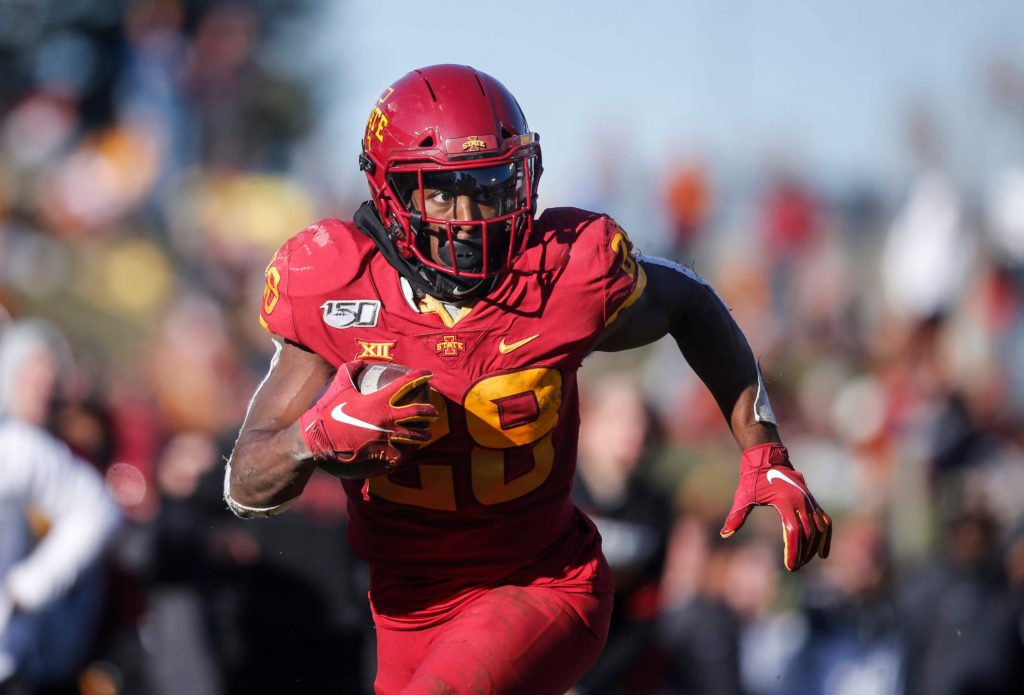 52. Breece Hall, RB, Iowa State
This is clearly not the best group of running backs we've seen in recent drafts, considering my top prospects ranks at 52. There just isn't a lot of big-play ability in this class, and that's become a requisite for being drafted high at the position. Heck, Derrick Henry and Jonathan Taylor weren't taken until after pick 40 because of doubts about their big-play ability and pass-catching prowess.
Still, that doesn't mean guys like Breece Hall can't make a significant impact on an NFL offense. Hall has a low center of gravity and a thick build, which give him terrific contact balance and the strength to consistently fall forward. His straight-line speed should be better than his lateral quickness, as his broken tackles will heavily rely on Hall's power.
One area he excels is with his eyes. Not only does he play with good vision, but he's also patient to let things develop. As a pass-catcher, he has solid hands, but I don't see him running an extensive route tree. Pass-protection could be something he's got the frame for, but he'll need a crash course in that area.
53. Christian Harris, LB, Alabama
Christian Harris will get similar knocks as Nakobe Dean for his size, though Harris does have slightly longer arms to combat the concerns. Still, he's not as rangy or as quick to react as Dean, which is a big reason I've got him ranked here.
However, he is a physical player at the point of attack, and he plays at full speed in pursuit through the madness. That's a big reason he collected 220 tackles in 30 games for the Crimson Tide. He won't be a versatile player in coverage, but he's not bad dropping into zones and reads the quarterback's eyes well.
Harris is also adept at getting after the quarterback, typically going through blockers instead of around them. He can start early as a middle linebacker, as he did at Alabama, while also helping on special teams.
54. Jeremy Ruckert, TE, Ohio State
It's a polarizing cliché when evaluators say, "his best football is ahead of him," but Jeremy Ruckert fits the bill. He's a smooth athlete with a big frame, but Ohio State rarely threw the ball to their tight ends over the past several years.
We've seen Ruckert make a few sensational grabs in his time as a Buckeye but only made 54 receptions in four years. However, 12 of those went for touchdowns, showing the kind of potential he has in the red zone. Ruckert also did a solid job filling in some of the gaps in his evaluation at the Senior Bowl.
Not only did he move well for a big man in his routes, but his long stride got him separation when pushing down the seam or across the field. He may not be the blocker that his teammate Luke Farrell was, but he's still more than capable in that area.
55. Myjai Sanders, OLB/DE, Cincinnati
Like Gardner, Myjai Sanders was one of the most consistent defenders on that Cincinnati defense over the past several seasons. He's an explosive, long-armed edge player, that will probably fit best standing up as an outside linebacker in an odd-man front.
He's got a bit of a slender frame, but Sanders makes up for it with powerful hands that can jar his opponents at the point of attack. In Mobile, he shined at moments, whether it was fighting off blocks to make plays or blowing by tackles to get pressure on the quarterback. He still needs to develop more techniques as a pass-rusher, but I like the progress he made at the Senior Bowl.
56. Phidarian Mathis, DT, Alabama
Phidarian Mathis had a breakout campaign in 2021, collecting nine sacks after recording 1.5 in his first three years. He's always been a powerful run-stuffer who can reset the line of scrimmage with his strong hands and leg drive. Not only does he get a push on the line, but his long arms help him separate to get in on plays.
While most run-stuffers aren't always the most versatile pass rushers, Mathis plays with terrific balance that allows him to change direction better than you'd think for his size. He's also lined up in various alignments and should have some scheme flexibility which will boost his draft stock even further.
57. Jalen Pitre, S, Baylor
Few in this class have run instincts that match up with Jalen Pitre, who had 18.5 stops behind the line of scrimmage as a safety. He reacts to his keys quickly and shoots run lanes like a linebacker. In fact, I see similar traits to him that I saw from Budda Baker coming out of Washington, though Pitre has a more slender build.
Still, the guy is impressive lined up near the box. My biggest question on his tape was his fit in coverage, and he proved plenty at the Senior Bowl. Pitre matched up with tight ends and slot receivers while also lining up deep. He arguably had the top performance of any defensive back in Mobile and is shooting up draft boards.
58. Carson Strong, QB, Nevada
After the top four quarterbacks on my board, the grades kind of dip off for passers. Carson Strong has a terrific arm and throws one of the better deep balls in this class. He would fit well in a vertical passing attack and is an accurate passer in a clean pocket.
He repeats his throwing mechanics well, though his base can be a little inconsistent when he's off his spot. Strong is not an overly-gifted athlete, and there are issues that result from it. He had some problems climbing the pocket in play-action at the Senior Bowl, though lining up under center is pretty new to him.
Escaping the pocket is also a problem for him. Still, in the right system and with the proper talent in front of him, he can be a starting quarterback in the NFL. In fact, there are some similarities between him and former Bronco Brock Osweiler.
59. Brandon Smith, LB, Penn State
Brandon Smith's NFL position will be an interesting evaluation for scouting departments. He's built very similar to Isaiah Simmons, who played a hybrid safety/linebacker role. Smith is tall and long, with a slightly slender build for a traditional linebacker.
However, his range is terrific, and his best reps often came from the overhang position, where he proved to be a challenging obstacle for players in space. Smith also has a knack for timing blitzes, which adds to his passing-down value.
The NFL is starting to see more defenders with his skill set thrive. Simmons had 105 tackles and five forced turnovers in a breakout year, while former safety Keany Neal moved to a linebacker role for Dallas. Not every defensive coordinator will have a position that maximizes Smith's skill set, but some do, and those teams should value him on day two.
60. Sean Rhyan, OL, UCLA
A left tackle during his time at UCLA, Sean Rhyan will likely kick inside to guard thanks to his average arm length and lateral quickness. Still, he's a guy that can be a day-one contributor at guard. Rhyan is a powerful player with an exceptionally strong lower half that helps him absorb power from his opponents.
He's also got very technical hands, as he not only places his strike well to latch on, but we also see him execute snatch-trap techniques with ease. As I said, the mobility is good but not great for a tackle, but he's an experienced prospect who could be serviceable on the outside if a team wants to keep him there.