The 2022 NFL Draft is in the books! In one of the more unique and deep draft classes of all time, we saw many exciting storylines play out. For the Green Bay Packers, they had many draft picks and holes to fill. They did their best, even trading a couple of times, and we also did our best to hand out seven rounds worth of Packers draft grades.
Let's take a look at the 2022 Green Bay Packers draft class, then give into the Packers draft grades for every pick.
2022 Green Bay Packers Draft Class
| | | |
| --- | --- | --- |
| PICK | PLAYER | SCHOOL |
| 1, 22 | Quay Walker, LB | Georgia |
| 1, 28 | Devonte Wyatt, DL | Georgia |
| 2, 34 | Christian Watson, WR | North Dakota St. |
| 3, 92 | Sean Rhyan, OL | UCLA |
| 4, 132 | Romeo Doubs, WR | Nevada |
| 4, 140 | Zach Tom, OL | Wake Forest |
| 5, 179 | Kingsley Enagbare, EDGE | South Carolina |
| 7, 228 | Tariq Carpenter, LB/DB | Georgia Tech |
| 7, 234 | Jonathan Ford, DT | Miami |
| 7, 249 | Rasheed Walker, OT | Penn State |
| 7, 258 | Samori Toure, WR | Nebraska |
From top to bottom, this may be the best overall Green Bay Packers draft class Brian Gutekunst has had. Of course, that's not saying much, and this is also the deepest class there has been.
In terms of what to make from this class, there aren't many players who should have high expectations for this year. It seems the clear the mindset is not to win it all this year. These picks are two or three years down the line, which has been the case during Gutekunst's entire tenure.
The Green Bay Packers philosophy is not to win Super Bowls through the draft. However, when there aren't free agency additions or trades, then the draft is the only hope, which has and will continue to be the problem. I bring that up only to say you must adjust expectations not only for the 2022 Green Bay Packers draft class, but for the Packers this season.
---
---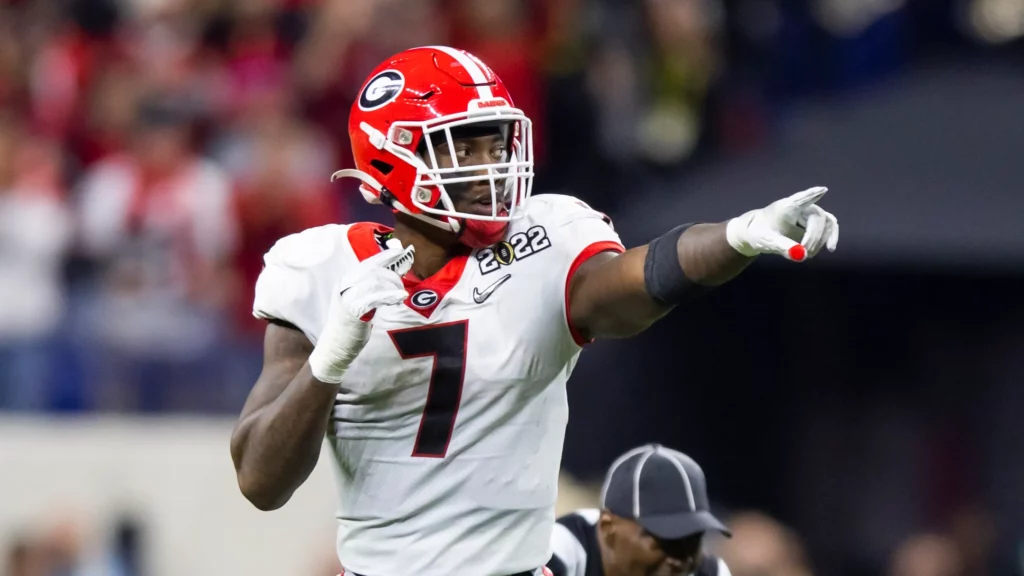 Green Bay Packers Draft Grades
Round 1, Pick 22 – Quay Walker, LB, Georgia
We don't need to pretend this pick was anything other than a reach. Yes, Quay Walker is an interesting prospect that brings a bunch of upside, but absolutely nobody thought he should be the first linebacker chosen in the 2022 NFL Draft.
Walker is a one-year starter out of Georgia that flies around. Don't let the previous paragraph make it sound like I think he is a bad player, because he's not. However, he's a second-round guy. He's a large linebacker who can move, which is why he is getting compared to De'Vondre Campbell by analysts who have zero idea what they're looking at.
The Georgia linebacker can be a useful asset in coverage once he learns the game of football, in all honesty. To me, he often looks lost and out of position. He needs to see the play before he reacts, when NFL linebackers need to anticipate. Possibly, this is due to the fact that he doesn't have the experience, since he's a one-year starter. This is a first-round project, though he has a bunch of upside.
Green Bay Packers Draft Grades: C
There are second-round linebackers who are just as NFL-ready that offer the same upside. This was a massive reach at a position that isn't a top need. Walker may not even be a starter in 2022, yet the Packers are going "all in."
Round 1, Pick 28 – Devonte Wyatt, DL, Georgia
Devonte Wyatt is actually a first-round talent, so we're already starting positively. Wyatt is extremely quick off the ball and can be an effective pass rusher on the interior. He's also aggressive when playing the run, but his recognition clearly needs work. There are times when he's aggressive, but he doesn't know where he's going, so he gets out of position. Wyatt also didn't have much production in terms of making plays.
We can sum up Wyatt pretty easily — he is a fast, athletic player on the inside. So, what does he bring to the Packers? Some have compared his game to Kenny Clark. If that's the case, you can also compare him to Jarran Reed. When you're building a team, it makes no sense to stack the deck with identical cards, though it seems like the Packers are taking this approach a bit.
Green Bay Packers Draft Grades: B
I like Devonte Wyatt as a player and think he should have been drafted in the first round, which I cannot say Quay Walker. However, I question the strategy and reasoning behind the pick. It, as always, was a future pick, with the Packers defensive line being a question mark for the 2023 season.
Round 2, Pick 34 – Christian Watson, WR, North Dakota State
Christian Watson is a 6-4, 208-pound wide receiver that clearly has the build to become a solid outside wide receiver in the NFL, which is a hole the Packers had. He is an elite all-around athlete, performing as one of the best pre-draft testers ever. Watson is smooth, has great acceleration and he clearly has a big catch radius. However, he is yet another project for the Green Bay Packers, and they haven't shown the ability to truly develop wide receivers.
His route-running is raw. He also consistently miss-times leaps for catches, and he lacks focus at the catch, leading to drops. In college, Watson never used his size to his advantage, and this was at NDSU. This will be made worse in the NFL. If you desperately miss Marquez Valdes-Scantling, then you're happy about this pick. If you were happy to see him go, you should have the same energy for Watson, who looks to be a similar player right now.
The good part is that, from those I have spoken with, he is an extremely hard worker and is coachable. That hasn't been the case with all former Packer receivers that didn't pan out. So, I have hope, just not for this season.
Green Bay Packers Draft Grades: B-
The Packers draft grade has to take everything into account. It's more than just a second-round pick for Christian Watson. It's giving up their other second-round pick to do it. Not only that, they helped out their only threat in the division to do it.
Do I think Watson can become a solid WR2? Yes, but it won't be this season. He has a lot of potential and clearly fills a hole the Packers have. However, it's not a pick that puts them much closer to winning a Super Bowl this season, and we gave up a valuable pick. The Packers cannot continue assuming the sun will come up tomorrow. At some point, they need to try to win.
If I'm only grading the pick at No. 34, then it would be a B+.
Round 3, Pick 92 – Sean Rhyan, OL, UCLA
This pick could go in multiple directions. I'll start by saying I like Sean Rhyan. Again, I think there were betting offensive line prospects available, but it is what it is. Let's first solely talk about the player.
Rhyan was a starter at left tackle for the Bruins. He packs a powerful punch and is very aggressive. Sometimes too aggressive, but I would rather have that than the other way around (looking at you, Royce Newman). He had a lot of success in pass protection in college as well, but being only 6-5 and being at the 10th percentile in arm length, there's no way he can play tackle in the NFL.
So, good news, he looks like a guard and can play like a great guard at the NFL level. This looks to be yet another draft pick the Packers made with the mindset of him playing a different position. However, the other scenario is that they drafted him to play right tackle, which would be a much worse idea.
In other words, the Packers have yet another, and say it with me, PROJECT on their hands. I hope their schedule is clear. Actually, the Packers aren't competing for a Super Bowl this season anyways, so they have plenty of time.
Green Bay Packers Draft Grades: A-
I like the player and I don't hate the pick. It also clearly fills a hole. Knowing the Packers aren't competing for a Super Bowl, I like the pick more. However, if you are still of the mindset that we are "all in," then this pick should upset you.
Round 4, Pick 132 – Romeo Doubs, WR, Nevada
The Packers go wide receiver to open the day once again. If you have been following me during draft season, you will have heard me talk about Romeo Doubs on numerous occasions already.
Doubs has the speed to get behind defenses, which he pairs with the footwork and route-running to get open. However, he has really struggled with tight coverage in college, and that was in the Mountain West. The learning curve in the NFL will be a steep one in this regard, though he has potential to be a strong WR3 some day.
Where he could contribute is as a punt returner. He averaged 12.5 yards per punt return in college, bringing one pack to the house. Doubs is faster than Amari Rodgers, so if he can secure the catch, he should be the Packers' weapon on punt return.
Green Bay Packers Draft Grades: B+
This is a draft pick I like, and it was actually one I projected prior to the draft beginning. However, you also need to adjust to the draft. There were better wide receivers on the board that had just as much upside, but they're more NFL-ready.
However, as we have stated many times already, the Packers aren't looking to win a Super Bowl this season, and this draft class will show that. So, with another project, as like this pick as long as you have the right mindset for this football team.
Round 4, Pick 140 – Zach Tom, OL, Wake Forest
Again, massive project, but it's another Packers draft pick I projected, so I clearly like Zach Tom.
Zach Tom may be the most athletic offensive lineman in the 2022 NFL Draft. He is not ready to start Day 1, but he is a player the Packers could develop into a future starter on this offensive line. Tom started the past two seasons at left tackle for the Demon Deacons, but he played center before that, so he has the versatility the Packers often look for.
Zach Tom clearly has the speed and quickness to deal with speed rushers at tackle. However, he doesn't have the length of a typical NFL tackle. For this reason, I see him as a guard at the next level. Regardless, he has the tools to be a freak and an absolute problem in the outside zone game.
Green Bay Packers Draft Grades: A-
He's a depth guy for now, but he has the potential for more. That's exactly what you're looking for in a fourth-round offensive line pick.
Round 5, Pick 179 – Kingsley Enagbare, EDGE, South Carolina
Day 3 is treating me and the Packers very well. Kingsley Enagbare is another player I have been talking about, and I didn't think we'd be seeing him on the board here. While he has a lot to learn, he should be able to contribute to the Packers in his rookie year.
He brings a bunch of power for the Packers on the edge. Enagbare should be an intimidating force that is also capable of playing the run. There are legitimate questions about how effective he will actually be as an edge rusher in the NFL, since he won't be able to brute force everyone. However, as a rotational piece, especially on early downs, I love it.
Green Bay Packers Draft Grades: A
As with other Packers draft grades I have given out, I take the entire pick process into account. This includes the trade. The Packers drafted Kingsley Enagbare after trading back, so it doesn't get much better than that.
Round 7, Pick 228 – Tariq Carpenter, LB/DB, Georgia Tech
Tariq Carpenter played safety in college, but he expects to convert to linebacker at the pro level. In college, he lined up all over the field, including in the slot. He's a good tackler and overall physical player. His lateral movement needs a lot of work, which could limit him in coverage.
Where Carpenter should be able to contribute is on special teams. He is more than willing to fly down the field and make a hit. With the right coaching, it wouldn't' be surprising to see him turn into a special teams MVP for the Packers, not that he has much competition.
Green Bay Packers Draft Grades: B+
There were better players on the board and Carpenter shouldn't be expected to be much of a contributor on defense, which is what Gutekunst drafted him for. Gute has said he would rather draft someone to contribute five snaps on defense, then shove them onto special teams, which is why it has been so bad. In the case of Carpenter, as long as he gets the reps and coaching, it should work. There's nothing wrong with a special teams pick.
Round 7, Pick 234 – Jonathan Ford, DT, Miami
I like the thought of adding depth on the defensive line, but Jonathan Ford isn't the guy.
Ford has a quick step off the ball and he shows good hustle. However, he lacks explosiveness and burst. He also gets way too high and he just hugs offensive linemen. There were defensive linemen still available who could fill the role of a run stopper, but it doesn't seem like Ford can do that.
Green Bay Packers Draft Grades: D
Good idea, poor execution.
Round 7, Pick 249 – Rasheed Walker, OT, Penn State
It was a bit surprising to see Rasheed Walker fall all the way to No. 249, but I also understand it.
Walker is a big offensive tackle that is a smooth athlete who also has quick feet. He's good with his hands and mirror defenders well. Walker isn't a player that's going to move anybody. Simply, he will try to put himself in a position to seal off a player instead of actually moving them, much like Royce Newman was at guard last season.
Walker also gets off-balance, and he plays passive overall. As an offensive line coach, this is not the type of player I personally like, but I am doing my best to keep bias out as much as possible.
Green Bay Packers Draft Grades: B-
It's certainly not a flashy pick. Walker also doesn't seem to have much upside. He can be a depth piece at tackle, which is useful since the Packers have zero depth at offensive tackle. So, fine pick. It could have been much worse, but it feels like an "enemy you know is better than the enemy you don't" pick. They've seen Walker play. There were better tackles available that they didn't do as much research into.
Round 7, Pick 258 – Samori Toure, WR, Nebraska
Samori Toure was a great player for Montana before playing his final year in Nebraska. At 6-3, he possesses a good size and he has the versatility to be moved around the formation. However, he is mostly characterized as a "big slot receiver."
While he's a smooth athlete, he's not very explosive. He also mostly played in the slot in order to help him get natural separation, since he struggles with tight coverage, so he's an obvious project and practice squad guy in the NFL. He is a willing blocker, so it's easy to imagine this pick is the Packers hoping he develops and can replace Allen Lazard.
Green Bay Packers Draft Grades: B
In all, he's a high-IQ player that has good hands and could possibly improve. However, as an older prospect with not much explosion, he likely is what he is. Could he develop enough to replace Lazard? Probably not, but it's at least another receiver in camp.
Overall Packers Draft Grade: B-
The Packers are content with winning the division and getting double-digit wins. This equals job security for those in power, especially when there's no owner, so that makes sense. However, when you're disguised as a team looking to contend for a Super Bowl, then draft picks should be filling holes with players to compete and contribute right now.
So, it's not a bad draft class. As I said, it may be Gute's best. However, it doesn't put Green Bay much closer to a Super Bowl for this year. If you believe the Packers can win in a couple of years without Aaron Rodgers, then the 2022 Green Bay Packers draft class should be viewed as a success, and it would be closer to a B+ then.