In case you missed the show, the following is the WWE Monday Night Raw results, highlights and headlines from the show on June 27th.
---
WWE RAW Results, highlights and headlines from last week's show
---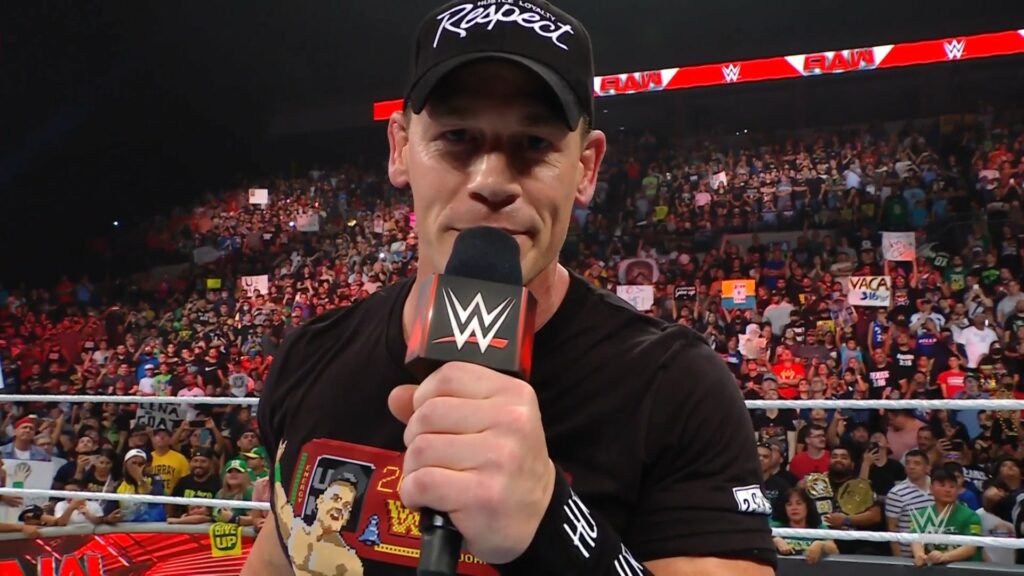 WWE RAW Results 6/27
Riddle wins battle royal to win entry into Money in the Bank Ladder Match.
Street Profits Promo: They receive a pep talk from John Cena, say they won't give up on their chase for gold.
Montez Ford def. Jey Uso.
Judgement Day confronts the Mysterios backstage, and tries to recruit Dominik.
John Cena Career Video Package.
Miz Interview: He announces the return of Logan Paul for Summerslam and teases a tag match, but is interrupted by AJ Styles.
AJ Styles def. Miz via count-out.
Cena tells Ezekiel to just be himself backstage, and not to "Zeke out."
Theory confronts Cena, tells him that it should be Theory who's being celebrated.
Carmella and Bianca Belair Promo: Carmella promises she'll be money at MitB while Belair guarantees she'll remain champ.
Liv Morgan def. Alexa Bliss.
Cena thanks the WWE Universe.
Lashley def. Alpha Academy in handicap match with Theory as Special Enforcer.
Cody Rhodes updates us on injury status while being suspiciously threatening towards Seth Rollins despite missing the next nine months, reportedly.
Becky Lynch wins six-woman elimination match to qualify for Women's MitB Ladder Match.
WWE RAW Highlights From 6/27
Thank You, Cena
Spoilers: there are no lowlights this week. Yes, there were less-than-stellar moments, like Ezekiel's second brother's debut being pushed back due to time running over. However, this was as fun and monumental as RAW gets, all thanks to John Cena.
The show from start to finish was a love letter to one of the greatest to ever do it, and the impact he had on the show was immaculate. We were graced with a fantastic video package, and many interactions with different WWE stars backstage that ranged from the comical, yet heartfelt with Ezekial and the Street Profits, to the tantalizing with Rollins and Theory.
And all of this came before the real show-stealer, a masterclass promo that had the arena come unglue before falling apart emotionally. There was no match set up, no angle, just a thank you from fan to superstar and superstar to fan. For anyone who loves wrestling, it's hard not to love someone like Cena get this kind of love, especially since he was denied that due love for much of his career due to poor booking at times. A segment and a night that comes once every few years, and only Cena could be deserving of such fanfare.
A Great Opener
There's some weird booking happening with making Riddle win a battle royal to qualify for a match others only had to win a singles match for. But, this match was a blast to watch, fueled by a crowd that was incredible all night. It featured some great spots, highlighted by Ricochet hitting a hurricanrana off a ringside ladder back to the ring for an elimination. But the real highlight was the ending between AJ Styles, the Miz and Riddle. The crowd was into everything here. When Riddle won, it felt like a pay-per-view moment.
Becky Closes the Show
Becky Lynch is a phenom in WWE, and I couldn't believe it when it truly felt like she was the only one who could end a show that saw John Cena return and have it not feel like a lame-duck finish. The final match was above average, but mainly, it was a showcase for Lynch and got me pumped for the Women's Ladder match, which was all it needed to do. It's a shame some of the others in this match won't be in MitB, especially Baszler and Doudrop, but I have to give WWE a nod for closing a show this big with their Women's division, and even more so by doing it by underlining their trust in Lynch.
WWE Headlines
AEW/NJPW's Forbidden Door PPV wows, headlined by the debut of Cesaro (Claudio) in AEW and Jon Moxley becoming interim champion.
Adam Cole and Dax Harwood respectively injured at Forbidden Door, continuing a streak of poorly-timed injuries for AEW.
Cody Rhodes teases possible involvement in Money in the Bank match despite injuries on tonight's WWE RAW.
Triple H reportedly resumes roles with Performance Center and talent development for WWE in Vince McMahon's absence.
WWE's Money in the Bank will take place this Saturday, headlined by both MitB matches with surprisingly unpredictable lineups.