In case you missed the show, the following is the WWE Monday Night Raw results, highlights and headlines from the show on April 11th.
---
WWE RAW Results, highlights and headlines from last week's show
---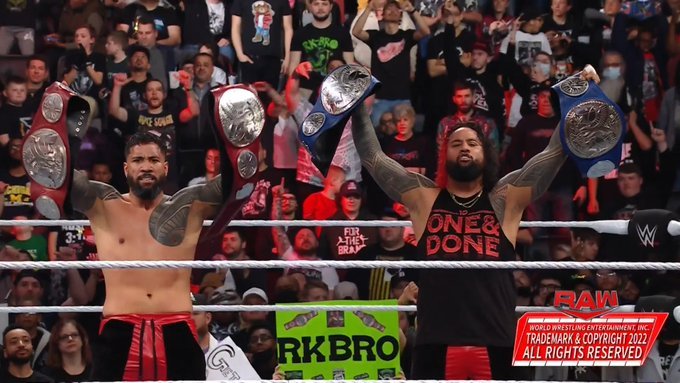 WWE RAW Results 4/11
Cody Rhodes and Miz Promo: Cody tells Miz that while he left to grow and become undeniable, Miz never changed. They set up a match later.
Veer Mahan def. Dominik Mysterio, injures him after the match
Damien Priest vs. AJ Styles ends in a no-contest after Priest cuts the power to the lights
Cody Rhodes def. The Miz, agrees to a rematch with Seth Rollins after
Tommaso Ciampa officially a part of RAW, but is interrupted by Ezekiel and Kevin Owens
Naomi def. Liv Morgan
Bobby Lashley and MVP Promo: Both men claim to have saved the others career, and set up another match between Lashley and Omos
Reggie, R-Truth, and Tozawa crash the bachelorette party of Tamina and Dana Brooke
Bianca Belair def. Queen Zelina
Zonya Deville announces herself as the next challenger for Belair, attacks Belair
RK-Bro def. Alpha Academy
The Street Profits and the Usos lay their claim to a tag team title shot
The Usos def. the Street Profits, lay out RK-Bro to close the show
WWE RAW Highlights From 4/11
All In On Cody
There were many questions about how WWE would treat Cody Rhodes since he just got done starting their most serious competition in 20 years. However, they have treated him like the wrestling royalty he is since arriving. Seriously, they gave him two entrances tonight, each with more pyro than the Fourth of July. He's being booked strong, has opened RAW consistently and feels like the biggest star on WWE RAW each week. With rumors about other AEW stars considering coming to WWE now as well, Rhodes' sustained push is a smart move by WWE and he is a must-watch since his arrival.
Bobby and MVP have Actual Beef
Pairing Bobby Lashley with MVP was a stroke of genius, and it saved Lashley in his second run with WWE. So, splitting the pair last week to give MVP a new charge in Omos was a controversial choice. Lashley has proved to be a big enough name on his own, but still usually lacks the mic skills to go without a manager.
So, color me surprised when the two had a genuinely great promo this week. MVP laid out why he jumped ship to Omos, and that he was furious that Lashley thought he could succeed without the guy who made him "Almighty." Lashley was very strong in his own delivery though, pointing out that MVP was on a retirement tour before he clung on to Lashley's talent. These two made me care about their feud, and somehow even Omos. If Lashley can keep this type of presentation up, he should be in line for a main event push again soon.
The Tag Teams Save The Show
Sure, there were a couple of highlights beforehand, but the wrestling on this show was really bad until the last hour. Then, the low-key stellar tag division took over. We got an above-average match between Alpha Academy and RK-Bro, then a barn burner main event between the Usos and the Street Profits. Most crucially, this also has put the tag titles into a prominent role on TV, as the Usos and RK-Bro are set to face off for the Unified Tag Titles.
These teams are incredibly popular and have consistently put on great matches for the last three months. So, making these teams the focal point of WWE is not only a great change of pace, but well deserved as well.
WWE RAW Lowlights From 4/11
A Brawl so Nice They Showed it Twice?
I've complained about the amount of review on RAW before, but hilariously tonight they reviewed something immediately after it happened. We see a clip from when AJ Styles arrived to the arena, and he brawls with Damian Priest backstage after being attacked by Priest and Edge last week. That's all fine. But then, right after the next commercial, we see the same brawl again! Like, the whole segment and everything. So, WWE must have thought in the 30 seconds of ads in between we all got amnesia, or we just really liked this brawl. In any case, you almost have to love WWE's unabashed love for reviewing things they know we all saw beforehand.
Spooky Shenanigans
I like Damian Priest's new character and partnership with Edge. I liked the match he was having with AJ Styles. What I hated was that the match just… ended. One moment Priest hit a kick on Styles, and the next he posed as the lights faded to the moody blue of Edge. But then nothing else happened! We cut to commercial and when we returned the match had been called off I guess?
So many poor choices here. First, when did partnering with Edge give Priest Undertaker powers? Second, why would the match end just because of the mood lighting!? This was a dumb idea to try and keep both guys strong, but it just came across as a waste of time.
WWE Headlines
NXT's Tag Team titles were vacated following the release Nash Carter related to allegations of abuse and Adolf Hitler cosplay.
The week after WrestleMania was filled with new stars on the main roster for WWE, including Gunther, Tommaso Ciampa, Veer Mahan, Raquel Rodriguez (formerly Gonzalez) and, of course, Ezekiel, the younger brother of Elias. Stars returned as well, like Cody Rhodes and Lacy Evans.
---
Follow us on all of our social channels! Check out our Twitter, Facebook and YouTube for more great FlurrySports content.