With Battleground looming as the only pay-per-view remaining before SummerSlam, let's break what should and what will happen. Smackdown Live has been setting the stage for weeks and now we can finally breakdown where it is all heading.
Mike Kanellis vs Sami Zayn
What Should Happen: Mike Kanellis Wins
Even though WWE gave this match away for free on Friday, Kanellis should still stand tall in his first feud. A win here in an outstanding match could propel Kanellis forward to a bright start in WWE, while Zayn is used to taking losses and could bounce back from one here. Kind of a shame since I really don't want to see either man lose in this one.
What Will Happen: Sami Zayn Wins
Like I mentioned, Kanellis just beat Zayn on Friday. That result might forecast that Zayn gets his revenge here, perhaps stretching out this feud. With Kanellis and Zayn without obvious directions elsewhere, WWE may wish to keep these two paired together for through SummerSlam.
Charlotte Flair vs Becky Lynch vs Natalya vs Lana vs Tamina (No. 1 Contender Elimination Match)
What Should Happen: Charlotte and Becky Can't Continue
Hear me out on this one. Becky and Charlotte are the last two standing, and proceed to duke it out with all they have. This brawl leads to the ladies going so far that neither is able to continue, resulting in a no-contest between the two. While I usually don't prefer indecisive results, this one would make sense. Becky and Charlotte have quite the history, and it makes sense that they would tear each other apart, setting up a triple threat at SummerSlam with Naomi. That affair would be incredibly impressive between three fantastic workers, and could even set up a cash in from Carmella to set up things from there.
What Will Happen: Becky Wins
While WWE probably will give us Charlotte and Becky as the final two, I see them giving the win to Becky. The long standing carrier of Smackdown's women deserves the spotlight at SummerSlam and I see WWE setting up a win for her at SummerSlam. If Becky does win at SummerSlam, don't be surprised to see a Carmella cash-in. This gives us a compelling Becky vs. Carmella feud while possibly putting Charlotte and Naomi into a feud as well.
AJ Styles vs Kevin Owens (US Championship)
What Should Happen: Kevin Owens Wins
A win here sets up a rubber match at SummerSlam. Besides, if AJ was going to win here, why have him pick up the belt at a live show? Both men deserve to have a big-time feud at SummerSlam and this outcome makes that happen.
What Will Happen: Kevin Owens Wins
It just makes the most sense. Owens and AJ have a lot of chemistry and could put on plenty of great action to stretch out this feud a little longer.
Shinsuke Nakamura vs Baron Corbin
What Should Happen: Nakamura Wins
Nakamura should not lose here. He has been on too hot of a roll since debuting and should keep moving forward. While I don't like to see Corbin lose too much, he has the Money in the Bank briefcase to ensure he continues to matter. This match should be hard-hitting and close, but Nakamura needs the W.
What Will Happen: Nakamura Wins
WWE is going to keep Nakamura winning until he holds a title. It doesn't really make sense for him to suffer a loss here in feud that really doesn't matter all that much. I see WWE pushing Nakamura towards the US title or WWE strap quickly and that means he wins here.
The Usos vs The New Day (Tag Team Championships)
What Should Happen: The New Day Wins
Again, it sets up a rematch at SummerSlam. While that shouldn't always be the motivator for a match's booking, these two teams are the clear cream of the crop on Smackdown. A win by New Day means we get to see one more showdown between these tandems, which is exciting since they always put on great matches.
What Will Happen: The New Day Wins
The New Day mean too much to the WWE to not be champs. While the Usos have been great lately, the New Day are still the biggest names in the tag division, and it is only a matter of time before they sit on top again.
John Cena vs Rusev (Flag Match)
What Should Happen: Rusev Wins
HE.NEEDS.IT.
What Will Happen: Rusev Wins
SERIOUSLY. Cena will be fine with a loss. Rusev has been out of action and hasn't really been a real force for far too long.
Jinder Mahal vs Randy Orton (WWE Championship Punjabi Prison Match)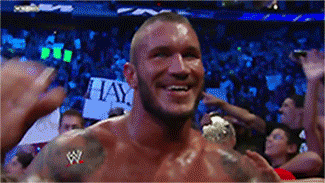 What Should Happen: Corbin Cashes in on Jinder During Match
I'm not looking forward to the Punjabi Prison, but this ending could save it. Picture this: just as it looks like Orton will escape first after laying out Jinder in the ring, we see Corbin sneak in the prison. Now, Orton would scramble to break up the cash-in, only to see Corbin walk out as champion. In this scenario, we get a new champ while setting up a variety of direction for the number one title in WWE.
What Will Happen: Jinder Retains
While my idea is creative, it is probably a little too outside-the-box. Jinder was the one who picked this match, and he'll probably reep the benefits of this strange stipulation. Jinder hasn't been champion for too long at all and could use a little longer with the built to try and build some credibility. Meanwhile, a loss for Orton here could be the catalyst for a heel turn and maybe some huge feuds with Cena, Zayn, or even Nakamura in the near future.