The bad injury luck continues for the Green Bay Packers. On Monday, Packers Camp experienced a few different injuries. Defensive lineman Mike Daniels took a shot to the thigh, but told the media he was fine. Safety Kentrell Brice was carted off the field, but managed to avoid any breaks and was seen standing gingerly at Packers Camp today. The most significant injury suffered was with fourth-year linebacker Jake Ryan, who looks to be lost for the season.
Ryan suffered a knee injury and was on the ground "screaming in pain." The Athletic's Michael Cohen immediately labeled the injury "serious," and he appears to be right.
*Update 8/1: Ryan's injury diagnosed as a torn ACL*
Jake Ryan was slated to start at inside linebacker next to the league's leading tackler last season Blake Martinez, who spoke with Ryan after practice. Martinez said his teammate was "devastated." He then described all the work Ryan put in this offseason.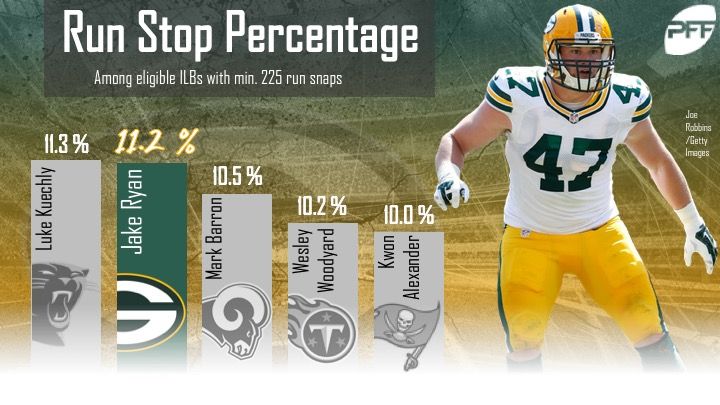 So with the young linebacker presumably lost for the season, which direction should the Packers go in? Let's explore our options.
More Inside for Clay?
We have seen Clay Matthews play inside linebacker before and DC Mike Pettine already had plans of moving Clay around, so maybe he picks up a large amount of the inside snaps. However, the move would leave the Packers incredibly thin on the edge, a position just as thin as inside linebacker. Matthews' aged skill set may actually allow him to perform better inside than outside this season, but the pass rush would be taking a big hit with this move. While I think we still see Matthews line up inside some this season, I think the best move would be to keep him on the edge.
More Linebacker Snaps for Jones?
Initially, more linebacker snaps didn't see possible for Josh Jones given the Brice injury during the same practice. However, Brice's presence in camp today along with a negative x-ray leaves the organization optimistic they can get him back sooner rather than later. Jones played a lot of snaps at inside linebacker in 2017, and he looked good. He is the versatile type of player that coaches love, and Pettine already had plans for him to play some linebacker this season anyways. If the Packers can get Kentrell Brice back soon or get by with Quenton Rollins at safety (or dare I suggest adding a safety via free agency), then Josh Jones is more than capable of playing meaningful linebacker snaps for Pettine and the Green Bay Packers.
Larger Role for the Rookie?
Oren Burks, a third-round draft pick out of Vanderbilt, is an obvious option to now see more time on the field. However, the rookie is still learning the position. Burks played linebacker last season, but was previously a safety. Because of this, his instincts are below average, he's not a great tackler, he isn't physical enough to plug a hole, and he struggles to play off the blockers. Despite his struggles, I have a feeling we will be seeing a lot of Burks after hearing GM Brian Gutekunst preach "patience."
"I think just kind of watching Ted all those years going through these scenarios, I think the best practice is patience," Gutekunst told reporters before Tuesday's practice. "We have some young players that show some promise out there, and we'd kind of like them to continue to grow into those kind of roles and see what we have. At the same time, we're kind of always on the scenes preparing for everything."
Sign a Free Agent?
If Gutekunst can get rid of his Ted Thompson tendencies, we may see the Packers add some much-needed talent from the available free agents. Given that Jake Ryan is such a good run-stopper, bringing in a veteran like NaVorro Bowman makes a lot of sense. He isn't what he used to be, but he can still be physical between the tackles. A few other possible names are Brian Cushing, Gerald Hodges, Karlos Dansby and Lawrence Timmons.
The Packers could opt to add a safety instead, like I previously suggested. A few of the names floating around are Eric Reid, Kenny Vaccaro, Tyvon Branch, and Quintin Demps.
Related Articles
Sports in 6ix: Week in Review, July 23-29
2018 Fantasy Football Draft Kit
FS Pod: What the NFL Should Steal From the WWE (Ep. 31)