Welcome to Week 9 of the NBA season! Performance, lineup shuffling and injuries continue to create chaos on the daily when it comes to making fantasy basketball start/sit decisions. On the bright side, at least games aren't being canceled on a nightly basis anymore! *Rushes to knock hardly on the nearest wood surface*
Let's take a look at some players across all five positions with fantasy basketball start/sit upside, as well as some with clouded expectations for Week 9.
*All stats are taken on the morning of Monday, Feb. 15*
*Fantasy points data based on standard FanDuel scoring settings*
Week 9 Fantasy Basketball Schedule Breakdown
Four games: ATL, BOS, BKN, CHI, DEN, DET, GSW, HOU, LAC, MEM, MIA, MIL, MIN, NOP, NYK, OKC, PHI, SAC, TOR
Three games: CHA, CLE, IND, LAL, ORL, PHX, POR, SAS, UTA, WAS
Two Games: DAL
Week 9 Fantasy Basketball Start/Sit
Point Guards | Fantasy Basketball Start/Sit
Consider Starting: Kemba Walker, Boston Celtics
Opponents: DEN, ATL (twice), NOP
Kemba Walker has struggled with putting together consistent fantasy basketball start/sit stat lines since making his return from injury. With that said, the minutes are there for him to produce. In his last two games, Walker has looked like his old self with 46 points, nine made 3-pointers and 12 rebounds over the two contests combined. The schedule shapes up nicely for Walker this week. Two of the Celtics games come against an Atlanta Hawks team allowing more fantasy points to the point guard position than any in the NBA. Boston's floor general belongs in your lineups this week.
Consider Sitting: Dennis Schroder, Los Angeles Lakers
Opponents: MIN, BRO, MIA
Anthony Davis re-aggravated an Achilles injury on Sunday night. This would suggest that other Lakers will need to step up alongside LeBron James offensively in the near future. Even so, Dennis Schroder is a name I'm fading in fantasy basketball start/sit this week. Los Angeles only has three games in Week 9. One comes against a top-five defense in terms of fantasy points allowed to PGs in the Brooklyn Nets. Another comes against a Miami Heat team that also ranks in the top-10 team in this metric. Schroder's recent struggles could realistically continue this week.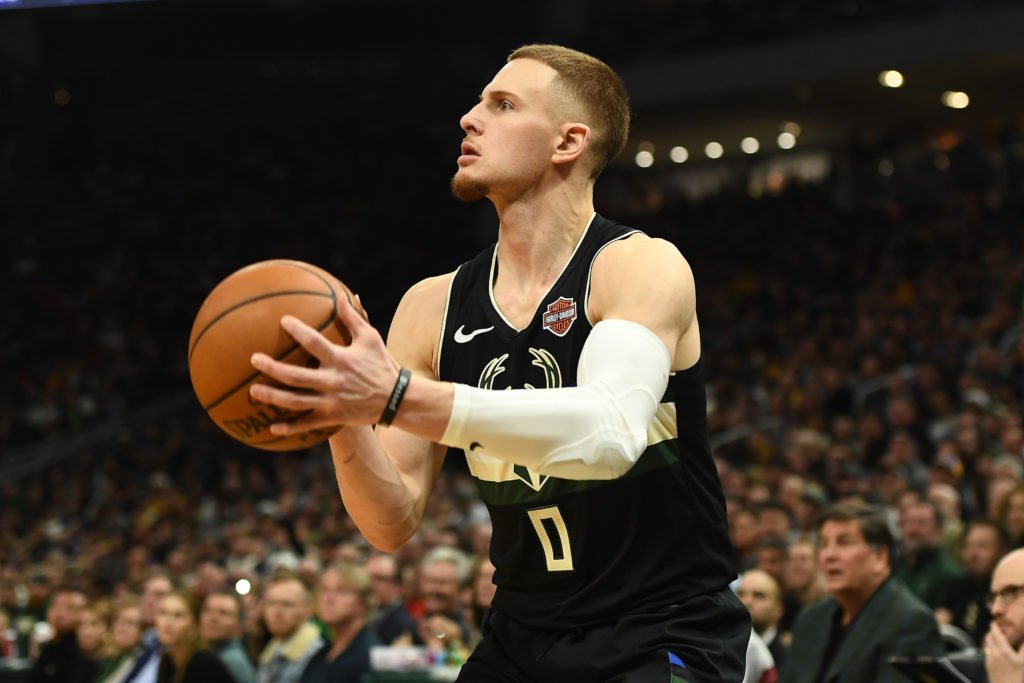 Shooting Guards | Fantasy Basketball Start/Sit
Consider Starting: Donte DiVincenzo, Milwaukee Bucks
Opponents: TOR (twice), OKC, SAC
Donte DiVincenzo is not among the top owned shooting guards, but his recent play and Week 9 schedule make him an attractive fantasy basketball start/sit option. DiVincenzo has scored in double figures in three of the last four games. His 17 points (five 3-pointers) and eight rebounds in the Bucks' last contest was one of his better performances of the season. In three of four games this week, DiVincenzo and Milwaukee will face the Sacramento Kings and Toronto Raptors. Both squads represent promising matchups for SGs in fantasy.
Consider Sitting: Eric Bledsoe, New Orleans Pelicans
Opponents: MEM, POR, PHX, BOS
Eric Bledsoe may have four games this week, but it's a far from ideal set of matchups when it comes to fantasy basketball start/sit. In chronological order, the Pelicans will face the Memphis Grizzlies (1st), Portland Trail Blazers (7th), Phoenix Suns (2nd) and Boston Celtics (5th). The rankings in parenthesis denote each team's standing when it comes to fantasy points defense against the shooting guard position. This schedule combined with Bledsoe's general inconsistency make him a true question mark to produce this week.
Small Forwards | Fantasy Basketball Start/Sit
Consider Starting: Josh Jackson, Detroit Pistons
Opponents: SAS, DAL, MEM, ORL
With Derrick Rose being traded to the New York Knicks, more minutes were instantly opened in the Pistons backcourt. One week later and it's clear that Josh Jackson is taking advantage. Even in a non-starter role on Sunday, Jackson still put up 21 points off the bench. Furthermore, Detroit's Week 9 schedule features three games against the three worst defenses in average fantasy points allowed to small forwards. Jackson's fantasy outlook is only going to climb higher in the coming days.
Consider Sitting: Bojan Bogdanovic, Utah Jazz
Opponents: PHI, LAC (twice)
Winners of seven straight and 18 of 19 overall, the Jazz are blistering hot. Bojan Bogdanovic has been a big part of that. The Croatian sharpshooter successfully shook off poor shooting from the first few weeks of the season to turn in solid fantasy stat lines over the past few weeks. Week 9 could be tougher though. Not only do the Jazz only play three games total, but two of them come against a Los Angeles Clippers defense that only allows 34.33 fantasy points per game to the small forward position. It's hard to go against any Utah players right now but consider looking elsewhere for fantasy basketball start/sit this week.
Power Forwards | Fantasy Basketball Start/Sit
Consider Starting: Draymond Green, Golden State Warriors
Opponents: CLE, MIA, ORL, CHA
Assuming a right knee injury won't keep him out for this week's contests, the schedule lines up favorably for Draymond Green. Three of the Warriors Week 9 matchups come against teams among the eight worst in fantasy points allowed to opposing PFs. While scoring is certainly not Green's forte, his contributions in other categories such as rebounds, assists and steals have seen him post solid fantasy point totals in recent weeks. Monitor the injury and find room in your lineups this week.
Consider Sitting: Kristaps Porzingis, Dallas Mavericks
Opponents: DET, HOU
The fantasy basketball start/sit stock of Kristaps Prozingis is on the rise after spectacular performances last week. Unfortunately, the outlook is not as promising in Week 9. The Mavericks are only scheduled to play two games. While neither matchup is overly daunting in terms of specific fantasy points allowed metrics, the lack of opportunity to produce makes Porzingis hard to trust this week compared to other power forwards with more games on tap.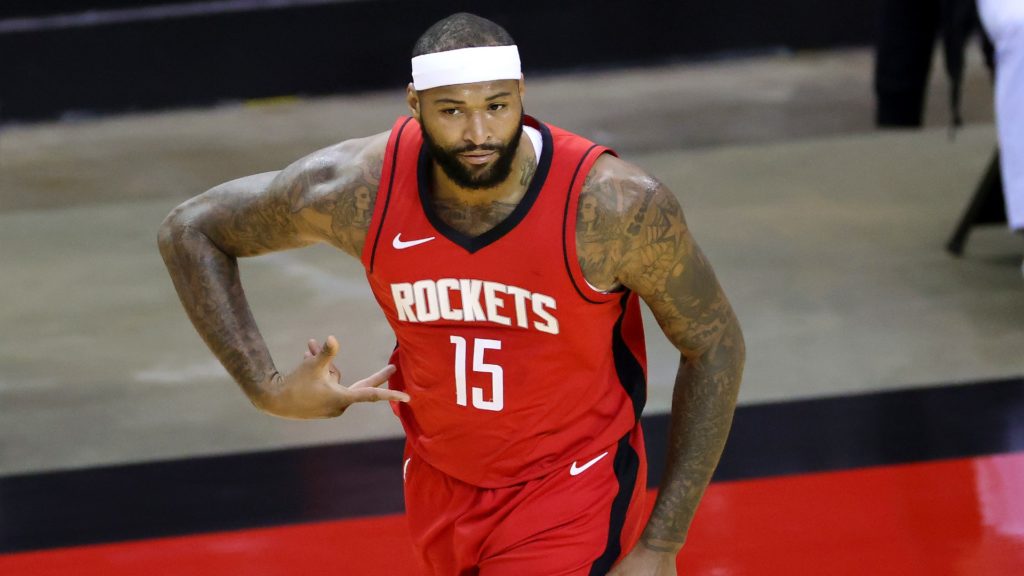 Centers | Fantasy Basketball Start/Sit
Consider Starting: DeMarcus Cousins, C, Houston Rockets
Opponents: WAS, PHI, DAL, IND
With Christian Wood still recovering from an ankle injury, DeMarcus Cousins is getting the opportunity to place expanded minutes. Three double-doubles in the last five games serve to remind all of the value Cousins can provide when inserted in fantasy basketball start/sit lineups. This week's schedule sees Cousins and the Rockets face two teams ranked in the bottom five when it comes to fantasy points defense against centers in the Washington Wizards and Dallas Mavericks. Fire up Boogie for some solid Week 9 production.
Consider Sitting: All Washington Wizards Centers
Opponents: HOU, DEN, POR
Let's face it: Scott Brooks has no idea what he's doing when it comes to his center position. Furthermore, none of Moritz Wagner, Robin Lopez or Alex Len have proven capable of producing reliable fantasy basketball start/sit numbers in the playing time they receive anyways. Managers can certainly forget about all of them this week with the Wizards only having three games on the schedule. Add in one of those being an extremely tough fantasy matchup against the Denver Nuggets and this crew is a hard pass as far as Week 9 lineups are concerned.